Financial Aid
Thank you for your interest in the University of Illinois at Springfield. We are here to assist you through the processes of applying for and receiving financial assistance to fund your education.
Please feel free to contact our office, if you have any questions.
Ready, Set Go!
You can never be too early – or too late – to apply for Financial Aid. To get started you need to fill out the Free Application for Federal Student Aid (FAFSA®). It is time to apply for financial aid for Academic Year 2023-2024 (Fall 2023, Spring 2024 and Summer 2024) by completing the Free Application for Federal Student Aid (FAFSA). The Office of Financial Assistance encourages all UIS students to apply by December 1, 2022, to avoid missing any grant opportunities. Federal Student Aid is available to everyone, regardless of financial need. The results of your FASFA applications are sent to our Office of Financial Aid. We'll prepare a Notice of Financial Aid document for you describing the total amount of financial aid you'll receive.
Our Federal School Code is 009333.
FAFSA Overview Video (StudentAid.gov)
How to Fill Out the FAFSA Video (StudentAid.gov)
Students should aim to submit their financial aid application and any required missing information to the Office of Financial Assistance no later than to the following dates each term; however, earlier is better!
Fall: November 15
Spring: April 15
Summer: June 15
You will need information from your (and your parent(s) if you are a dependent student for FAFSA purposes) 2021 federal tax return. When completing the income sections of the FAFSA, you are given the option to have this data retrieved directly from the IRS. UIS strongly encourages you to use this IRS Data Retrieval process which will automatically transfer your (and your parent's) 2021 Federal Tax Return information into your FAFSA. The benefit of utilizing the IRS Data Retrieval process is that it minimizes the possibility of being selected by the federal processor for a process called verification which will require you to submit documentation to UIS before your financial aid can be disbursed. Follow the IRS Data Retrieval directions on the FAFSA site to complete the income retrieval process.
The U.S. Department of Education's office of Federal Student Aid provides more than $120 billion in financial aid to help pay for college or career school each year.
source: Federal Student Aid Website
FAFSA Facts vs Fiction
Who is Eligible for Aid?
Everyone can apply for financial aid. Of course, there are minimum requirements that are fairly standard for some aid programs. This eligibility requirements webpage contains standard federal student aid eligibility requirements.
Certain Illinois residents who are ineligible to apply through the FAFSA may be eligible to apply for state and institutional aid through the Alternative Application for Illinois Financial Aid.
View the Financial Aid 6 items and 22 minutes checklist.
---
Types of Aid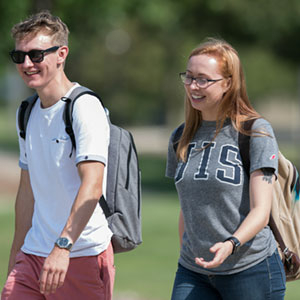 Aid is available in many forms – Scholarships and Grants, Fellowships, Loans, and Student Employment. The good news is that there's a plethora of aid programs for each variety.
---
How Is Financial Aid Determined?
Cost of Attendance = Amount of resources (money, food, tuition) you need to get through a school year.
Minus
Expected Family Contribution = The amount of resources a family and a student can contribute towards the Cost of Attendance
Equals
Student Financial Need
Total Aid offered may not exceed a student's Cost of Attendance. Certain financial aid program are need-based, and may not exceed the Financial Need determined by the above formula.