Financial Aid
Thank you for your interest in the University of Illinois at Springfield. We are here to assist you through the processes of applying for and receiving financial assistance to fund your education.
Our Federal School Code is 009333.
Please feel free to contact our office, if you have any questions. Virtual Appointment Signup
Ready, Set Go!
You can never be too early – or too late – to apply for Financial Aid. To get you started you need to fill out the Free Application for Federal Student Aid (FAFSA). Federal Student Aid is available to everyone, regardless of financial need. The results of your FASFA applications are sent to our Office of Financial Aid. We'll prepare a Notice of Financial Aid document for you describing the total amount of financial aid you'll receive.
Starting for the Fall of 2020 UIS will no longer require a paper PLUS application form be completed and turned into the Office of Financial Assistance. Instead, parent and graduate borrowers will complete the PLUS Loan application online at studentaid.gov.
Who is Eligible for Aid?
Everyone can apply for financial aid. Of course, there are some minimum requirements that are fairly standard for some aid programs. This eligibility requirements webpage contains standard federal student aid eligibility requirements.
---
Types of Aid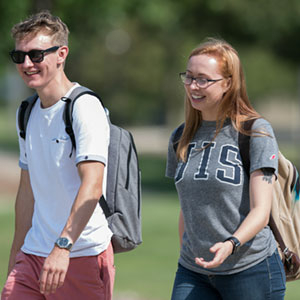 Aid is available in many forms – Scholarships and Grants, Fellowships, Loans, and Student Employment. The good news is that there's a plethora of aid programs for each variety.
---
How Is Financial Aid Determined?
Cost of Attendance = Amount of resources (money, food, tuition) you need to get through a school year.
Minus
Expected Family Contribution = The amount of resources a family and a student can contribute towards the Cost of Attendance
Equals
Your Financial Assistance Award Offer
View the Financial Aid 6 items and 22 minutes checklist.