Student Activities Committee (SAC)
Our Mission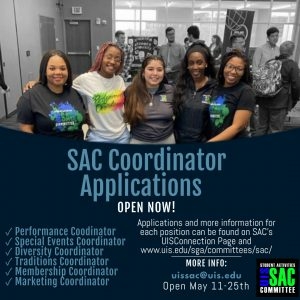 The mission of the Student Activities Committee (SAC), is to provide social, recreational, and cultural activities appealing to a wide variety of student interests by acknowledging the unique diversity of the student culture at the University of Illinois Springfield. SAC is a forum for understanding campus life by creating and carrying on the traditions of the University and striving towards increasing the involvement of students in university life.
Our Purpose
To develop and maintain a variety of programs and activities worthwhile to students both socially and academically.
Provide leadership opportunities and leadership development opportunities for students which compliments the classroom experience.
Promote good relations with the students, faculty, and staff of campus and the Springfield, Illinois, U.S. and international community.
Our Location
We are located at the Student Union, Student Leadership Center. Although we do not host specific office hours, you can often find us in our office working on programming, connecting with each other and of course homework! Feel free to stop in and say Hi!
---
Our Contact information
You can get in contact with us by email at uissac@uis.edu or on our multiple social media platforms!
Facebook: @uissac
Twitter: @uissac
Instagram: @uis_sac