About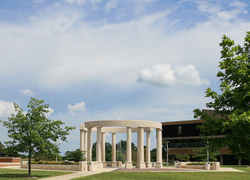 The Office of Disability Services is the central service that provides students with accommodations for disability services at the University of Illinois Springfield. Because different people have different needs, multiple links on this website often provide the same information. In addition to accessing information from this website, we encourage you to make contact with one of the Disability Specialists in our office at any time. We currently have two specialists on staff to provide accommodations and serve other disability related needs to the UIS community.
Admission to UIS is based upon meeting the UIS admission requirements.
The University of Illinois Springfield process of providing disability-related accommodations follows the guidelines of the Americans with Disabilities Act (ADA), Section 504 of the Rehabilitation Act of 1973, and current case law. This process is designed to assure that reasonable accommodations are provided to all qualified students in a timely manner. Because of the legal nature and complexity involved in the process of obtaining disability related accommodations within your academic program, it is important to read and understand the policies and procedures related to this process.
Current, incoming, transfer, or graduate students who want disability-related accommodations:
After you are admitted to UIS, contact the Office of Disability Services at 217-206-6666 for an appointment
Schedule an initial interview to correspond with a Disability Specialist to register with the Office of Disability Services
Provide documentation of your disability that meets UIS criteria for obtaining disability related academic accommodations.
Hand deliver the letter of accommodations and verbally discuss those accommodations with each of your professors. For online students, email the letter of accommodations to your professors, and discuss those accommodations via email or phone.
Request accommodations on a semester by semester basis
Statement For Inclusion On ALL Course Syllabi For Students With Disabilities
If you are a student with a documented temporary or ongoing disability in need of academic accommodations, please contact the Office of Disability Services at 217-206-6666.
Disabilities may include, but are not limited to: Psychological, Health, Learning, Sensory, Mobility, ADHD, TBI and Asperger's syndrome. In some cases, accommodations are also available for shorter term disabling conditions such as severe medical situations. Accommodations are based upon underlying medical and cognitive conditions and may include, but are not limited to: extended time for tests and quizzes, distraction free environment for tests and quizzes, a note taker, interpreter and FM devices.
Students who have made a request for an academic accommodation that has been reviewed and approved by the ODS will receive an accommodation letter which should be provided by the student to the professor as soon as possible, preferably in the first week of class.
For assistance in seeking academic accommodation, please contact the UIS Office of Disability Services (ODS) in the Human Resources Building, Room 80, phone number 217-206-6666. Email ods@uis.edu
Additional information