Welcome to Facilities & Services
We are committed to providing the service and support necessary to maintain and sustain a clean, healthy, and safe environment in which to learn, live, and work.
Request Service
Please use the "Request Service / Submit a Work Order" button at the top of the page to submit maintenance and repair requests. You can also use the request form to ask for a cost estimate for work you're thinking of having done.
For more information on work order requests, visit our Building Maintenance page, call us at (217) 206-6530, or send us an email.
---
F&S Construction and Maintenance Announcements
Remodeling on the 4th Floor of PAC - week of September 18 & 25
Carpet replacement is scheduled for the week of September 18 on the 4th floor of the Public Affairs Center (PAC). We are expecting that the work will take the full week but we will provide schedule updates if anything changes.
The green areas on the floor plan below are where the work will occur. Please don't hesitate to reach out to us if you have any questions.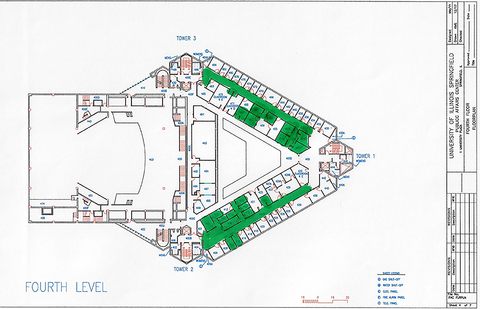 Summer and Fall Facility Transitions
Facilities & Services will be renovating and transitioning select unit offices on campus in scheduled phases, with a target of completing all project transformations by the conclusion of the fall semester. These efforts are being implemented to efficiently use available space on campus and better centralize offices for student convenience and staff operations. similarly, the outcomes from such transitions will provide the university with expanded opportunities to:
Improve classroom utilization
Offer experiential learning resources to students
Equip students and employees with innovative and integrated technology
Enhance security measures
Meet space requirements
Reduce utility costs
Generate additional revenue
These facility enhancements will collectively improve our on-campus experience and present the campus community with advanced accessbilitiy, safety, and resources.
---
Contact Facilities & Services
Feel free to reach out to us if you have questions, concerns, or feedback. We're always happy to hear from you!
Phone: (217) 206-6530
Email: facilities@uis.edu
Office location: BSB 33
Office hours: Monday - Friday, 8am to 5pm
Building Maintenance
Classroom Scheduling
Custodial Services
Environmental Health & Safety
Grounds
Motor Pool
Moving Support Services
Parking Operations
Events
No upcoming events at this time. Check back soon!