Donation from Mallincrodt Pharmaceuticals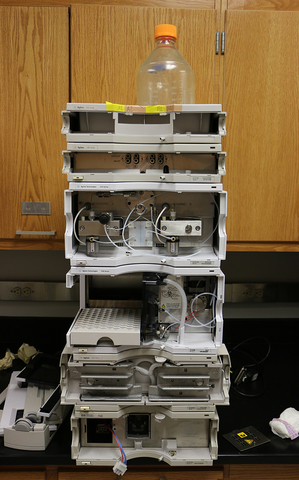 Mallinckrodt Pharmaceuticals, located in Webster Groves, Missouri, has donated a High Performance Liquid Chromatograph (HPLC) to UIS.
An HPLC allows scientists to separate the complex mixtures of compounds to purify, identify and quantify them.
"For example, using size-exclusion chromatography, students will be able to separate proteins in a mixture," said Dr. Stephen R. Johnson.
"Having an HPLC at UIS will absolutely improve students' education in any chemistry field," Dr. Johnson said, "especially in biochemistry and bioanalytical chemistry." Johnson said students in clinical laboratory science will also learn to use the instrument to help familiarize them with techniques that they will encounter in medical laboratories.
Kelly Pressler, Senior Analytical Chemist at Mallinckrodt, organized the donation to help the next generation of chemists prepare for their careers.
Thank you, Kelly, and thank you as well to your colleagues at Mallinckrodt!
Instruments
All of these are available for research and classroom use.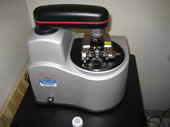 Shimadzu GC-17A Gas Chromatograph/FID (2)
Shimadzu LC-10 with fluorescence detector
Sorvall RC-2B Centrifuge
Beckman Optima TL Ultracentrifuge
Eppendorf 5810R Ultracentrifuge
Gamry PHE 200/Gamry Interface 1000 Electrochemical Stations
Virtes Benchtop 3L Freeze Dryer
YSI Conductivity Apparatus
Programmable muffle furnace
Hydraulic press
Buchi Rotary evaporators (2)
Handheld UV lamps
TI Graphing calculators, CBL units, and probes
Spectrophotometers – Genesys, Spec 70's & 20's
pH Meters
Analytical Balances
14 solid state model kits
Science Division
20 Vernier LabPro and sensors for chemistry,
biology, water quality, nuclear radiation,
and physics
20 Dell laptops