General Information for First-Year Students
The University of Illinois Springfield focuses not just on preparing students for a specific occupation but also on developing people who can function effectively in a world in which cultures, economies, politics, environments, and individual human lives are increasingly connected. Through our General Education courses, students will develop effective problem-solving, critical thinking, and writing skills that will provide them with the essential skills to live impactful and effective lives after their education.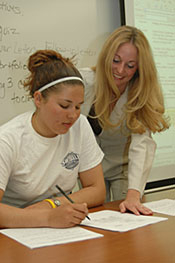 General education is the "liberal arts" part of your education as an undergraduate student at UIS. The UIS General Education program is developed with four goals in mind: to provide quality knowledge through world-class teaching with a diverse faculty, to ensure that classes are delivered to meet the personal goals of the students, to expand experimental learning opportunities beyond the classroom, and by enhancing our liberal arts strengths to properly prepare students for their future.
Whether you are a first year student, sophomore, or upper division student, it is important that you stay on track with your general education requirements. As a UIS student, you are responsible for understanding and meeting your general education, program, and graduation requirements. The Center for Academic Success and Advising (CASA), Admissions and Registration offices work together to assist you in doing so. Additionally, CASA staff in conjunction with the Career Development Center staff can assist you in developing your educational and career goals.
First-Year Seminars are small, high-impact, seminars taught by faculty and members of our advising team. Limited to 20 students each, these courses will help you develop your critical thinking, information literacy, and lifelong learning skills while helping to understand the role that civic engagement plays in a democratic society. Our seminar courses seek to:
Equip students with the necessary skills to successfully transition from high school to university life.
Introduce students to key resources on campus including the Diversity Center, the Counseling Center, and the Center for Academic Success and Advising.
Develop the foundations and skills for lifelong learning including the skills of curiosity, initiative, independence, and reflection.
Begin to develop information literacy skills including the ability to identify, locate, and effectively evaluate information sources.
Establish strong and sustained connections with peers and instructors.
Develop an understanding of civic engagement including the ability to integrate and understand different perspectives.
Begin to develop critical thinking skills demonstrating a habit of mind characterized by the comprehensive exploration and explanation of issues, ideas, and events.
We urge you to be proactive in contacting us and following through on advising. To contact your advisor, visit CASA at Advising Services.
We are very interested in your success here at UIS and look forward to witnessing the positive contributions you will make as a member of the UIS student body.