2023-24 Faculty Centered Events
All sessions are Friday from 12 - 1 pm
Spring 2023 Faculty Centered Events
All sessions are Friday from 12 - 1 pm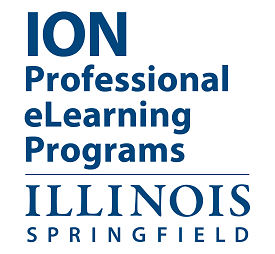 ION offers several professional certificates for educators facilitated by experienced practitioners in the field.
Spring Meetup Opportunities
Faculty Summer Institute (FSI)
May 23-24, Faculty Summer Institute, IHotel and Conference Center, Champaign - We will develop some plans to connect for everyone that can come to FSI this year.
ChatGPT Discussions
You are all invited to join us at UIS for a series on ChatGPT. All sessions will be on Thursdays at 1 pm. All sessions will use the same Zoom link.
UIS Information on ChatGPT and AI Tools
January 19 Let's Explore ChatGPT Recording
February 9 Open discussion on ChatGPT - come to share or listen
February 16 How can ChatGPT be used in my class?
February 23 Implications of ChatGPT beyond education
March 2 What problems may be created by ChatGPT and can we control or limit them?
March 9 GPT's Role as a Search Engine - Join Ray Schroeder was postponed to April 6.
March 23 AI Uses for Marketing - Join Cameron Ireland, Coordinator of Marketing and Graphic Design for CETL, IECC
March 27 - 11 am (note the different time and date) - Architecture, Applications, and Opportunities - Join Yanhui Guo, Xiaoqing Li and Liang Kong from UIS
April 6 GPT's Role as a Search Engine - Join Ray Schroeder as we explore other uses for novel Artificial Intelligence Systems - Postponed - we will let you know when it has been rescheduled
Past Sessions
Previous Spring 2023 Sessions
Field Trip to Richland Community College
March 22, 10AM - 2PM CST - SAVE THE DATE
As mentioned on a few of our previous calls, visiting other colleges and Centers for Teaching and Learning can be of great value, and Teena and Kona at RCC in Decatur, IL will host a tour of their amazing facilities on March 22. RSVP to Teena Zindel-McWilliams tzindel@richland.edu if you plan to attend. We will continue with these visits in the summer with another field trip to Illinois Central College - more details to follow soon.
Fall 2022 Sessions