We know that it is difficult to perform in the classroom if you have unmet needs outside of the classroom. "UIS Cares" is the overarching name for a series of services offered by Student Affairs intended to support the foundational needs of students. Currently, there are three UIS Cares Services, The UIS Cares Micro-pantry, the UIS Cares Food Pantry, and the UIS Cares School Supply Shop.
UIS Cares is not a university funded service. The services are financed through year-round donations and charitable giving. Donation information can be found below.
UIS Cares Micro-Pantry
In response to COVID-19, the Volunteer & Civic Engagement Center established the UIS Cares Micro-pantry offering dry and canned foods. The micro-pantry is located in the west entrance of the Student Union and is open 24/7. Please wash your hands before and after handling food items to keep them safe for the next shopper.
Refrigerated items and fresh fruits and vegetables may be requested in advance by using our Pre-Order Form.
---
UIS Cares Food Pantry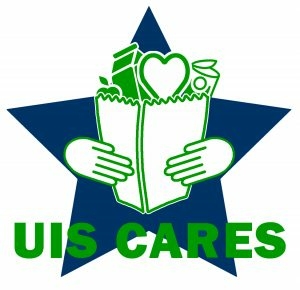 UIS Cares supports learning, wellness, and student retention by providing nutritious options for UIS students experiencing food insecurity. We know it's hard to concentrate when you're in a financial pinch and wondering how you are going to meet your basic needs.
While the Pantry is not able to serve as a grocery store or supply all of your daily/weekly nutrition, we are here to assist students in meeting their dietary needs to be best able to study, live, work and contribute to the campus and community.
The Food Pantry is open to all UIS students and currently available for pre-order pick-ups only. (See link above for the order form) Students who use the Campus Food Pantry do not need to verify financial need. The only requirement to use the Campus Food Pantry is that the user must be a currently enrolled student.
UIS Cares School Supply Shop
The UIS Student Union is home to the School Supply Shop, where students can get paper, notepads, pens, pencils and other schools supplies for free. The supply shop is located behind the welcome desk, near the Union's west entrance. For hours of operation, information on how to donate and more, visit the UIS Cares Supply Shop page on the UIS Student Union's website.
Donate To The Pantry
UIS Cares accepts both food and monetary donations. Donation bins across campus are available in the following locations:
Student Union West Entrance
UHB Classroom side
PAC Tower 1 first floor
PAC Tower 3 first floor
PAC Tower 3 Fifth floor
Brookens Library side, second floor stair case
Science Building main entrance
Diversity Center entrance
Food Pantry, SAB 38
Most requested Items:
Breakfast items, such as granola bars, oatmeal, cereal
Canned Fruits
Canned Meats-tuna, chicken etc
Canned Soups (pop top lids are helpful)
Jelly
Peanut Butter
Canned Vegetables
Ready-to-go meals, such as Chef Boyardee
MIcrowave Macaroni and cheese
Rice-A-Roni, Noodle Packets, Basmati Rice
Ramen
Personal Care Items-shampoo, soap, laundry detergent
Make a Monetary Donation
Monetary donations may be made through the UIS Office of Advancement at: https://www.uis.edu/scholarships-funds/uis-cares-food-pantry-fund
To make an appointment: UISCares@uis.edu OR call us at 217-206-7716
Location: Student Affairs Building, SAB 38