We know that it is difficult to perform in the classroom if you have unmet needs outside of the classroom. "UIS Cares" is the overarching name for a series of services offered by the Department of Student Affairs intended to support the foundational needs of students. UIS Cares includes the Stars Food Pantry and the School Supply Shop.
UIS Cares relies solely on generous donations from alumni, faculty, staff, and community members, rather than being funded through student fees, tuition, or the university's budget. UIS Cares is an important resource that helps create a more inclusive and supportive campus environment and is a testament to the UIS and Springfield communities' commitment to the well-being of students.
---
Stars Food Pantry-SAB 38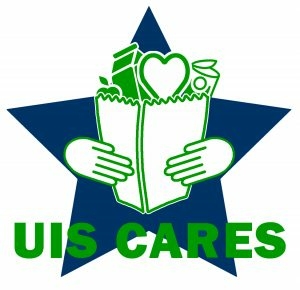 The Stars Food Pantry at UIS plays a vital role in addressing food insecurity among students. Food insecurity can significantly impact a student's ability to focus on their studies and overall quality of life, and initiatives like the Stars Food Pantry can help bridge this gap.
It's important to emphasize that the food pantry at UIS, like many other university-based food pantries, is not intended to replace a grocery store but rather serves as a helping hand for students in times of need. It offers a range of essential food items to help students fill the gaps in their nutrition.
Using the Pantry:
Attend a walk-in Orientation Session-no appointment necessary
Visit the Pantry during open shopping hours. Limit of 1 visit per week
School Supply Shop-Student Union West Welcome Desk
The UIS Student Union is home to the School Supply Shop, where students can get paper, notepads, pens, pencils and other schools supplies free of charge. The supply shop is located behind the welcome desk, near the Union's west entrance. For hours of operation, UIS Student Union's website.
Want to Give Back?
UIS Cares accepts both food and monetary donations. Donation bins across campus are available in the following locations:
Campus Food Donation Bin Locations:
Student Union West Entrance
UHB Classroom side
PAC Tower 1 first floor
PAC Tower 3 first floor
PAC Tower 3 Fifth floor
Brookens Library side, second floor stair case
Science Building main entrance
Diversity Center entrance
Food Pantry, SAB 38
Most requested Items:
Breakfast items, such as granola bars, oatmeal, cereal
Canned Fruits
Canned Meats-tuna, chicken etc
Canned Soups (pop top lids are helpful)
Jelly
Peanut Butter
Canned Vegetables
Ready-to-go meals, such as Chef Boyardee
MIcrowave Macaroni and cheese
Rice-A-Roni, Noodle Packets, Basmati Rice
Ramen
Personal Care Items-shampoo, soap, laundry detergent
Monetary Contribution
Monetary donations may be made through the UIS Office of Advancement at: https://www.uis.edu/scholarships-funds/uis-cares-food-pantry-fund
Contact Us
Location: Student Affairs Building, SAB 38
Email: UISCares@uis.edu OR call us at 217-206-7716