GIS Web Applications
Utilizing ArcGIS Online technology and a new GIS Server, the GIS lab has created a number of Web Maps and Web Applications that are hosted both in the cloud (ArcGIS Online) as well as on the Lab's Server. ArcGIS Online provides a cloud-based platform for sharing interactive maps with the internet community. The Lab's new GIS server allows for geographic information to be hosted on-site and shared across the web.
The following GIS Web Applications display research conducted at UIS as well as other Illinois datasets meant for public awareness. Read about the research and view the interactive Web Applications by clicking on the links below.
Illinois Supportive Housing Projects
This interactive web mapping application, developed by the Lab for the Illinois Supportive Housing Providers Association (SHPA), displays the supportive housing projects in Illinois. It also supports multiple attribute and spatial query functions.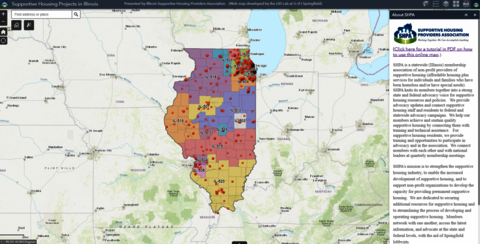 UIS Campus Tree Survey
Biology/Environmental Studies student Nate Holye recently began a research project aiming to create a comprehensive database of the trees located on the grounds of the University of Illinois Springfield campus. This project will document all trees on campus, noting the species and subspecies, tree diameter, native/non-native status, and invasive species status. The survey will be beneficial for UIS grounds personnel as well as future research opportunities.
Teaming up with the GIS laboratory, Nate will conduct the data collection portion of the project using ArcGIS Online's capabilities (editing waypoints to ArcGIS's cloud services in real-time). The picture below provides an example of what a final Web Map of this tree survey will look like. Check back for updates on this project soon!
Web Application created in ArcGIS Viewer for Flex and hosted on our server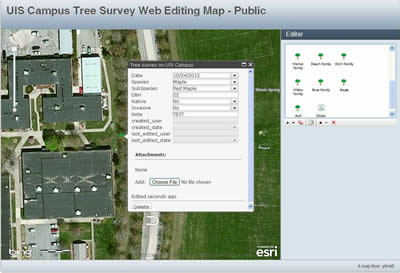 Mapping River Otter Latrine Sites at Emiquon
Greg Fretueg (M.S. 2012) completed Master's Thesis work titled "Mapping River Otter Latrine Sites at Emiquon". Greg's study explored habitat features associated with the North American river otter's (Lontra canadensis) latrine sites and diet composition at UIS's Therkildsen Field Station at Emiquon in Lewistown, IL. Greg conducted field work by searching for river otter scat and activity. GPS locations were taken at latrine sites, noting habitat characteristics. These locations were then used to create a map of latrine sites and overlayed with land cover data. This study identified key environmental factors which allow this population of river otters to thrive at Emiquon.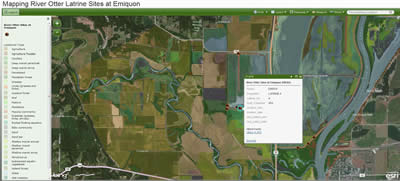 Interactive map of Greg's study created in ArcGIS Viewer for Flex and hosted on our server
GIS Applications in the Reconstruction of Medieval Structures
The GIS Lab teamed up with Dr. Donna Bussell from the UIS English Department to reconstruct the historical grounds of Barking Abbey in East London, Essex, England. Barking Abbey was originally founded in 666 AD as a as religious house for men and women under the leadership of Abbess Ethelburga. The Abbey was destroyed in the Viking raids of 870 AD and rebuilt as a royal foundation for women 100 years later. After the dissolution of the monastery in 1539 by King Henry VIII, the abbey buildings were quarried and it's resources redistributed (1). Ruins of the 12th-14th century buildings can still be seen today at the Barking Green.
With the help of Google Earth and ArcGIS10 software, certain satellite images provided clues as to the outlines of the ruins on the ground. Using a detailed Barking Abbey Historical Ground Plan survey map created by A.W. Clapham in the early 1900's, a spatial overlay of the survey map and satellite image was achieved to anchor the survey map to the satellite image. A reconstruction of the historical ground location was established, allowing the creation polygon locations of important abbey buildings (Abbey Church, Cloister, and Chapter House).
This project serves as an example of how GIS can be used to precisely locate and reconstruct ancient structures. Future work on this project may explore other possible 2D and 3D renderings of the image (for scholarship and teaching) and an initial article on the methodology for creating this map using historical referents. Each of these projects has value for helping us understand the construction and use of this space as depicted in the literature, liturgy, and documentary evidence from Barking Abbey.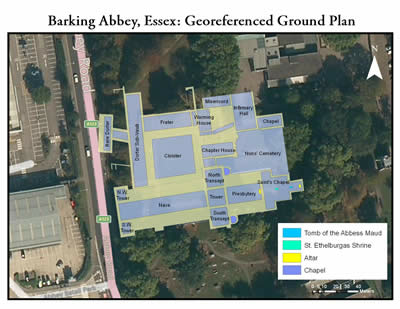 Interactive map created in ArcGIS Viewer for Flex and hosted on our server
Sangamon County, IL Hazards Map
This Web Application displays potential hazards for residents living in Sangamon County, IL. Historical tornado tracks, coal mines, and 100-year flood plains are overlayed on top of the Bing Maps Hybrid Basemap, allowing citizens to search for their homes or businesses in the address bar and view potential hazards in the area. Data was downloaded from the Federal Emergency Management Agency (100-year flood plain zones) and from the Illinois State Geological Survey (coal mines). Clicking on a hazard in the map will identify information about the selected hazard.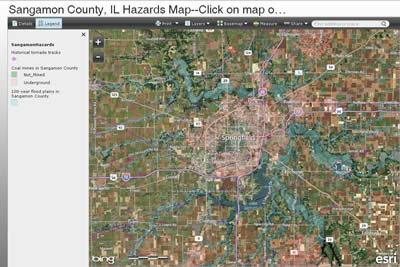 Interactive hazards map created in ArcGIS Viewer for Flex and hosted on our server
Illinois Coal Mine Map
Illinois has been extensively mined for coal since the 1800's. The Illinois State Geological Survey estimates that ~201,000 acres of developed land in Illinois are near mines (2). This Web Application displays current and historical coal mine locations in the state of Illinois. Coal Mines are overlayed on top of the Bing Maps Hybrid Basemap, allowing citizens to search for locations and determine coal mine locations in the surrounding area. Data was downloaded from the Illinois State Geological Survey. Clicking on coal mine polygons on the map will reveal information about the selected coal mine.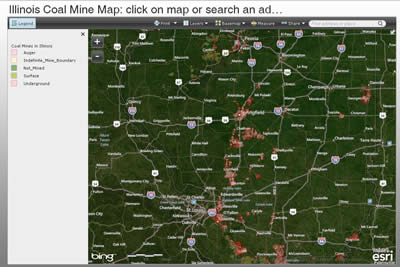 Interactive Illinois Coal Mine map created in ArcGIS Viewer for Flex and hosted on our server
(1) "Barking Abbey: Founding and Importance of the Abbey." Barking Abbey. London Borough of Barking and Dagenham. 2012.
(2) "History of Mining in Illinois." Ilinois Mine Subsidence Insurance Fund (IMSIF). 2012. <"https://imsif.com/history">.