Education
The following is helpful information regarding gender neutral pronoun usage, terminology, and problematic word usage. Additionally, you can request a workshop or presentation on transgender and gender identity from the Gender and Sexuality Student Services.
Request a Workshop or Presentation
InQUEERy – Students are trained to interact with their peers to combat homophobia, transphobia, and heterosexism through innovative activities and workshops. The InQueery team of student peer educators provides workshops and other activities in residence halls, classrooms, athletic teams, and student organizations. Using their personal narrative, students share their stories while integrating contemporary issues. Click here to learn more about inQUEERy and the presentations offered.
Safe Zone – Safe Zone members are identified by this sign that they hang on their office door or living space, or by other Safe Zone visual indicators, and are trained to be better allies to LGBTQ students. Members agree that they work to provide a personal space that is free from homophobia, heterosexism, and transphobia while serving as a resource to LGBTQ and allied students. All students, staff, and faculty are eligible to join. "This is a safe place to talk about LGBTQ and heterosexual issues and concerns." Safe Zone provides the Transgender Advanced Session. Session description: Transgender people continue to be an invisible, often forgotten community. This session helps participants develop self-awareness and compassion and to think critically about their own assumptions and vulnerabilities as related to gender. Participants will learn about the gender binary, understand accurate terms, explore potential gender transition processes, and consider common concerns and challenges in higher education. This session is recommended for any person wanting to learn how to become a better ally to this population. Click here to learn more about Safe Zone, register for the session, and learn how to become a member!
Gender Neutral Pronouns
Gender
Pronouns (Pronounciation)
Example
Female
She
Her
Hers
She went to her bedroom.
I am her sister.
She shaves herself.
Male
He
Him
His
He went to his bedroom.
I am his sister.
He shaves himself.
Gender Neutral
They
Them
Their
They went to their bedroom.
I am their sister.
They shave themself.
Gender Neutral
Ze (zee)
Hir (here)
Hirs (heres)
Ze went to hir bedroom.
I am hir sister.
Ze shaves hirself.
Spivak
E (ee)
Em (em)
Eirs (airs)
E went to eir bedroom.
I am eir sister.
E shaves emself.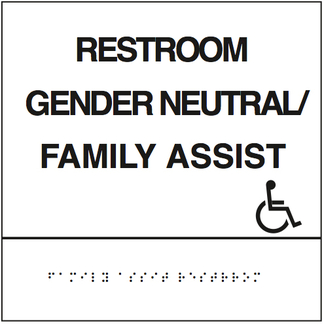 Facilities
Safe restroom use is important to the University of Illinois Springfield and to the UIS Gender and Sexuality Student Services. Below we have listed the locations of the eight single use lockable restrooms on campus that are signed as gender-neutral. We hope to improve the amount and visibility of these restrooms in the future.
Gender Neutral Restrooms
Human Resources Building (HRB) – Located in the southwest hallway of that building.
Business Services Building (BSB) – Located near the Campus Services Print Shop area.
Visual and Performing Arts (VPA) – Located in the southeast quadrant of the building.
University Hall (UHB) – Located on the first floor, in the Admissions and Records office area
The Recreation and Athletic Center (TRAC) – Located on the first floor, around the corner from the main public restrooms, drinking fountains and vending machines.
Public Affairs Center (PAC) – Located on the first floor around the corner from the Bursar's Office.
Founders Residence Hall (FRH) – Located around the corner from the front desk on the first floor near the classrooms.
Student Union (STU) – Located on the first floor next to the elevator.
Peeing In Peace Guide
The Peeing In Peace guide, developed by the Transgender Law Center, is a resource guide for safe restroom use. Inside you will find information on language and definitions, harassment and how to handle it, and how to prevent harassment.
Policy
Preferred Name Policy
The University of Illinois (all three campuses) allows students to include a preferred name on some systems. These systems include class rosters, the display name in Banner Self-Service, and the display name in a number of learning management systems (e.g., Canvas, Compass, and Moodle), most online phone directories, and on the University i-card. The University will also retain your full legal name, which is used when required by the University, such as in tax documents, contracts, academic transcripts, diplomas, and certain health records. The comprehensive information on the Preferred Name Policy are available on the UI website.
UIS Nondiscrimination Policy
Currently, gender identity and expression are included in the University of Illinois nondiscrimination policy. Click here to view the campus nondiscrimination policy.
Illinois Nondiscrimination Policy
The Illinois Human Rights Act nondiscrimination policy includes sexual orientation, which is intended to cover gender identity, for employment, housing, and public accommodations. Click here to view the Illinois Human Rights Act. Click here to view Illinois Gender Advocates' explanation of the Illinois Human Rights Act.
Inclusive Language on all UIS Forms
Currently UIS does not include "Transgender" and/or "Other" as a gender designation on the application for Admission, Housing, or is it required on campus wide institutional assessments but some do such as. However, many student services departments voluntarily do this such as intake forms in Counseling Services, Health Services, and Career Development Center.
UIS Gender Inclusive Housing Policy
Gender Inclusive Housing (GIH) will provide a welcoming space for students to choose their roommates, regardless of gender, to promote a healthy and safe living and learning environment. GIH allows students to live in an environment where they can express their gender or sexual orientation in a way that is true to themselves in a safe and supported way. If you have questions about gender-identity, gender expression, or transgender student support, please contact Dre Duvendack (aduve2@uis.edu), Program Coordinator at the Gender & Sexuality Student Services.
Campus Pride Trans Policy Clearinghouse
Find out about policies at other colleges and universities.
*If you have any questions about relevant UIS, state or federal policies or you feel that you are being discriminated against due to your gender identity please contact the office of Access and Equal Opportunity, aeo@uis.edu, 217-206-6222) who will work with Dre Duvendack (Program Coordinator, Gender and Sexuality Student Services) and/or Justin Rose (Director, Diversity and Inclusion) on request to address your concerns.
Resources