What is Asexuality?
An asexual person ("ace", for short) is simply someone who does not experience sexual attraction. That's all there is to it.
Who Is Asexual?
Aces can be any sex or gender or age or ethnic background or body type, can be rich or poor, can wear any clothing style, and can be any religion or political affiliation. In short: There is no asexual "type".
The Concept of Love
Along with a sexual orientation, people have what's called a romantic or affectional orientation that describes who that person might be romantically attracted to. In many people, the sexual and romantic orientations are aligned, so people tend not to think about them being separate concepts. It is not uncommon for asexuals to experience romantic attraction.
Romantic orientations are given names that parallel sexual orientations. For instance, a heteroromantic person is someone who experiences romantic attraction toward a different gender, homoromantic toward the same gender, and so on. A significant number of asexuals also identify as aromantic, which means that they do not experience romantic attraction.
Separating romantic and sexual attraction is not strictly limited to asexual people, however. For instance, it is possible for someone to be an aromantic heterosexual, or any other combination.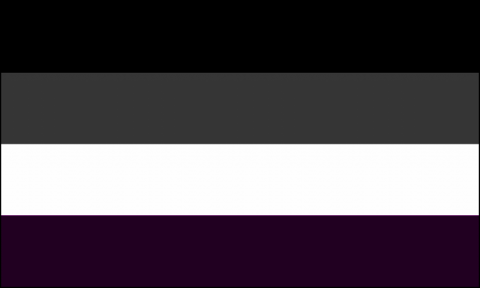 The Asexual Flag
The four colors all have meanings:
Black: Asexuality.
Grey: Grey-Asexuality and Demisexuality.
White: Non-asexual partners and allies.
Purple: Community.
A Misunderstood Orientation
Many people hear the word "asexual" and make assumptions about what it means.
In particular:
Asexuality is not an abstinence pledge. (Although there may be abstinent aces.)
Asexuality is not a synonym for celibacy. (There are celibate aces and promiscuous aces and aces everywhere in between.)
Asexuality is not a choice. (Although not every ace is "born that way".)
Asexuality is not a fear of sex or relationships. (Although there may be aces who are afraid of or otherwise dislike sex or relationships.)
Source: http://www.whatisasexuality.com/intro/
The Asexual Visibility and Education Network (AVEN)
How to Tell if You Are Asexual (Time)