Internship Experience Forms
Internship Experience forms for interviews are the best way to learn more information about the internship you are interviewing with. Once you are selected for an interview and provided with the experience forms, please use these experience forms to learn more about the internships you've been offered using their corresponding codes. All interviews are expected to take place virtually for the foreseeable future. Video conference capabilities are required.
If you have questions, please contact the GPSI office at gpsimail@uis.edu.
---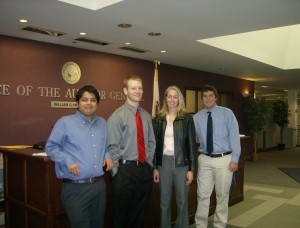 "Our GPSI internship gave us a rich experiential learning opportunity in which we were part of a larger organization through which we learned organizational culture within the public sector. We were able to contribute with our skills, developed new skills, networked, and knew that we made a difference with the public served by this agency."
Rajeev Bhatta, Tony Ligori, Jill Michaels, and Mark Clayton, Illinois Office of the Auditor General