About the Center
The Counseling Center provides counseling, outreach and psychological consultation to UIS students.
UIS Employees who would like to schedule counseling may contact the Employee Assistance Program at 833-955-3400 or 800-697-0353 (TDD/TTY).
All UIS students who have paid the Health and Counseling fee are eligible for counseling services at no additional charge. Students who are attending classes remotely or on the UIS campus have paid the Health and Counseling fee.
Exclusively online students have not paid the fee and will be charged the equivalent of the Health and Counseling Fee for each semester that they receive counseling services. 

All students must currently reside in Illinois to receive counseling services. 

Counseling sessions are in person or telehealth.
To make an appointment, call (217) 206-7122, email counseling@uis.edu, or web book at UIS patient portal.
The online Patient Portal allows students to complete required Counseling forms, send secure messages and schedule appointments with their counselor.  Secure messages are only reviewed during business hours (Monday-Friday, 8:30 a.m. – 5:00 p.m.)
Access the Patient Portal
If you cannot find an open appointment time with your counselor and need immediate assistance, please call  (217) 206-7122.
Mission Statement
The Counseling Center enhances the academic mission of the university by providing supportive services for students. Confidential counseling is provided to address the personal concerns of students in a safe and private environment. The Center facilitates the academic progress of students by providing counseling and outreach programming that address issues of concern to students including stress and time management, depression, substance abuse, conflict resolution, communication skills and relationship concerns. The Counseling Center staff helps students build confidence, gain insight, and make changes to assist them in being successful as students and in their personal lives.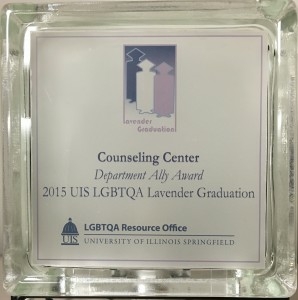 The Counseling Center enhances the campus by contributing to the development of a safe and accepting campus environment. The Center promotes acceptance of individual differences and backgrounds, in its interactions with students, staff and faculty, and through programmatic
initiatives. The Counseling Center staff advocates on behalf of students, encouraging fairness and understanding within the campus community. The Center educates students, staff and faculty about psychological issues of concern to the campus. The Counseling Center supports the roles of faculty and staff by serving as consultants, providing guidance, and responding to crisis situations of a psychological nature. The Center contributes to the development of campus policies and procedures that enhance the well being of the campus community. In addition, the Center supports the development of counselor trainees through its Pre-professional Graduate Assistant positions. The Counseling Center supports and facilitates the personal and professional growth of students, assisting and encouraging them to achieve their goals.