The Master of Athletic Training Program prepares highly qualified, multi-skilled healthcare professionals who collaborate with physicians to prevent, diagnosis, therapeutically intervene, and rehabilitate injuries and medical conditions.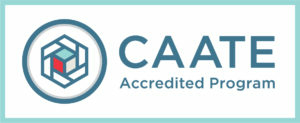 The Master of Athletic Training Program is committed to educating highly qualified allied health professionals who make a difference in the world by being productive, responsible, and engaged athletic trainers in a multicultural and rapidly changing world. This will be accomplished by emphasizing a personalized, diverse, and dynamic learning environment that stimulates engagement with technology, ideas, and other health professionals.
What is athletic training?
Athletic training encompasses the prevention, examination, diagnosis, treatment and rehabilitation of emergent, acute or chronic injuries and medical conditions. Athletic training is recognized by the American Medical Association (AMA), Health Resources Services Administration (HRSA) and the Department of Health and Human Services (HHS) as an allied health care profession.
The Master of Athletic Training Program, in the Allied Health Department, utilizes a proficiency-based medical model to educate students through classroom and clinical experiences.
Do I need a master's degree to be an athletic trainer?
About 70 percent of current athletic trainers have master's degrees and a master's is necessary to work at the college level. Currently, the profession of athletic training is phasing out athletic training programs at the baccalaureate level. By January 2026, only those students graduating from a master's level athletic training program will be eligible to take the certification examination.
Why the Masters of Athletic Training Program at UIS?
small campus, big resources
partnerships
center of healthcare
personalized education
hands-on training
Launch Athletic Training Classroom
There is no better time to be an athletic trainer!
According to the U.S. Bureau of Labor Statistics, employment of athletic trainers is expected to grow 23 percent between now and 2026, much faster than the average for all occupations.
Department News
Athletic Training News
Aug 24, 2021
The Master of Athletic Training Program is excited to announce the 100% first time pass rate on the Board of Certification exam for our inaugural…
Jun 09, 2021
The Master of Athletic Training Program (MATR) is excited to announce the Commission on Accreditation of Athletic Training Education (CAATE) has voted to…