The Third House: State Lobbying Essentials 2017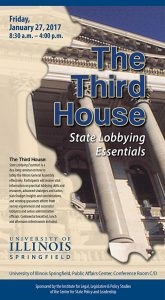 Brochure (PDF)
The Third House: State Lobbying Essentials is a day-long seminar on how to lobby the Illinois General Assembly effectively. Participants will receive vital information on practical lobbying skills and resources, advanced strategies and tactics, state budget insights and considerations, and winning grassroots efforts from various experienced and successful lobbyists and senior administrative officials.
Featured speakers:
Amy Ballinger-Cole, ABC Consulting
John P. Lowder, Lowder Governmental Solutions, LLC
Kim Clarke Maisch, Cigna Healthcare
Professor David Merriman, University of Illinois at Chicago
Courtney C. Nottage, Fletcher, O'Brien, Kasper & Nottage, P.C.
Polly Poskin, Illinois Coalition Against Sexual Assault
Stephen Schnorf, Budgeting for Results Commission
Jil Tracy, Illinois State Senator, 47th District
Terri Treacy, Sierra Club
Josh Weger, The Indiana, Illinois, Iowa Foundation for Fair Contracting
Who Should Attend?
Lobbyists
Prospective Lobbyists
Legislative Liaisons
Government Affairs Representatives
Members of the Media
Not-for-Profit Advocates and Executives
State and local government officials and employees
Students
Interested Citizens
What Will You Learn?
Practical Lobbying Skills
Lobbying Ethics and Regulations
Communication Tips
Advanced Strategies and Tactics
State Budget Concerns and Considerations
Effective Grassroots Efforts
Online Resources
Date/Time/Location
Friday, January 27, 2017
8:30 am – 4 pm
Public Affairs Center
Conference Room C/D
University of Illinois Springfield
Cost of attendance
$300.00
Continental breakfast, lunch, and afternoon refreshments included in registration fee.
Contact Info
Elizabeth Thai
Email: illaps-events@uis.edu