How to Apply

While the UIC College of Nursing does not admit first year students directly into the Bachelor of Science in Nursing Program, applicants seeking admission into the Nursing Program are strongly advised to apply to UIS to complete the first phase of the program. The program can be completed in four years of full-time study and involves two phases: two years of pre-nursing general education courses and two years of professional nursing courses, which will be delivered by UIC College of Nursing Faculty in Springfield. Admission to the professional phase of the BSN program is competitive.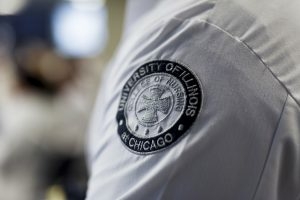 UIC College of Nursing Admissions Process (Second-Phase)
Application: We highly recommend the use of the UIC Web Application System. UIC College of Nursing applications are dues January 15th
A non-refundable $50.00 application fee is required to all non-UIC, UIUC, or UIS applications. Application fees or fee waiver requests will be submitted upon completion of the UIC Web Application.
Essay Questions: Essay questions are required of both UIC Inter-College Transfer and Transfers. It is best recommended that you draft your responses to the essay questions before beginning your application.
Resume: A resume is required of both UIC Inter-College Transfers and Transfer Students.
Prerequisite Self-Evaluation: The Prerequisite Self-Evaluation will indicate to the College of Nursing which of the prerequisite courses have been completed and are yet to be completed.
Recommendations: Two electronic PDF letters of recommendations are required . At least one recommendation should come from someone who can speak to your scholastic ability. The second recommendation can come from a professional or academic reference. Personal references from friends or co-workers will automatically be disregarded.
Official Transcripts: Official transcripts are required from every college/university attended since high school. Official transcripts must be mailed to the UIC Office of Admissions at the following address by the application deadline. Transcripts received after Jan 15 deadline will result in your application being considered incomplete.
Office of Undergraduate Admissions, MC 018
University of Illinois at Chicago
Suite 1100 Student Services Building
1200 West Harrison Street
Chicago, Illinois 60607-7161
**To view additional information on the application process, visit our UIC College of Nursing website