Alcohol
Do you know:
what counts as a drink?
the signs that alcohol is causing harm?
how many drinks are in a common container?
why "being able to hold your liquor" is a concern?
how much UIS adults drink – and where you fit?
To find out, visit the Rethinking Drinking webpage, National Institutes of Health
The Domino Strategy
You count everything – calories, carbs, cell phone minutes.
By simply keeping track of how many drinks you've had and the alcohol content of those drinks,
you can dramatically decrease your risk for alcohol related problems.
0-1-2 Guidelines on How to Drink Responsibly
0 – No alcohol for people who are:
• Under 21.
• Operating any type of vehicle or machinery.
• Pregnant, trying to become pregnant or breastfeeding.
• Recovering alcoholics or chemically dependent.
• Using certain medications.
1 – No more than one standard drink* per day for women.
2 – No more than two standard drinks per day for men.
* 1 standard drink = 12 ounces of beer, 5 ounces of wine or 1.5 ounces of 80–proof distilled spirits.
The THINK campaign began in 2014 after a University of Illinois-Springfield alumnus, Ralph Blackman, gave a donation to the UIS Counseling Center to start an alcohol responsibility, social marketing campaign. Mr. Blackman is the CEO of the Foundation for Advancing Alcohol Responsibility. With Mr. Blackman's generous donation, the Counseling Center and the Young Professional Marketers, organized a core group of students who were willing to take the campaign to the next level. The goal of the group is to educate the UIS students about responsible drinking. The initial focus will be directed to the students in the residence halls, and then all students of the University of Illinois-Springfield. Awareness will be developed through programming, education and events. Eventually, a goal of the THINK campaign is to create a peer educator program.
Alcohol Refusal Skills
Tips on how to be better equipped to refuse alcohol:
Choose positive friends who don't need alcohol to have fun.
Be assertive in turning down the opportunity to drink.
Make eye contact when turning down an opportunity to drink.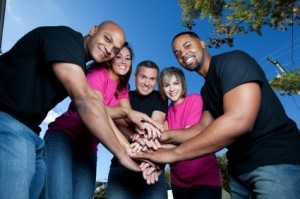 Statements to use in refusing alcohol:
"I have more positive things in to do in my life."
"I don't need to drink; being sober is a great high."
"I would rather hang out at the rec center or student center."
Say, "No thanks, I don't need it."
"Sorry, my friends and I have chosen not to drink."
"Sorry, I don't drink."
"I am on my way to the gym."
"I am saving my money for a new car."
"I am allergic to alcohol."
"No thank you, I am watching my calorie intake."
"Sorry, I am on my way to practice."
"Sorry, I have a test to study for."
"Sorry, I am not 21."
"Sorry, alcohol does not mix with my medication."
Top Ten Ways To Turn Down A Drink!
"No, thank you!" (No explanation necessary; your response can be short, sweet and direct).
"I've had enough." (Again, short, to the point and completely acceptable).
"Thanks, but I've got a ton of work to do later."
"I'd rather get a soda, thanks."
"I'm allergic to alcohol."
"I'm driving tonight."
"I have a game/practice tomorrow."
"I'm O.K. for now." (BYOC: Bring your own cup and keep it filled with something other than alcohol).
"No thanks, I'm taking medication that I cannot drink with."
"I'm dieting; alcohol's got way too many calories."
Try Saying No With A Different Twist:
With an invitation:
Leave the door open for the future, "Not now".
With a friend:
Plan with a friend beforehand what each of you will or will not do. Stay with the plan and stick together. The decision not to drink then becomes a kind of team decision.
With an exit:
Plan to physically relocate if you feel you are in an uncomfortable situation.
Have a quick one liner ready:
"No thanks, I'm still tired from being up late last night".
"You know that your problem is? You think too much about others. It's time you start making yourself and your need's a top priority".
More Resources