About Us
The Center for Lincoln Studies furthers the mission of the University of Illinois Springfield by providing activities related to the study of Lincoln, Springfield, the state of Illinois, and the nation. Through education, research, and outreach, the Center provides students, faculty, scholars, and the public with opportunities to understand the life and times of the 16th President and his impact on the modern period.
Education
The Center for Lincoln Studies will educate UIS students about the life, legacy, and character of President Lincoln.
Providing student seminars examining Lincoln and his leadership.
Hosting teacher seminars for UIS faculty, Education students, and school teachers exploring research and public policy using Lincoln as an example.
Working with national Lincoln organizations, museums, and historic sites.
Resources
Resources for Lincoln Studies in Springfield include...
the Brookens Library at UIS
the Abraham Lincoln Presidential Library
the Illinois State Library
the Illinois State Archives
Sangamon Valley Collection at the Lincoln Public Library
About CFLS
The Center for Lincoln Studies will actively promote original research into Lincoln's life and times by...

cooperating with the University of Illinois Press to publish Lincoln primary source materials and monographs.
working with the Papers of Abraham Lincoln project
cooperating with the Abraham Lincoln Association to publish a scholarly journal
encouraging graduate students and post docs from around the country and the world to come to Springfield, as well as take advantage of the incomparable resources in town

Scholars can avail themselves of the many Lincoln authorities in Springfield:

local archaeologists and historians
the National Park Service employees
members of the Abraham Lincoln Association
the Illinois Supreme Court Historic Preservation Commission
the Old State Capitol
the Illinois Department of Natural Resources
the Iles House
local historical societies in nearby cities and towns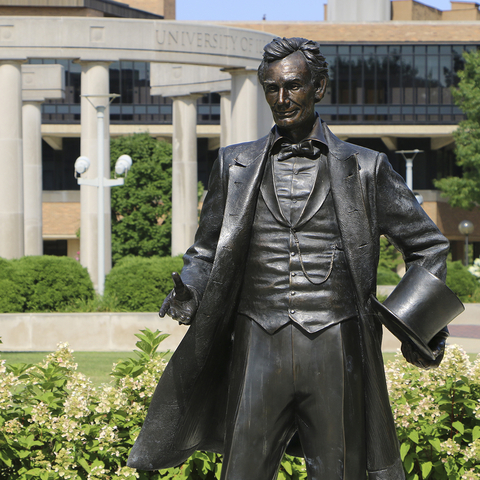 Related Degrees
History Degree (B.A., M.A.)
Explore and interpret the past with a history degree from UIS.
Events
No upcoming events at this time. Check back soon!