The Visual Arts Programs has a lot of wonderful facilities for students enrolled in Visual Arts classes and Majors & Minors to use to complete their coursework and to fulfill the needs of artistic production.
VPA 3 Printing Lab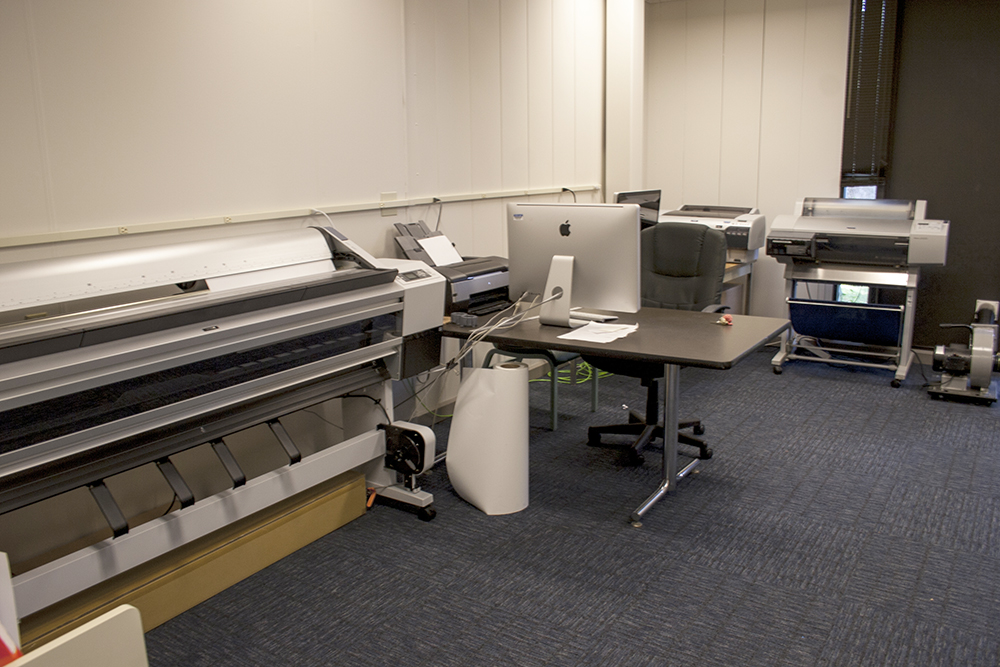 This lab is available for students during student worker hours, which are posted outside the door, or through a faculty member willing to supervise. This lab contains an Epson Stylus Pro 11880 64″ wide-format printer, a Universal VLS laser cutter that accommodates materials up to 18″ x 32", a Makerbot Replicator 3D printer, a Roland Camm-1 Vinyl Cutter that cuts up to 30″ wide, and a wall-mounted glass/plastic/mat cutter and a sitting mat cutter. This studio is available during student worker hours, which are posted outside the door, or through a faculty member willing to supervise.
There are wide-format paper rolls, in glossy, luster and matte, available for use, as well as vinyl in a variety of colors.
VPA 38 and VPA 48 Photography and Animation Studios
VPA 38 is set up to photograph smaller objects and contains a copy stand and Apple Desktop with Dragonframe software for stop-motion animation. VPA 48 is set up for larger objects and portraiture. They both have backdrops and lighting setups. These studios are available during student worker hours, which are posted outside the door, or through a faculty member willing to supervise.
VPA 54 Digital Media Lab
Students are able to work on the Adobe Creative Suite, Microsoft Office, and more in a newly updated Macintosh lab. There is a color laser printer that uses your i-Card available as well.
VPA 56 Drawing Studio
The studio provides students with ample working space and is equipped with easels for painting and drawing projects, as well as a cache of still-life objects and pedestals to be used as students need.
Additional resources including track lighting for setting up still-lives, cutting mats, paper cutter, and drying rack are available to aid student work. Flat files and lockers are available for student storage of work and materials.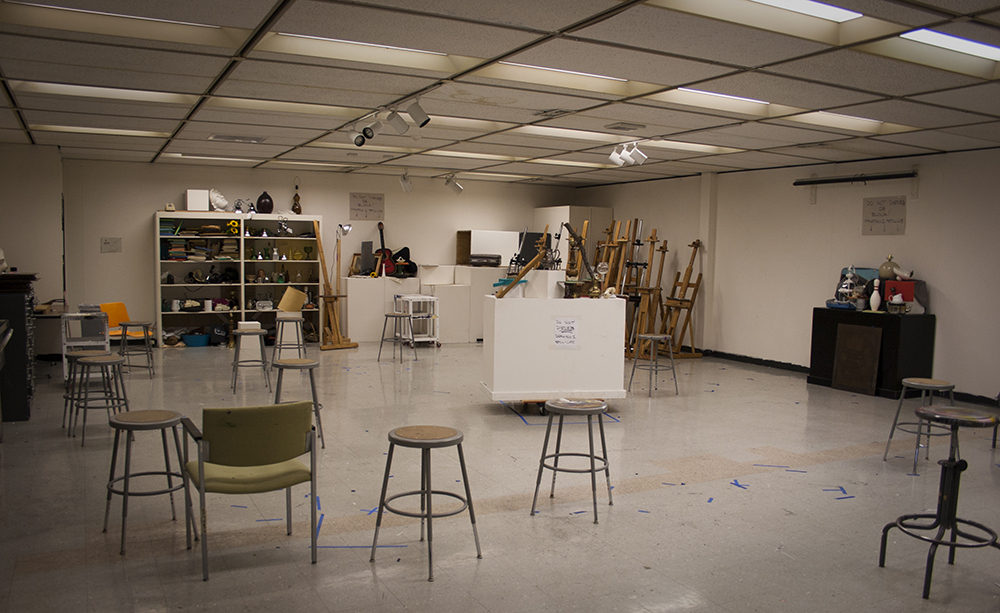 VPA 74 Sculpture Studio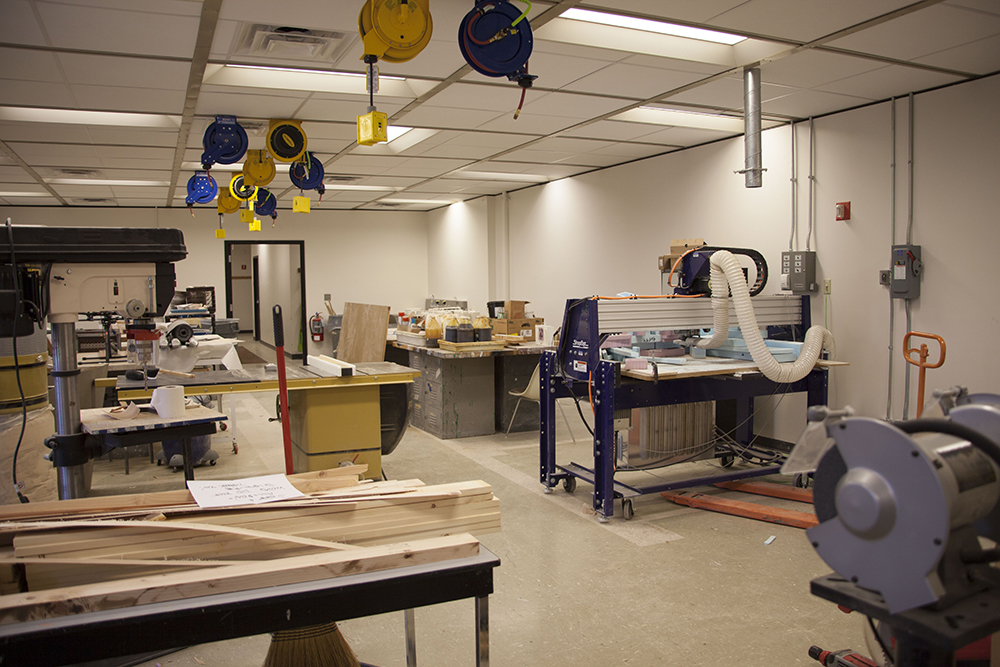 This studio is newly renovated with dust collection and provides students with facilities for mold making and casting, CNC routing, and a full wood and fabrication shop that includes drills, table saw, miter saw, jigsaw, power sander, sandblaster and more.
Students receive safety training in class or may do so individually based on a project's needs, but tools may only be used outside of class with faculty supervision.
VPA 75 Printmaking Studio
This studio allows students to complete projects utilizing etching, screen printing, and letterpress, with a darkroom for screen exposure, and courses often blend these traditional methods with contemporary digital practices.
This studio also has a metal cutter for metal plates, paper cutters, exposure lamps, power washers and paper and ink for supporting these processes.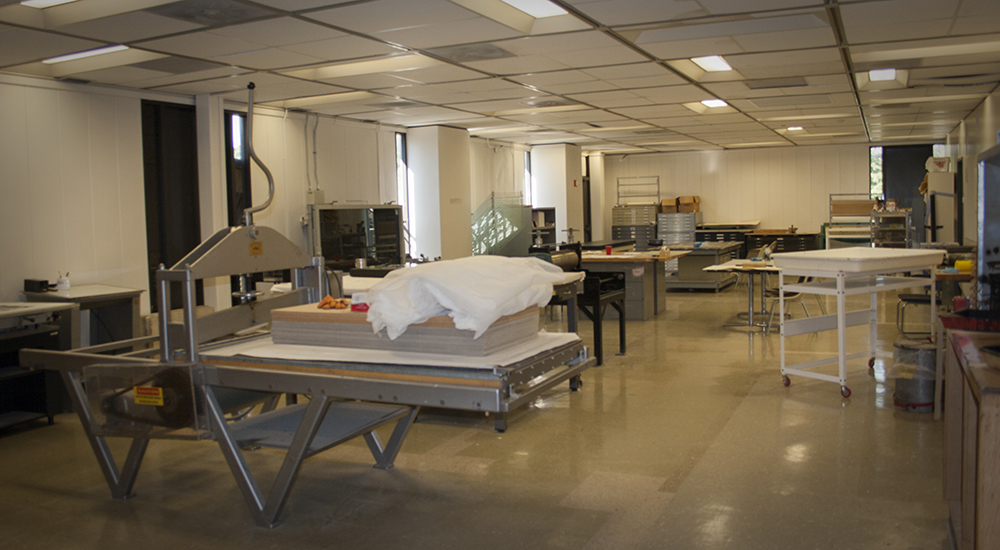 VPA 76 Ceramics Studio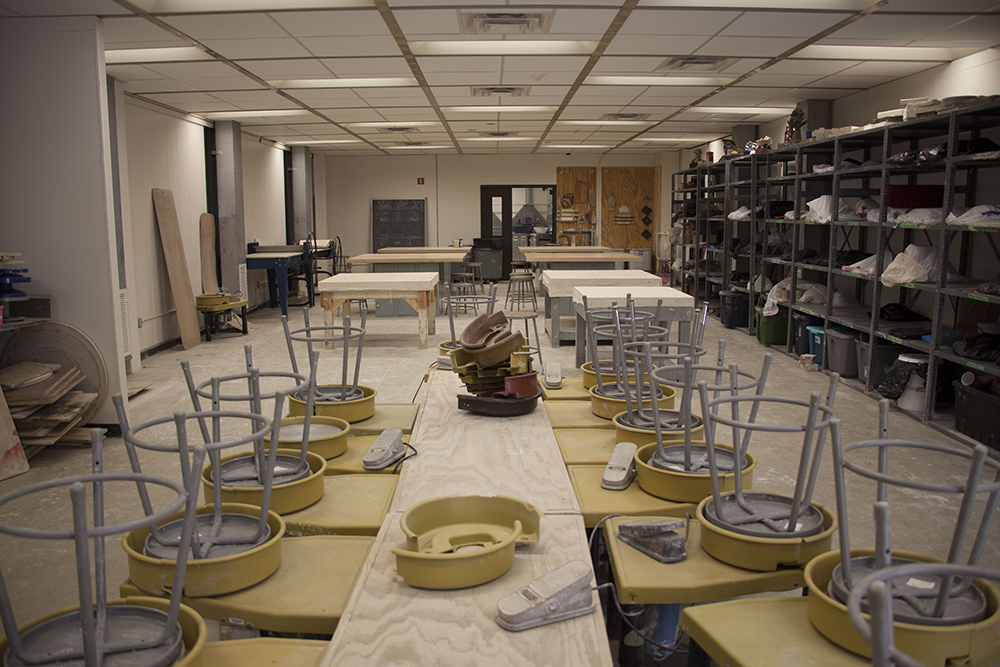 The studio provides students with a state-of-the-art facility. Students have access to a covered kiln yard that includes electric and gas kilns, a glaze room with ventilation hood, ample studio space for hand-building and decorating, and 18 pottery wheels for throwing.
There are shelves for storage of student projects between working and students have access to their work 24/7, as they do most of the studios.
VPA 77 Painting Studio
The Painting Studio provides ample ventilated studio space to work in oil and acrylics, as well as a spray booth for spray adhesive, spray paint, etc. There are flat tables and easels available for working.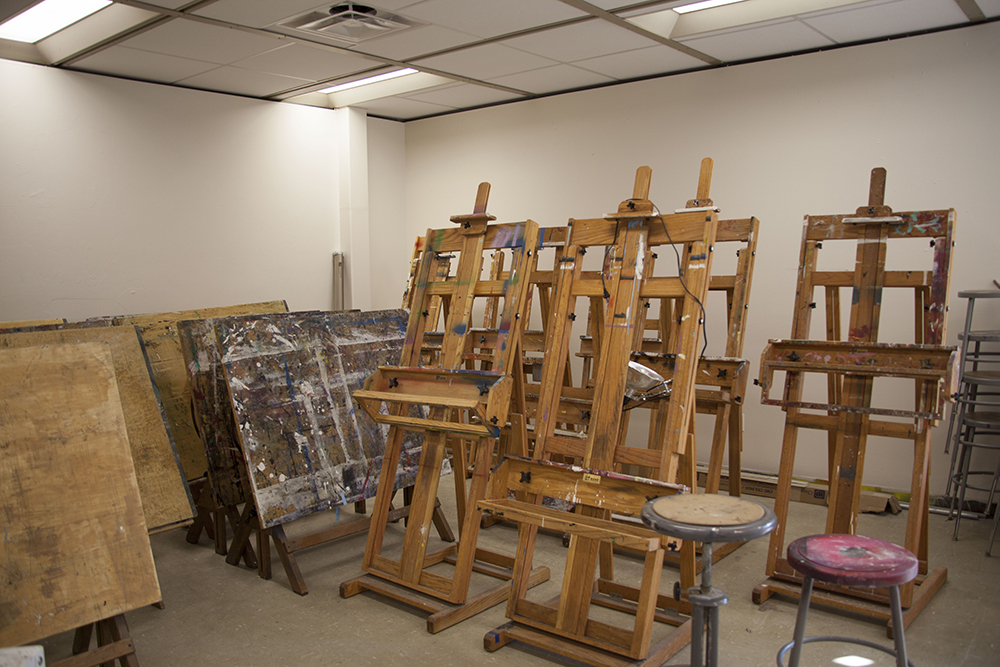 HRB 3 Photography Darkroom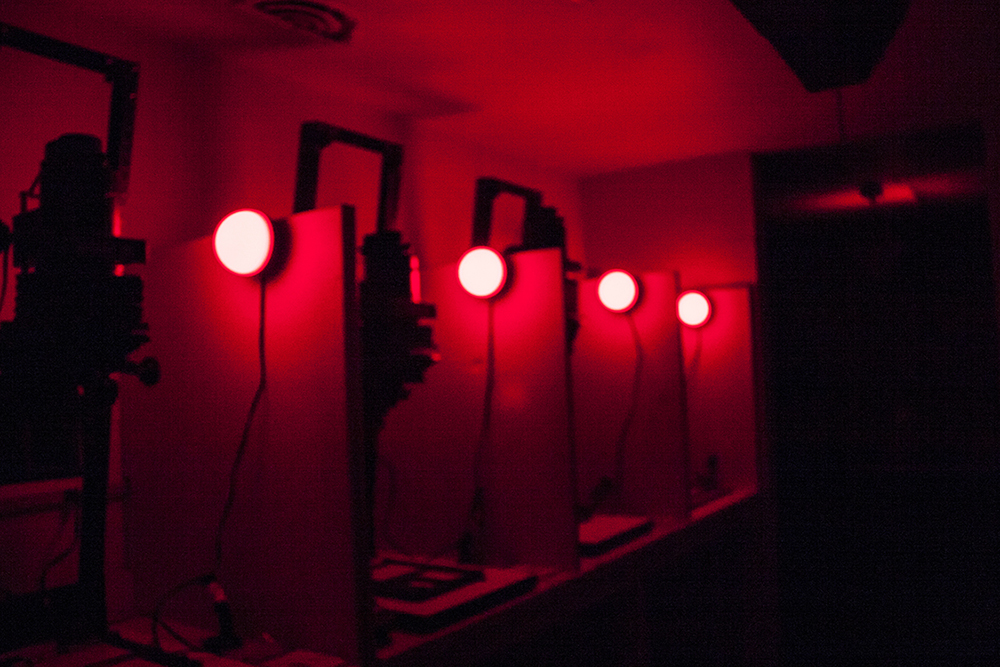 Within the Human Resources building, Visual Arts maintains a photography darkroom for black and white film processing and printing. These facilities are available for students enrolled in Visual Arts Photography courses or majors and minors through professor supervision. Additionally, there are film and digital SLR cameras available to check out through the digital media professor for students enrolled in photography or art courses, as well as majors and minors.