The UIS Challenge Course
The low team challenge course consists of events that may occur on the ground as well as utilizing the initiatives which consists of poles, wires, platforms and ropes a few inches to a couple feet off the ground. These exciting challenges help groups explore leadership and organizational behavior while moving towards their goals which may consist of: teamwork, communication, problem solving, cooperation, trust and respect. After a series of challenges, a trained facilitator leads a discussion to help the group relate the experience they just had to something relevant to their lives as individuals and as a team.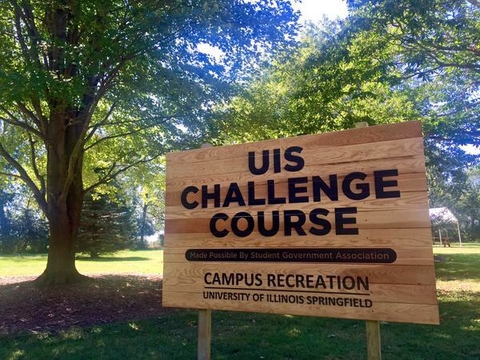 The course is located at the edge of the UIS campus, which is wooded with a retreat type feel.
After the initial communication, we will be in touch to learn more about your group and the outcomes the group hopes to achieve by coming to the UIS Challenge Course.
Most groups utilize the course for a half day (3-4 hours).  However, each experience can be tailored to the groups' needs and could go as short at two hours or as long as eight hours.
Minimum of eight participants, with a maximum of 150 participants.
Groups larger than 15 participants may be broken up for some activities to allow for more involvement.
Pricing depends on the desired amount of time, numbers of participants, and group objectives.
Groups can end, start or break their experience up with a meal at the challenge course for an additional cost.
"Our team really enjoyed taking our annual retreat offsite to the UIS Challenge Course. UIS made it so easy to schedule and coordinate that all we needed to do was show up! Their experienced facilitators really helped us to hone in on the teachings of each activity. It was also a perfect setting to enjoy the beautiful outdoors and open ourselves up to greater possibilities that sometimes can be stifled within the four walls of an office environment. Thank you for giving us a memorable retreat and time away to learn more from each other." – Penny McCarty, Chief People Officer, HSHS Medical Group
Contact Jay Swenson at 217-206-7103 or jswen2@uis.edu to get more information or reserve your date at the UIS Challenge Course.