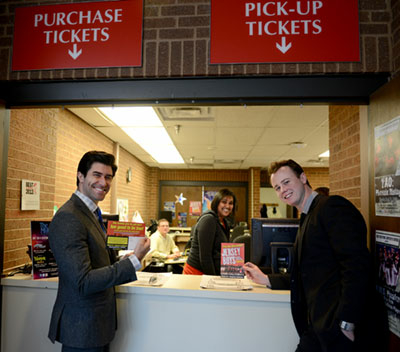 Ticket Office
The UIS Ticket Office is located inside the Public Affairs Center in the second floor main lobby area (opposite the concession stand).
Regular Ticket Office Hours:
Monday – Friday: 10:00 a.m. – 5:00 p.m.
Location:
UIS Ticket Office
University of Illinois Springfield
One University Plaza, MS PAC 292
Springfield, IL 62703-5407
(217) 206-6160
ticket@uis.edu
UIS Performing Arts Education Connections
Through Partners in Education, a national program of the John F. Kennedy Center for the Performing Arts, the UIS Performing Arts Center and Springfield Public Schools work together to offer professional development opportunities for area teachers.
FRIENDS of UIS Performing Arts Center
As a patron of the performing arts, you belong to an outstanding group of individuals. We invite you to join others who express enthusiasm for the arts by supporting the FRIENDS of UIS Performing Arts Center. As a FRIEND, you will guarantee the continuation of quality arts and entertainment programs at the UIS Performing Arts Center. Moreover, your support helps set the stage for future generations to enjoy high quality and world-renowned performances that explore, educate and entertain.
Contact UIS Performing Arts Services
UIS Performing Arts Services
University of Illinois Springfield
One University Plaza, MS PAC 397
Springfield, IL 62703-5407
(217) 206-6150 (administrative line)
(217) 206-6160 (ticket sales)
UISpac@uis.edu