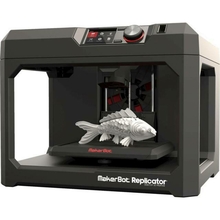 There are many applications that can be used to design the model to be printed, including TinkerCAD, SketchUp or 123D.
The 3D printer can only print objects in 1 color. Departments will be charged for the cost of the filament used to print each object.
File types that can be converted to work with our printer are:
Wavefront OBJ – *.obj
ASCII STL – *.stl
Binary STL – *.stl
Thing – *.thing
Thingiverse is an excellent source for ideas for using 3D printing.
The 3D scanner creates 3D models that are ready to 3D print and works seamlessly with our printer.
Please contact Kara McElwrath or Jeff Sudduth for more information about how to use 3D printing and scanning in your course. And be sure to check out how 3D printing was used in a Chemistry class here at UIS and how others are using 3D printing!