Zoom Webinar enables you to watch and listen to the program without having audio or video of yourself on screen. You'll be able to type your questions into the Q&A box, which will be answered in the latter half of the program. Please contact the Office of Advancement at 217-206-6058 if this is an accessibility concern for you. We can identify another way for you to ask a question.
These webinars can be accessed through a browser (Chrome recommended) on a computer without downloading the Zoom app. Check out our Zoom Webinar Tutorial for further tech related questions.
If you have any questions, please contact the Office of Advancement at 217-206-6058.
Timely Talks on Timeless Topics in Celebration of UIS' 50th Anniversary
African-American History Makers (watch recording on-demand)
Eva Carroll Monroe and the Lincoln Colored Old Folks and Orphans Home presented by Dr. Mary Frances, Artist, Professor and Documentarian.
Walter Thomas Bailey: The First Licensed African-American Architect in the State of Illinois presented by Kent Massie, Principal Planner and Landscape Architect, Massie, Massie & Associates.
Moderator: Kathryn Harris, Historian, Librarian and Community Leader
The Future is Now (watch recording on-demand)
The Future is Now: Business and Social Innovation in a Post Pandemic World presented by Katie Davison, Executive Director, Innovate Springfield; Dr. Ranjan Karri, Professor and Chair, Management, Marketing, and Operations; and Bruce Sommer, Director of Economic Development and Innovation.
Moderator: Dr. Somnath Bhattacharya, Dean, College of Business and Management
New Paths in History (watch recording on-demand)
Dr. Devin Hunter, UIS Assistant Professor of History, will present on Changing Landscapes and provide a preview of the 2021 Illinois History Symposium.
Dr. Jessica Harris, Vice Chancellor for Equity, Diversity and Inclusion and Associate Professor of Historical Studies, SIU-Edwardsville, and Dr. Connie Frey Spurlock, Associate Professor of Sociology and Director, Successful Communities Collaborative, SIU-Edwardsville, will present Narrative Change and Racial Equity: SIUE's Truth, Racial Healing, and Transformation Campus Center's E-Stories Project.
Tuesday, May 4: Presidential Candidates Who Lost
Illinoisans Who Ran for President—And Lost presented by Dr. Jacob K. Freifeld, Illinois and Midwest Studies Research Historian, Abraham Lincoln Presidential Library & Museum, and Forrest G. Keaton, Esq., Historian, Attorney and Partner, Rammelkamp Bradney.
Moderator: Dr. Claire Jerry, Curator, Political History, Smithsonian National Museum of American History
---
Fall 2020 Lunch & Learn Series
Enjoy on-demand recordings of our Fall 2020 Lunch & Learn Series.
---
Highlights from Spring 2019 Lunch & Learn Series
February 26: Lincoln on the Circuit & Mary Lincoln in the White House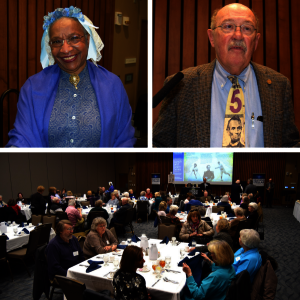 Guy Fraker, J.D., retired attorney, author and Lincoln historian, will discuss Abraham Lincoln's 20-plus year career as a lawyer and part-time judge on the 8th judicial circuit.
Kathryn Harris, immediate past president of the Abraham Lincoln Association, and former director of library services at the Abraham Lincoln Presidential Library, will present a first-person portrayal of Elizabeth Keckley, former slave and Mary Lincoln's trusted friend and modiste, who later wrote about her White House years.
---
March 27: Irish Heritage & History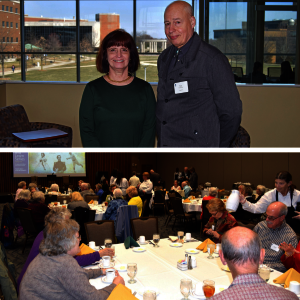 In celebration of Irish heritage in Illinois, Dr. Eileen McMahon, professor and chair of the History program at Lewis University, will discuss her research on the parish communities found along the Illinois & Michigan Canal, and the Irish immigrants who built this vital passageway.
Dr. Theodore Karamanski, professor of History and Public History Director at Loyola University Chicago, will present on the Irish in the Civil War. Live music by Wild Columbine.
---
April 30: Three-I Baseball & Forgotten Voices of Illinois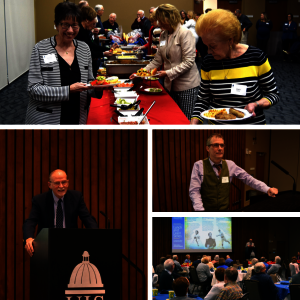 Bill Kemp, archivist and librarian at the McLean County Museum of History, will explore the Three-I professional baseball league (Illinois-Indiana-Iowa League) and how it shaped the history of professional sports in the Midwest from 1920-1940.
Dr. John Hallwas, award-winning author and editor of more than two dozen books related to Illinois history and literature, and professor emeritus of English at Western Illinois University, will present "Forgotten Voices: Six Illinois Authors You Need to Know".