Exercise is Medicine on Campus
In October 2018, UIS became an approved Exercise is Medicine® On Campus (EIM-OC) program. The premise of this program branches off the American College of Sports Medicine global health initiative, Exercise is Medicine® (EIM), that encourages regular physical activity to promote optimal health, and include assessment as part of the health care model.
The UIS EIM-OC team includes faculty, staff, and students from the Counseling Center, Health Services, Campus Recreation, and the Department of Allied Health who are working together to improve the health and wellness of our UIS Community.
In March 2021, the UIS EIM-OC program was officially recognized as a SILVER Campus! In addition, the efforts put forth by the EIM-OC Team during the pandemic awarded us the 2021 COVID-19 Conqueror badge!
This status was reached due to the efforts and wonderful events held across the University to help spread the word that… #ExerciseIsMedicine!
Looking to be more active?
Campus Walk/Jog Maps: Have you ever wondered how far a particular loop around campus is? Campus Recreation has created a list of different loops around campus. Whether you are a walker, jogger or biker, we have an on-campus route that you can enjoy.
The Recreation and Athletic Center (TRAC): The state-of-the-art Recreation and Athletic Center (TRAC) opened in Fall 2007. This 72,000 gross-square-foot facility is managed by the Department of Campus Recreation and houses the offices of UIS Intercollegiate Athletics. TRAC boasts a 23,000 square foot arena available for multiple indoor sports, three fitness areas, a Multi-Purpose Room and two racquetball/squash courts.
StarBikes Program: This is a program provided to UIS Students to promote health and wellness on campus. Students can check out a bike for a limited time via Campus Recreation for use on campus or around town.
Disc Golf Course: The 18-hole campus disc golf course is perfect for any skill level player. All students, faculty, staff, and Springfield community members are invited to use the course free of charge. Discs can be checked out by UIS students from TRAC during regular operating hours.
Additional Campus Recreation facilities: Campus Recreation manages multiple indoor and outdoor facilities on the UIS campus. Campus Recreation offers use of these facilities for Informal Recreation, Intramural Sports, and reservation by the UIS Community members and organizations for University use.
Past Events
October was Exercise Is Medicine on Campus Month! We held various events throughout the month to get students, staff and faculty more active! Of course, we celebrate the initiatives that get us to be a more active and healthy campus! And, be sure to check out Orion in the 2019 EIM-OC Mascot Challenge!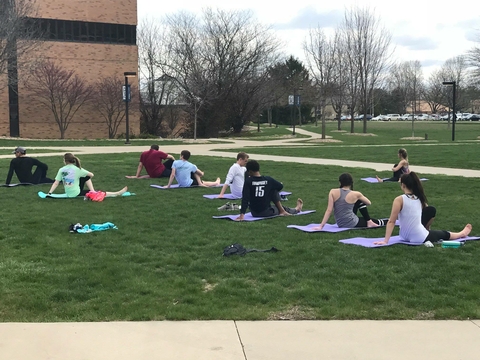 Exercise Science is a division of the Department of Allied Health in the College of Liberal Arts and Sciences.