The Exercise Science program of the School of Health Sciences prepares future health professionals in kinesiology, health promotion, physical activity, disease management, and professional healthcare programs.
The Exercise Science program is designed to prepare UIS students for various positions in the exercise and health field, or for post-graduate study in Exercise Science or additional School of Health Sciences' programs. Students also will be prepared for various professional certifications throughout this degree curriculum.
The program currently has the option for students to choose between two tracks:
Health and Fitness
Students in this track study topics including the physiology of strength and conditioning, and exercise psychology. Career paths include kinesiologist, strength and conditioning coach, wellness specialist, exercise physiologist, rehabilitation instructor, and fitness coordinator for athletic teams at all levels.
Physical Therapy
(pre-professional education)
This track is designed for preparation for students who plan to pursue careers in patient care and the health professions, and typically go on to graduate studies in physical/occupational therapy, physician assistant, medical school, etc.
Career Paths in Exercise Science
Exercise Science students have abundant opportunities for applied practical experiences in area clinics, health clubs, corporations, and rehabilitation centers.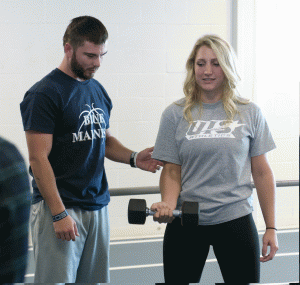 Exercise Physiologist
Corporate Wellness Specialist
Fitness Instructor
Health Coach
Kinesiologist
Strength and Conditioning Specialist
Health Education Specialist
Personal Trainer
Recreational Therapist
Recreation Center Manager
CardioPulmonary Rehabilitation Specialist
Exercise Science News
Apr 30, 2020
It would be nearly impossible to have a health class without acknowledging the elephant in the room, COVID-19. Assistant Professor of Exercise Science…