Public Affairs Reporting Program
In one year, students receive a master's degree and on-the-job experience with a professional media organization.
PAR is a one-year, professionally oriented master's degree program that trains students to become journalists who produce intelligent news coverage about government, politics and other public affairs.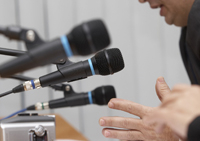 The program concentrates instruction in three areas: journalistic skills (news reporting and writing for digital, broadcast and print), public affairs knowledge and professional responsibility.
The program's centerpiece is a six-month paid internship, where PAR students work for a professional news organization in the Statehouse press room to report on the Illinois General Assembly's spring session.
A new round of the program begins each August, when students spend the fall semester in the classroom taking required and elective courses intended to strengthen their news reporting skills and expand their knowledge of government and public affairs.
Learn more about PAR admission requirements.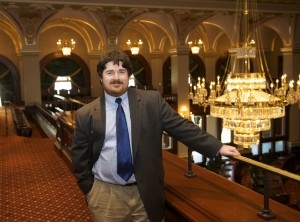 The internship, which begins in January, requires each student to work as a full-time news reporter for a newspaper, wire service, television or radio station, under supervision and mentorship of the outlet's bureau chief, editors or news directors. Students' work will be read, seen and heard by audiences throughout Illinois.
Before graduation, students must complete a professional portfolio that demonstrates mastery of public affairs journalism. The portfolio will include a variety of hard news, analyses, in-depth and feature stories the student has reported and written and that have been published or aired by a professional media outlet, along with project memos detailing the news judgments involved in reporting and writing the longer pieces.
Assuming the student successfully completes all aspects of the program, he or she will have a master's degree, solid job prospects, and strong potential for a successful career as a professional journalist.
Affordability
PAR is one of the most cost-effective and time-efficient ways for a journalist to earn a graduate degree while building a resume and getting high-level experience. During the internship, students receive a tuition waiver and a $585-a-month stipend. In addition, the program is supported by generous donors who provide thousands of dollars in scholarships to PAR students exhibiting exemplary academic performance and financial need.
Learn more about the donors who support PAR.
What Can You Do With This Degree?
PAR degree = Excellent career prospects
If you want to be a working journalist, then PAR is a perfect match for you. The program enjoys an excellent placement record, averaging close to 100 percent for each graduating class.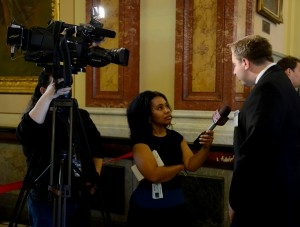 Members of the last three graduating classes, for example, are now working as reporters/producers for newspapers and broadcasters in Springfield, Chicago, other Illinois cities, D.C., Delaware, Iowa, Missouri and Wisconsin.
As of the beginning of 2020, our alumni were working as editors, columnists and reporters at the Chicago Tribune, Chicago Sun-Times, The Wall Street Journal, The Washington Times, the Houston Chronicle, The Arizona Republic, (Minneapolis) Star Tribune, Cleveland.com, the Tampa Bay Times, The Indianapolis Star, The Baltimore Sun, The Dallas Morning News and other major metropolitan newspapers, as well as with The Associated Press, Reuters, Bloomberg News, Newsweek, POLITICO and The Hill.
Broadcast alums are currently executives, producers, and reporters with television and radio outlets in the Chicago, St. Louis, Washington, Boston, Atlanta, Phoenix, Denver, Orlando, Raleigh-Durham, San Diego, Nashville and other markets throughout the U.S., as well as with Al Jazeera and National Public Radio.
The impressive placement results aren't surprising, considering what graduates bring to the table.
PAR students start their professional careers fresh from full-time jobs, cleverly disguised as internships, covering the complexities of Illinois government for the state's leading media outlets. They have the clips and the resume tapes to show what they did in the demanding environment of the Statehouse.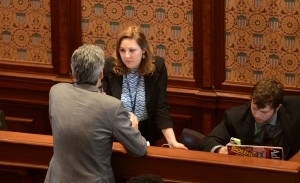 In addition to finely honed reporting and writing skills, PAR grads also acquire in-depth knowledge of the most critical public affairs issues of the day, including marijuana legalization, gun control, abortion regulation, school finance, health care and taxation.
In short, students leaving the PAR program are prepared to step into the most demanding beats a newsroom has to offer, and the media managers who do the hiring know it. That's why managing editors and news directors with openings on their news staffs call us looking for alums who might be available; in fact, frequently the callers are PAR grads themselves.