Energy and Transportation Convergence
Energy and Transportation Convergence: Challenges and Opportunities for Electric Grid Modernization
Program Information
Presentations

Registration
Registration Fees

Scope and Purpose
Vehicle-to-grid (V2G) holds promise as an energy and transportation policy for meeting both economic and environmental goals. A carbon constrained
future will require policy choices today that enable vehicle and grid technologies to play a role in meeting these goals. This conference will cover the future of V2G and the policy and technical barriers to achieving efficient deployment of energy resources
Who Should Attend
Transmission and distribution operators, utility regulatory and pricing departments, government affairs personnel, consumer advocates, regulatory agency commissioners and staff, academics, transportation and energy policy analysts, and journalists.

Conference Location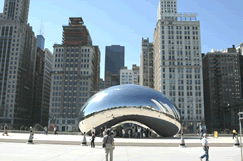 Chicago Marriott Downtown Magnificent
Mile, 540 North Michigan Avenue, 312-836-0100.
Explore the attraction that is Chicago.
Accommodations
Participants are responsible for their own accommodations.

Cancellations
Cancellations will be accepted until October 30, 2009 with full refund when requested in writing. After which refunds are subject to a $75 processing fee. No cancellations may be made after November 12, 2009. Substitutes are encouraged and will be accepted at any time prior to November 12, 2009 by contacting CBR at cbr@uis.edu or call 217.206.7909 . If the program is not held for any reason, CBR's liability is limited to a refund of the program fee.