Bachelor of Science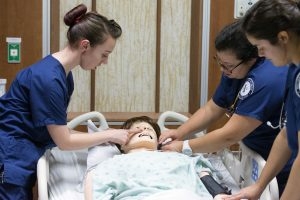 A Bachelor of Science in Nursing (BSN) degree from the University of Illinois at Chicago will provide you with an excellent foundation for a fulfilling, lifetime career as a nurse – one of the fastest growing professions in the U.S.
As one of the nation's leading colleges of nursing, the UIC College of Nursing offers an excellent education with some of the nation's foremost nursing leaders as your instructors. You will be surrounded by energetic and supportive peers, receive personal and professional guidance, and work with outstanding clinical partners.
TRADITIONAL BSN
This route is for students who do not hold an RN license.
The traditional BSN is not an accelerated degree program. Courses are completed over the course of four full-time semesters (2 years, no summers). Students are admitted to the traditional BSN program during the fall semester only at either the Chicago, Springfield or Urbana regional sites. Applicants will specify the regional site of choice during the application process.
Admission into the traditional Bachelor of Science in Nursing (BSN) program occurs at the junior level* after completion of 57 credit hours of college level prerequisite course work. The curriculum in the traditional BSN program incorporates face-to-face instruction and hands-on practical learning from day one. Upon completion of the traditional BSN program, you will be eligible to sit for the National Council Licensure Examination (NCLEX) for Registered Nurses in order to receive the RN license and practice as a nurse generalist.
* Students who hold a bachelor's degree (or higher) in another field are also eligible to apply to the traditional BSN program.