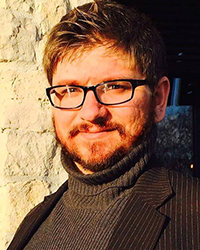 William Wadas
'14
Onboarding Specialist
Political Science
Current Location: Castle Rock, CO
Hometown: Gurnee, IL
UIS Degree: B.A. 2014 (Political Science)
Current Position: Onboarding Specialist – Pacific Architects & Engineers (support contractor for the United States Antarctic Program, managed by the National Science Foundation).
Career Highlights
"One afternoon shortly after graduation I found myself watching a documentary about the lives of support staff at research stations in Antarctica. The next day, I got in touch with one of the contracting firms and submitted an application, on a whim — a few months later, I found myself boarding a C-17 transport jet en route to Earth's final frontier. Now I work full time helping others prepare to do the same."
Memories of SSU/UIS
"I recall a political science classroom debate about the tenure of Governor Jim Edgar getting pretty animated. The professor, Dr. Ron Michaelson, happened to be acquainted with Governor Edgar and mentioned he might be able to get him to come into the class to discuss the disagreement himself. A few weeks later, there was Jim Edgar sitting at the classroom desk, ready for an open Q&A with the fifteen or so members of our class and enthusiastically recounting his perspective on the tumultuous history of our unique state."
"The conversation was so lively and engaging that the Governor wound up sticking around and talking with a handful of us for nearly an hour after class had been dismissed. This casual and memorable encounter, facilitated by an experienced UIS faculty member, was something I never could've experienced at a larger institution."
How did UIS change or prepare you?
"The emphasis UIS instructors place on interdisciplinary education has carried into my professional life — the lessons I learned in Springfield helped make the process of connecting the dots between seemingly unrelated concepts and disciplines into an instinct rather than a task. This skill has been essential in navigating the often complex bureaucracies of government contracting."