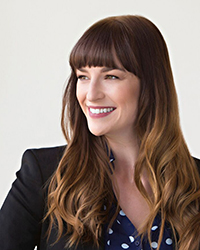 Sarah Beth Ayers
'11
Community Manager
Visual Arts
Current Location: Springfield, IL
Hometown: Springfield, IL
UIS Degrees: B.A. 2011 (Visual Arts), M.P.A. 2016 (Public Administration)
Current Position: Community Manager for Innovate Springfield
Career Highlights
"I have diverse experience having worked in the private, corporate, and nonprofit sectors. I started my career, while working toward my undergraduate degree, as the Executive Administrative Assistant to the President of Friar Tuck Beverage. Upon graduation I took a Customer Service Representative position at Horace Mann, but I needed more flexibility in my schedule to pursue an advanced degree. I accepted a position working for the Illinois Coalition Against Sexual Assault where I coordinated training events for the statewide network while working toward my master's degree. After having received my M.P.A., I was offered the Community Manager position with Innovate Springfield, where I remain today. My current position is the perfect marriage of my B.F.A./M.P.A. skill set. I get to participate in program development, implementation, evaluation, and strategic planning for the organization, while also driving the interior design of the space including painting branded statement walls and creating fun chalkboard wall art throughout the space."
Memories of UIS
"Both of my parents (Michael and Ruth Ann Ayers) worked for UIS, so I have long-standing ties to the university and fond memories of attending take your daughter to work day, events at the Sangamon Auditorium, and also have strong relationships with long-time UIS faculty and staff. Everything about working toward my undergraduate degree was a gift, and was truly enjoyable. The intimate class sizes meant that I had the opportunity to engage with my professors individually and develop strong professional relationships. Hilary Frost-Kumpf, Hua Chen, Liz Murphy Thomas, Jonathan Perkins, Michael Miller and Shane Harris were all wonderful mentors and I can't say enough about how their instruction and thoughtful participation in my education shaped me and gave me the tools that I needed to be successful. My senior art show and all of the work leading up to the show stands out as one of the best memories from that time.
Building on my long standing ties to the University, it seemed a natural fit for me to pursue graduate studies in Public Administration at UIS. The faculty were wonderful, supportive and challenged me to work at my highest level. Analytical Tools with Junfeng Wang was the class I most enjoyed, because it took me way out of my comfort zone and I left the course fully equipped to evaluate and analyze statistical data. Dr. Blankenberger, Dr. Bland, Dr. Wang, Dr. Sisneros, Dr. Bunch and Dr. Goulet were all outstanding and approached their courses with passion and expertise beyond my expectations. Participating as Secretary of the PASA Board, and being able to engage with faculty and other students through the Board was a great experience and a highlight of my time. Being inducted into the Pi Alpha Alpha honors society was another highlight of my experience."
How did UIS change or prepare you?
"UIS challenged me to work at my highest level, to think analytically and creatively, and to develop a professional persona situating me for success in my career."
Interesting Fact
"A fun fact about me is that I am obsessed with musicals; The Sound of Music, The Wizard of Oz, Mamma Mia, South Pacific, My Fair Lady, Holiday Inn, you name it."