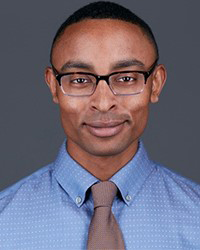 Rashaad Robinson
2013
Investment Advisor
BBA
Current Location: Boston, MA
Hometown: Glen Carbon, IL
UIS Degree: BBA 2013
Additional Degree: MPSRE, Cornell University
Current Position: Investment Advisor, Goldman Sachs
Career Highlights
I always try to prioritize being of service to others. Serving in the United States Air Force was the honor of a lifetime and steered me toward roles that allow me to put the needs of others first. After starting a business, I quickly gained an appreciation for the hard work that is required and the challenges that come with owning/operating a small business. Small businesses are truly the backbone of America!
Memories of UIS
Attaining my degree from UIS meant a lot to me. I started the process while I was still serving and completed it as I was just getting my business off the ground. Being in the classroom was extremely important and something I prioritized. I would commute a total of two hours each day I had classes, which usually amounted to 3-4 days a week. I quickly learned you get out what you put in. The professors were phenomenal and always willing to help.
How did UIS change or prepare you?
UIS taught me persistence. I was a non-traditional student looking to achieve something that wasn't very common in my family at the time. When I entered my final academic year at UIS, I realized that the Air Force has taken me around the globe, but UIS taught me how big the world actually was and that I should dream bigger.
Interesting Fact

Ever since I moved to the Northeast, I've become a huge fan of exploring the trails and state/national parks. I'm tying that to my passion for videography and hoping to eventually share those videos publicly.