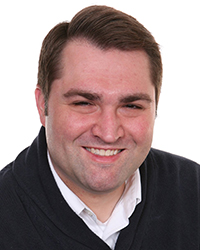 Neil Calderon
2010
Social Studies Teacher
Educational Leadership
Current location: Springfield, IL
Hometown: German Valley, IL

UIS degree: BA in 2002 (Political Studies), MS 2010 (Educational Leadership)

Current position: Social Studies Teacher – Springfield Southeast High School
Career Highlights
"Having several students of mine choose to become teachers themselves and citing their experience in my classroom as one of the reasons that they made the career choice that they did."

Memories of UIS
"There are way too many individual moments to choose just one. Being able to serve as our campus' student trustee on the U of I Board of Trustees was a special experience, but meeting my wife and the friendships that I started as a student at UIS have meant the most to me."

How did UIS change or prepare you?
"Whether I'm volunteering on a political campaign or teaching in the classroom, a day doesn't go by where I don't use something that I learned while I was a student at UIS. I can't imagine what my life would be like today if I had not received my UIS education."

Personal Tidbit
"Anyone who knows me knows that I am die hard Chicago Cubs fan, and like most Cubs fans I have been told by numerous non-Cubs fans that my allegiance to the Northsiders is character building. Though they mean it in jest, I find it to be absolutely true. Like most Cubs fans I remain optimistic that my team will one day win it all, but more importantly I often call upon that same resilient form of optimism when I am teaching or working on a campaign and it's that mindset that has allowed me to continually enjoy the work that I do."