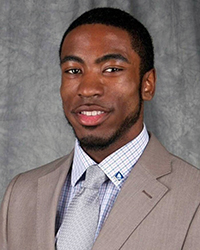 Dominique Wilson
2016
Entrepreneur
Communication
Current Location: Chicago
Hometown: Chicago
UIS Degree: Bachelor of Arts inCommunication, Class of 2016
Current Position: Entrepreneur, Real Estate investor and co-founder of RiseKit, an online tool connecting underserved community members to jobs and non-profit resources throughout the United States.
Career Highlights
I worked abroad in Malawi, Africa supporting the second-largest health provider with business development. Through my efforts we were able to secure a stronger pharmacy supply chain to more than 150 hospitals and clinics throughout the country. We also were able to get ambulances donated, and built stronger relationships with USAID, World Bank and the Malawi government Ministry of Health.
What are your best memories of UIS?
Throughout my four years at UIS I had many moments that stood out for me. My No. 1 moment was graduation. As the Student Trustee of UIS, I had the privilege of sitting on stage with faculty and staff. For me, the greatest honor of that moment was walking alongside Dr. Clarice Ford. She was a mother figure for me, a mentor, a confidant, a friend. Having the opportunity to close out a huge milestone alongside her was my best moment at UIS.
My other best moments weren't single experiences but rather my entire years combined. From freshman year, when I got my feet wet and walked through the doors of Chancellor Koch's office to request a meeting, to sophomore year where I grew as a campus leader as the president of the Black Student Union and being a Resident Assistant. The friends I gained and the lessons I learned helped mold me into a better man and help guide my purpose as an individual to impact lives across the world. I am grateful for all my memories I had at UIS.
How did UIS change or prepare you?
UIS helped me evolved in many ways. It gave me challenging leadership experiences, it challenged my resolve as a person and helped me grow as a community leader both on and off campus. During sophomore year I had the opportunity to go aboard to Gambia, Africa. This life-changing experience helped me understand no matter who we are, we can impact a life with small acts of kindness, through our words and our actions. UIS prepared me for the world ahead and helped me understand education doesn't stop in the classroom but it happens with our interactions with different cultures, when we read a new book, when you go out and simply ask a question. I have countless moments of how I grew as an individual and I appreciate every staff, faculty, student, and the communities of both Springfield and the University of Illinois who welcomed me with open arms.
What is an interesting fact about yourself that you would like to share?
I am adopted, and was bounced from home to home when I was younger because my biological parents were in and out of jail. My life started off very rough. I didn't allow circumstances I could not control stop me from going after a better life. I am a firm believer we can create our own destinies. We must put effort every day toward the goals we have and we are bound to get closer than we were yesterday.