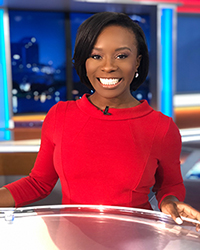 Daralene Jones
2013
Journalist
Public Affairs Reporting
Current Location: Ocoee, Florida
Hometown: Chicago, IL
UIS Degree: Master of Arts in Public Affairs Reporting, Class of 2013
Current Position: News Anchor and Investigative Journalist
Career Highlights
I am a Emmy award-winning investigative reporter and anchor who focuses on in-depth data driven journalism and storytelling. I also am the creator and executive producer of the Ocoee Massacre project, a documentary film that uncovers the events surrounding the lynching of a Black man, and the destruction and seizure of Black owned property, after they tried to vote in a presidential election in Ocoee, Florida on November 2, 1920. My reporting on police use of force has prompted police agencies to audit their reporting of excessive force cases. My extensive work on the lack of COVID-19 reporting pushed the state of Florida to start tracking cases in daycares. I also am credited with being the lead reporter in Florida investigating the deaths of Trayvon Martin and Florida A&M drum major Robert Champion. Since graduating from UIS, I also have worked at NBC Philadelphia, where I was the lead journalist on some of the region's biggest stories, including the Boston Marathon bombings, the Gov. Chris Christie Bridgegate scandal, 2013 Oklahoma tornadoes, and Washington, D.C. Navy Yard shooting.
What are your best memories of UIS?
I enjoyed the small classrooms. The intimate learning environment allowed me to immerse myself into the matriculation experience. The in-depth knowledge of the professors and hands-on lab experience also helped prepare me for the aggressive world of government-centered journalism, which if you think about it, government impacts every aspect our lives. There are few reporting projects I've approached in my years as a journalist that didn't require me to utilize the skills learned through the PAR program at UIS.
How did UIS change or prepare you?
It gave me an advantage in the workforce. Understanding how local, state and federal government processes work alongside politics is a key tool in investigative journalism. My experience at UIS also changed the way I view the significance of local communities. My time at UIS, and what I learned in the classroom, taught me to be an advocate for my community through journalism, and that starts with being a watchdog of local and state government.
What is an interesting fact about yourself that you would like to share?
I love reading about Black history and culture. Some of my favorite books I've read multiple times, including, "The Warmth of Other Suns," "Song of Solomon," "An American Marriage" and "Invisible Man."