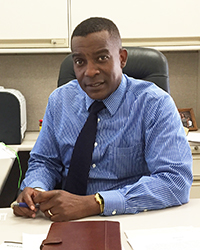 Dalitso Sulamoyo
1999
Public Administration
Political Science
Current Location: Urbana, Illinois
Hometown: Malawi, Africa
UIS Degrees: M.A. 1999 (Political Studies), M.P.A. 2002 (Public Administration)
Other Degrees: Ph.D. 2011 Benedictine University, B.A. 1996 Illinois College
Current Position: CEO, Champaign County Regional Planning Commission
Career Highlights
Sulamoyo served as President and CEO of the Illinois Association of Community Action Agencies (IACAA) for 16 years. IACAA represents 40 not-for-profit and public entities that work on reducing and eradicating poverty throughout the state of Illinois. Some of his work included outreach for the Affordable Care Act, developing training and technical assistance processes to assist member organizations of IACAA with capacity issues, developing affordable housing projects and ensuring that small rural communities had access to safe drinking water and functioning water and sewer systems. He spent time engaging members of the General Assembly and Congress on public policy issues affecting the anti-poverty work carried out by members of IACAA. He co-published a textbook with UIS professors on community action leadership. He has received numerous awards and recognitions for his work. Of note, he was awarded the Martin Luther King Jr., Humanitarian Awards by both the Illinois Head Start Association and the Illinois Association of Community Action Agencies (2010 and 2009), the Alumnus with Shining Example Award from the Associated Colleges of Illinois (2007), the Not for Profit Business Director of the Year (2003). He was personally invited to speak with former President Barack Obama about Community Action in 2013. Sulamoyo hails from Malawi which is one of the most poverty-stricken countries in the world.
Memories of SSU/UIS
"Attending evening classes right after work and feeling energized by it."
How did UIS change or prepare you?
"UIS helped me to become a practical leader in the not for profit and public arena. The classes I took with practitioners in the field of public administration provided me with the tools and resources to be effective at leading a highly complex organization with diverse interests."
Interesting Fact
"I am the first African American President & CEO of the Illinois Association of Community Agencies and the first African American CEO of the Champaign County Regional Planning Commission."