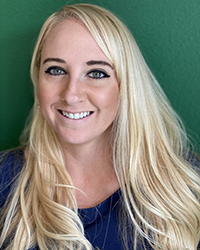 Christy Brown
2007
Wedding Event Manager
Communication
Current Location: Clermont, FL
Hometown: Springfield, IL

UIS Degree: 2004 graduated with a Bachelor's degree in Communication and 2007 graduated with a Master's degree in Communications

Current Position: Wedding Event Manager for Disney's Fairy Tale Weddings
Career Highlights
My first published children's book, "A Ring Bear?" was released on July 1, 2021, by the publishing house, Black Rose Writing. It's been a dream come true to publish a book.
What are your best memories of UIS?
When I started the Master's program, there was a small group of us who went through the program together. It felt like a personalized program.
How did UIS change or prepare you?
It was during my Master's Program that I received a dream offer to join Disney's Fairy Tale Weddings Internship program. I've now been with the department for 13 years.
What is an interesting fact about yourself that you would like to share?
My husband and I first met while I was wearing a wedding dress and he a tuxedo for a marketing shoot at Disney's Wedding Pavilion. We later got engaged and married in that exact location.