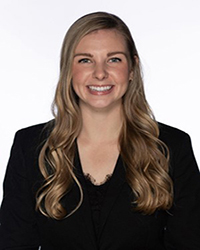 Ashley Beaton
2017
Education
Psychology
Current Location: Kenosha, WI
Hometown: Wildwood, MO
UIS Degree: B.A. 2017 (Psychology)
Additional Degree: M.B.A. 2019 (Business Administration,) University of North Georgia
Current Position: Athletics Academic Advisor at University of Wisconsin – Parkside
Career Highlights
Through being a student-athlete at UIS I was appointed to be the UIS Student Athlete Advisory Committee President and then the Great Lakes Valley Conference National Student Athlete Advisory Committee Representative, representing Division II student athletes nationwide. That opportunity ultimately allowed me to gain my master's degree while working in my desired field and then to a position at the NCAA National Office as the Post-Graduate Intern for Division II Governance. Now, in my current role as the Athletics Academic Advisor I work with all the student-athletes ensuring progress towards degree and academic/life skill success.
Memories of UIS
Meeting my now, fiancé Chance Simpson, and my teammates who turned into lifelong friends. But, also all the times spent with my team, playing volleyball and watching my friends compete.
How did UIS change or prepare you?
UIS allowed me to immerse myself in opportunities that built my confidence as a leader. Leadership lived. I was also able to gain a quality and affordable education with the help of being an NCAA Division II volleyball student-athlete and through various scholarships and grants. I felt connected with the university, students, faculty, staff and community, and felt as if I was truly able to make change and that I had total control of what my future looked like.
Interesting Fact
When I lived in Dahlonega, Georgia, in the Appalachian Mountains, I discovered my love for hiking. I have hiked parts of the Appalachian Trial, mountains in Phoenix and trails throughout the cities I've lived in. I don't plan on stopping anytime soon!