The UIS MLS Club is a student led organization that promotes leadership, service and awareness of the MLS degree and profession by participation in exciting events! Leadership roles and membership in this club allows students to merge classroom education with leadership and service events to nicely round the student experience.
The MLS Club allows MLS majors and other interested students to meet for social, educational, service, and fund-raising activities. UIS students can participate as members and elected executive committee members of the MLS Club. Club executive committee elections are held toward the beginning of each Fall semester to designate club officers and student representatives.
The 2020-2021 MLS Club Executive Committee members are:
Co-Presidents: Kirsten Callaway and Pie Sharma
Vice President: Abby Frohning
Secretary: Haley Tolan
Co-Treasurers: Will Franz and Anna Woods
MLS Club Events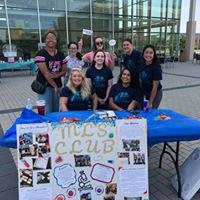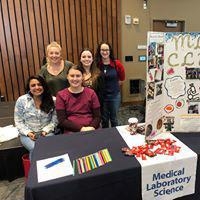 The students participate in service-driven annual events including:
Welcome Week activities
Campus Blood Typing
Trick or Treat for Canned Goods
Trivia for Family weekend
Poinsettia Fundraiser
Medical Laboratory Professionals Week events
Health and Wellness Fair
Volunteer opportunities
MLS Club Creates Educational Video
The MLS Club created an educational video in honor of Medical Laboratory Professionals Week. Medical Laboratory Professionals Week (MLPW) is held annually over the last full week of April. The MLS Club had many activities planned for MLPW 2020. When activities were canceled due to COVID-19, the MLS Club created an educational video about the Medical Laboratory Science profession and shared it on the MLS Club at UIS Facebook page.
ASCLS-IL Student Bowl Competition
MLS Club sponsored teams compete annually against other statewide teams in the ASCLS-IL student bowl competition. The UIS team regularly places in the student competition. No student bowl competition was held in 2020 or 2021 due to COVID-19.
2019: UIS won 2nd place
2018: UIS won 2nd place
2017: UIS won 1st place