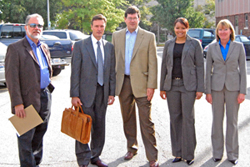 In the Slover case, an entire family consisting of father, mother, and son, were convicted of murdering the son's former wife, Karyn Slover.
Karyn Slover disappeared after leaving work on September 27, 1996. Her car was found abandoned along an interstate highway outside of Champaign, Illinois that evening, with the driver's door open and the engine still running. Her dismembered body was found two days later, floating in garbage bags sealed with duct tape, in Lake Shelbyville, Illinois.
The case languished for four years before prosecutors sought an indictment. Michael Slover, Jr. could not have participated in his wife's abduction or the abandonment of the vehicle because he had an air-tight alibi. He was working two jobs that day.
In March of 2001, prosecutors withdrew the death penalty as a possible sentence in the case and the Slover's court-appointed investigators were removed from the case since they were not required to be funded in non-death penalty cases.
Prior to their removal from the case, defense investigators had interviewed a number of witnesses who raised the likelihood that the actual killer was someone else. When the investigatory resources were withheld, they were not able to continue to pursue these leads.
The Slovers were convicted in 2002 and sentenced to 65 years in prison after extensive pre-trial publicity and despite the lack of any physical evidence or any kind of coherent theory on how they could have committed this crime.
UIS students from John Hanlon's "Conviction of the Innocent" class were instrumental in developing evidence used in a post-conviction petition that ultimately led to the Appellate Court ruling ordering a hearing to consider potential new evidence in the case.