Lobbying Illinois: How You Can Make a Difference in Public Policy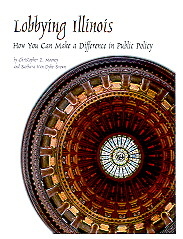 Lobbying Illinois: How You Can Make a Difference in Public Policy
by Christopher Z. Mooney and Barbara Van Dyke-Brown
$20.00
Published in fall 2002. 144 pages, soft cover
A primer on how to lobby state government in Illinois.
Written especially for people and groups with public policy goals, but little or no experience in the policymaking making arena.
Explains the basics of the legislative process and lobbying, how to work strategically within the legislative processes, how to build coalitions and grassroots, and the basic rules and ethics of lobbying.
An excellent tool for teaching your group members about lobbying and the legislative process in Illinois.
Contact for orders
Barbara Van Dyke-Brown
Institute for Legal Legislative and Policy Studies
University of Illinois Springfield
One University Plaza, MS PAC 451
Springfield, IL 62703-5407
Phone: (217) 206-6579
Fax: (217) 206-7397
Email: bvand1@uis.edu
Shipping and Handling
Shipping & Handling is $5.00 per copy. For orders of three or more, the books will be shipped at cost.
Bookstores
Arrangements with bookstores will be made on an individual basis. Please contact Barbara Van Dyke-Brown for additional information.
About the Authors
Christopher Z. Mooney
Barbara Van Dyke-Brown
Testimonials
"Accurate, insightful, and well-written… a great resource for educating clients and board members. I highly recommend it."

Jim Fletcher, Fletcher, Topol, O'Brien & Kasper, P.C.
"This is a great new book for students studying state government and for citizens wanting to affect Illinois laws. I am assigning it in my Internship class as required reading and recommending to community and civic organizations. It answers all the important questions of how to lobby legally and effectively."

Dick Simpson, Former Chicago Alderman and Professor of Political Science, University of Illinois at Chicago
"Lobbying Illinois is virtually without parallel. Mooney and Van Dyke-Brown have provided an informative, highly readable book that employs lobbying as a central theme but sheds considerable light on state institutions, the legislative process and "politics" in the state. Perhaps most impressively, Lobbying Illinois accomplishes its goals by a much-welcomed combination of excellent writing, presentations of data, lucid description and attention to both theory and context."

P.S. Ruckman, Jr., Associate Professor of Political Science, Rock Valley College
"Lobbying Illinois is a timely and useful resource for practitioners, students, and laypeople. Illinois legislative politics is a high stakes game-this book arms readers with the understanding and skills needed to compete. Its practical approach, its readability, and its "insider's" orientation make it a must-read for those seeking to influence the making of public policy."

Barbara Brown, Professor of Political Science, Southern Illinois University, and co-author of Basic Illinois Government
"Lobbying Illinois does more than just illustrate the importance of citizen participation in Illinois politics –it is an instruction manual on how to weave through the intricate maze one encounters in Springfield."

Jeffrey Ashley, Assistant Professor and MIG coordinator, Eastern Illinois University
"Lobbying Illinois would serve as an excellent supplementary textbook for courses in Illinois politics, state and local government, and interest group politics. It contains great practical advice… and could serve as a comprehensive guide for students doing research on Illinois politics."

Keith Boeckelman– Associate Professor, Western Illinois University
"Lobbying Illinois is an excellent resource for students of Illinois government. It provides a detailed roadmap of the legislative process in Springfield and, more importantly, discusses the techniques and strategies behind successful lobbying efforts. Lobbying Illinois is essential reading for citizens and groups who wish to influence public policy in the state of Illinois."

Thomas J. Rudolph, Assistant Professor, University of Illinois at Urbana-Champaign
"Lobbying Illinois is much more than a primer on lobbying in Springfield. The book fills an important gap in our knowledge about the workings of Illinois government and how citizens can influence the public policy process. Information on Illinois government and lobbying is presented in a lively and accessible fashion that is going to be of interest to ordinary citizens, lobbyists, and students of state politics. Readers of this book will come away with a broad knowledge of Illinois state government and an understanding of how citizens can make a difference in the state policy process."

John P. Pelissero, Professor of Political Science, Loyola University Chicago
Table of Contents
Preface
Acknowledgments
Illustration Credits
Chapter 1
The Importance of Lobbying
Chapter 2
A Primer on the Illinois Legislative Process
Chapter 3
Lobbying Essentials
Chapter 4
Legislative Process and Rules-Working Effectively in the System
Chapter 5
Lobbying Tactics and Strategies
Chapter 6
Administrative Rulemaking-Lobbying State Agencies
Chapter 7
Lobbying and Grassroots Politics
Chapter 8
Lobbying Laws and Ethics
Chapter 9
A Lobbyist's Guide to Information Resources
Further Reading on Lobbying and Illinois Government
About the Authors
Sample Pages
Chapter 5: Lobbying Tactics and Strategies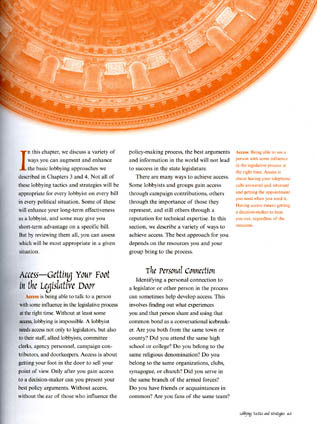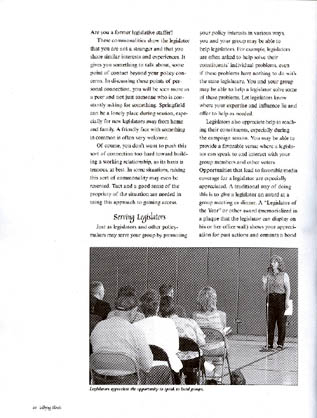 Chapter 6: Administrative Rulemaking – Lobbying State Agencies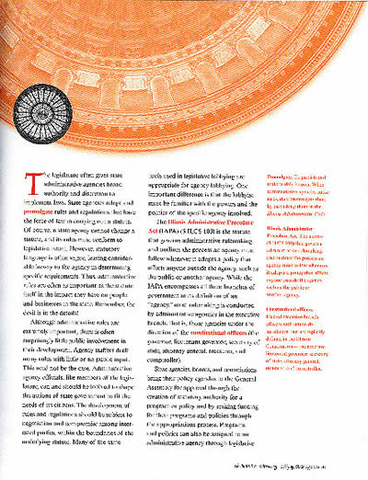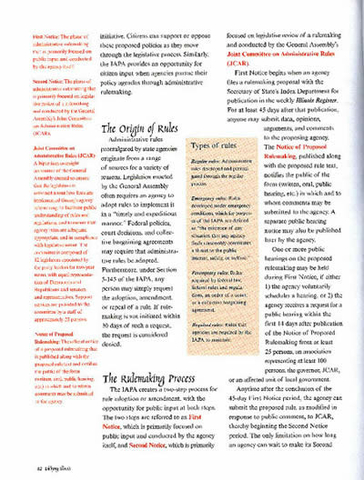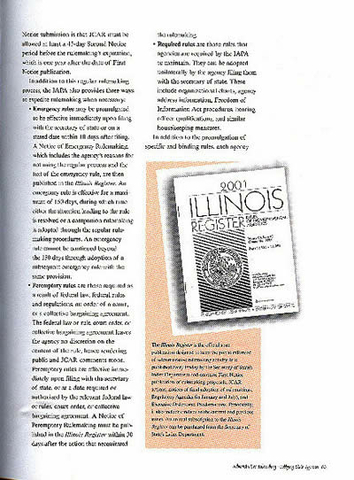 Chapter 9: A Lobbyist's Guide to Information Resources