The Third House: State Lobbying Essentials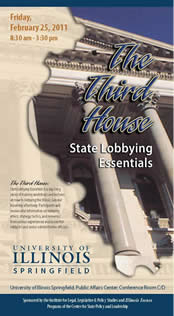 The Third House: State Lobbying Essentials is a day-long series of training workshops and lectures on how to effectively lobby the Illinois General Assembly.
Participants will receive vital information on lobbying ethics, resources, strategy, tactics and legislative drafting from various experienced and successful lobbyists and senior administrative personnel from the Illinois Secretary of State and legislative support agencies of the Illinois General Assembly. Sponsored by the Institute for Legislative Studies and Illinois Issues magazine.
Featured speakers:
Joyce A. Nardulli, Illinois Bankers Association
Nathan Maddox, Illinois Secretary of State
Paul Thompson, Illinois Secretary of State
David Weisbaum, Illinois Secretary fo State
Tim Rice, Legislative Information System
Pat McLean, Legislative Information System
Emily Deakin-Harmony, Legislative Information System
Courtney Nottage, Fletcher O'Brien Kasper & Nottage, P.C.
Richard Edwards, Legislative Reference Bureau
Who Should Attend:
Lobbyists,
Prospective Lobbyists,
Legislative Liaisons,
Government Affairs Representatives,
Members of the Media,
Interested Citizens, and
Advocates in Not-for Profit Groups and
Local Governments
What Will You Learn?
Practical Lobbying Skills,
Lobbying Ethics and Regulations,
Online Resources,
Lobbying Strategies, and
Bill Drafting Techniques
Date/Time/Location
Friday, February 25, 2011
8:30am – 3:30 pm
Public Affairs Center
Conference Room C/D
University of Illinois Springfield
Contact Info
Barbara Van Dyke-Brown
Phone: (217) 206-6579
Fax: (217) 206-7397
Email: bvand1@uis.edu
Third House Agenda (PDF)
Participants will receive a complimentary copy of Lobbying Illinois: How You Can Make A Difference In Public Policy, The Illinois Governors, Mostly Good and Competent and a subscription to Illinois Issues including the 2011 Roster of State Government Officials.