The Illinois Legislative Process: The Basics and Beyond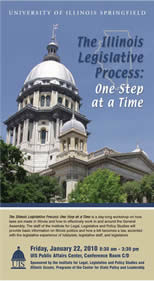 The Illinois Legislative Process: One Step at a Time is a day-long workshop on how law gets made in Illinois and how to work effectively in and around the General Assembly. The staff of the Institute for Legal, Legislative and Policy Studies will provide basic information on Illinois politics and how a bill beomes a law, accented with the legislative experience of lobbyists, legislative staff, and legislators.
What Will You Learn
This workshop will give you basic, vital information on lawmaking in Illinois. Whether you are a new lobbyist, a nonprofit group leader, a local government official, or a citizen, this is information you must know to understand and work with the General Assembly.
Who Should Attend
Those who need to know how the Illinois General Assembly works and how to make the legislative process work for you
Prospective lobbyists and governmental affairs representatives and support staff
Advocates in the not-for-profit and local government sectors
Interested citizens
Presenters
Christopher Z. Mooney, Professor of Political Science at University of Illinois – Springfield
Barbara Van Dyke-Brown, Director of Legislative Internships and Advocacy Programs at University of Illinois – Springfield
Senator Deanna Demuzio, State Senator
Jay D. Shattuck, Shattuck & Associates Consulting, Inc.
Kurt DeWeese, retired House Democrat Staff
Karla Kunzeman, retired Legislative Liaison, Illinois Arts Council
Representative Jim Watson, State Representative
Paula Johnson Purdue, Contract Lobbyist
Joyce A. Nardulli, Illinois Bankers Association
Paul L. Williams, Law Offices of Paul L. Williams
Date/Time/Location
January 22, 2010 – 8:30am – 3:30pm
Public Affairs Center, Conference Room C/D
University of Illinois Springfield
Contact Info
Barbara Van Dyke-Brown
(217) 206-6579 or bvand1@uis.edu
Registration Brochure (PDF)
Registration Form (PDF)
Participants will receive a complimentary copies of Lobbying Illinois: How You Can Make A Difference In Public Policy and The Illinois Governors: Mostly Good and Competent, along with a one year subscription to Illinois Issues including the 2010 Roster of State Government Officials.