The mission of Prairie Area Teaching Initiative is to inspire and support aspiring teachers from historically marginalized populations.
PATI is an initiative embedded within the teacher education program. We recruit first-generation students, students of diversity, and/or paraprofessionals from Illinois and grant support as they become future Illinois educators.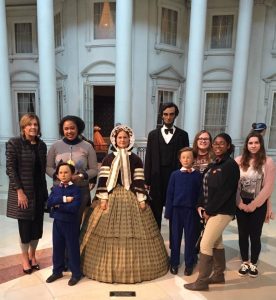 What is PATI?
Prairie Area Teaching Initiative (PATI) recruits diverse students and/or students who are the first in their families to go to college. PATI recruits students at any of the following three points: senior year of high school, enrolled in a community college, or working as a paraprofessional. It offers them a unique support system characterized by mentoring and special opportunities to interact with local communities and students. The Department of Teacher Education recommends candidates to the Illinois State Educator Preparation and Licensure Board for a Professional Educator License upon completion of requirements. In return, graduates agree to teach in Illinois for at least two years if said employment is available.P
"PATI has given me the opportunity to follow my dream of becoming an educator and provided me with the priceless tools, tips, and support that I would not have received otherwise. PATI has also provided me with numerous opportunities to grow into the person and educator that I am today."

– Samantha Missey (2018 graduate)
Designed to assist school systems in Illinois with the recruitment of teachers.
There are three entry points for PATI. Students may enroll during the senior year of high school, the first two years of college, or while serving as a paraprofessional. Students apply by submitting a PATI application and agreement, along with applying to UIS. In addition, a personal interview with the director will be required. After licensure, teaching candidates are expected to teach in the state of Illinois for a minimum of two years to serve as teachers.
Participants enrolled in PATI are provided a series of planned activities and incentives to increase motivation to teach in the local area and aptitude for teaching. Students are involved in both professional and volunteer efforts supporting the education of children. Each student must be involved in a minimum of ten hours of service learning each semester.
PATI is directed by Dr. Ronda Mitchell. She can be reached at rmitche@uis.edu or by phone at 217-206-7008.
Application Process
Apply to UIS – UIS Application
After being accepted to UIS, complete the PATI Application and PATI Agreement forms below.
Available Scholarships
Melinda and Alfred LaBarre Scholarship- As a former teacher, principal and Ball Foundation Consultant to the Springfield Ball Charter School, as well as member of Springfield's Dist. 186 School Board, Melinda LaBarre has invested many years in the educational integrity of Springfield's students. Melinda and her husband, attorney Alfred "Pete" LaBarre, have established the Melinda A. and Alfred B. LaBarre Scholarship which will honor a qualified high school graduate of Springfield's public school district with a minimum high school GPA of 3.0 upon graduation.
Peggy and Micah Bartlett Scholarship- Micah Bartlett was in the first generation of his family to graduate from college, earning an accounting degree from UIS and then going on to earn an MBA and his CPA license. Today Micah is president and CEO of Town and Country Financial Corporation. His wife, Peggy Bartlett, has also worked in banking. She now owns Colour Line Hair Studio in Geneva, Illinois. In 2008, Peggy and Micah visited a class with students in PATI, which helps to prepare students to become teachers. Many of the students are first-generation college students like Micah. The Bartletts were impressed with the students' commitment and drive, and because they believe so strongly in education, they created a scholarship for students in the program.
Betty and Ralph Hurwitz MSS Scholarship- This scholarship is part of a larger gift given by Ralph and Betty Hurwitz, long-time residents of Springfield. They established this larger fund to achieve three things for PATI: provide this current-use scholarship, help to purchase computers and other technology, and meet other needs in the program. Your gifts to this fund will extend the impact of the Hurwitzes' gift. Of note: Ralph Hurwitz, a realtor and developer in Springfield, was among the Springfield leaders who helped to establish Sangamon State University (which later became the University of Illinois Springfield). This group met every Saturday for a year locating and securing the land for the university.
Important Links
Prairie Area Teaching Initiative Staff
Dr. Ronda Gray
Prairie Area Teaching Initiative (PATI), Director
Brookens 328
Phone: (217) 206-7008
E-mail: rmitche@uis.edu
Antonia Genisio
Graduate Assistant
Brookens 327
Phone: (217) 206-7367