Strategic Compass 2028
The College of Public Affairs and Administration subscribes to and supports the campus-wide mission, vision and values as articulated in the UIS Strategic Compass 2028. The information below asserts our unique vision, mission, and values within the wider campus strategic framework.
Vision
To be the college of choice for the region's current and aspiring public service professionals.
Mission
The College of Public Affairs and Administration engages in excellent teaching, cutting edge scholarship and public service to advance public discourse and influence public policy in Illinois, the nation and our global community.
Strategic Priority & Directional Pillars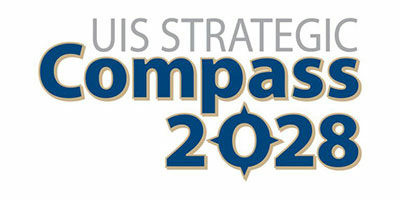 For the CPAA, the critical events or encounters take place in our classrooms (i.e. faculty-student interactions). Our vision hinges on the quality of these encounters. Thus, whether they take place on campus, online, or in a blended format, excellence is our standard. Everything we do as a college is anchored by, or tethered to, this standard and offering our students a premier educational experience.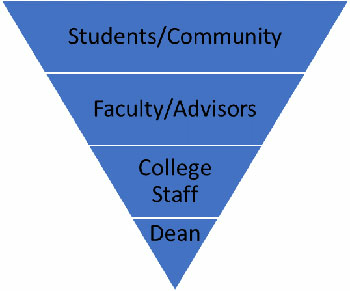 The inverted pyramid, as depicted to the left, has become an important symbol for our college, as it denotes our commitment to students and faculty. The inverted pyramid places students and faculty at the top because they are the most important actors. Their interactions are the most critical. The burden, then, is on those at the bottom–the Dean and the college leadership–to create the conditions for excellence.
Our efforts (goals and tactics) in support of the above strategic priority are guided by four directional pillars:
World-Class Teaching
Personal Attention
Experience Engaged
Liberal Arts Skilled
Values
Student-focused teaching and learning: The core mission of this college is teaching. We aspire to be excellent and innovative teachers, promoting critical thinking through academic excellence.
Integrity: Our work is guided by service in the public interest. We define integrity, therefore, as responsibility, honesty, professionalism and respect toward the public in all that we undertake.
Scholarship: We seek to advance and disseminate the knowledge base and practical applications of our varied disciplines to better serve the public at large.
Collaboration: We emphasize collaborative efforts in research and engagement activities with each other, with other UIS units, and with the diverse public, private and nonprofit resources available.
Integration: We recognize the integrative, synergistic potential of theory and practice; thus, the college seeks to work beyond the artificial boundaries between the academician and practitioner.
Interdiscilpinarity: We embrace an interdisciplinary approach to teaching, service, and research to foster a comprehensive public liberal arts educational experience.
Civic Engagement: We promote active civic engagement through reciprocal relationships at the local, regional, state, national and global level.
Strategic Thinking: Our strategic thinking is shaped by our commitment to public service. We consider and anticipate the ramifications of educational and policy aims in light of their broad and differentiated social impact
Dissemination: We showcase research, teaching, service, and engagement activities both on campus and in the public, for the widespread dissemination, application and recognition of our works.