Our Commencement Committee will continue to plan and prepare for an in-person ceremony for our 2020 graduates at a to-be-determined date later this year. Many of you have told us how important an in-person celebration is, and it is our intention to provide that for you and your loved ones when it's safe to do so.
You are joining a worldwide network of more than 43,000 UIS alumni that spans professions and the globe. The benefits of being a UIS alumni are immeasurable, and welcoming you to this impressive constellation of change-makers and go-getters makes us shine even brighter. Learn more about UIS Alumni Relations.
Be proud of yourself today and every day hereafter. Your future is bright with opportunities.

–Chancellor Koch
See the Graduating Class
To You, the Graduating Class of 2020
Gifts for the Class of 2020
Class of 2020: Register for a free UIS Alumni T-shirt
Provide your information by Saturday, May 16, and receive your first official UIS Alumni swag directly to your home. *One T-shirt per person, open only to UIS 2020 graduates.
(Form has ended)
Virtual Gifts

To help you virtually celebrate, UIS has created multiple UIS frames available on Facebook and AR effects available on both Instagram and Facebook. Take your photo in front of the colonnade or try on a graduation cap and share your photos or videos using #UIS20.
Try out all our frames and effects by searching #UIS20 or #UISedu in the Instagram or Facebook apps.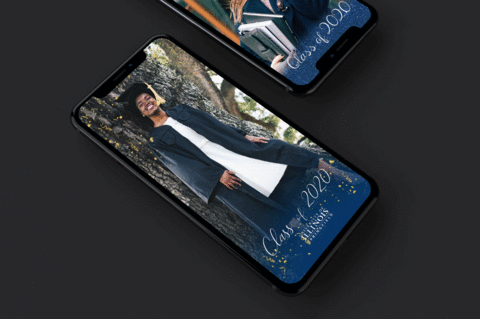 Special Events
Below are other congratulatory events featured throughout the week of commencement.
The University of Illinois Springfield Graduating Class of 2020
Graduating students for the Spring 2020 semester are listed below alphabetically by last name.
A
Aatrei, Nikhil Mohan

Master of Science

Abaidoo-Asiedu, Kofi

Doctor of Public Administration

Abina, Fuad

Bachelor of Arts

Abouzaki, Leila R

Bachelor of Arts

Adabala, Naveen

Master of Science

Adam, Vanessa

Master of Science

Adams, Stephanie Rae

Bachelor of Social Work

Addepalli, Lakshmi Niharika

Master of Business Administration

Adepoju, Abdulrasaq Oyebode

Bachelor of Science

Adewuyi, Aderonke Eunice

Master of Public Health

Adu, Kwadwo Adjebeng

Master of Science

Aftab, Asma

Master of Public Health

Ahmed, Rana Anjum

Master of Science

Ahmed, Sheraz

Master of Science

Ajdini, Ardit

Bachelor of Science

Akinruli, Akintomide Akinlolu

Bachelor of Science

Akinsanya, Ololade Bilikisu

Master of Public Health

Akinyele, Akinkunmi Oluwasegun

Master of Arts

Akinyemi, Oluwafemi Peter

Master of Business Administration

Akpulonu, Natty A

Bachelor of Social Work

Akula, Sri Sushmitha

Master of Science

Alanazi, Abdulrazaq Ghazi A

Master of Arts

Albers, Sheila N

Bachelor of Business Administration

Albertson, Kyle B

Bachelor of Arts

Albrecht, James Edward

Bachelor of Science

Aldhahri, Turki Abdulah D

Master of Science

Alexander-Walker, Kamaria Sontae

Bachelor of Arts

Alghamdi, Alhanouf Hazza S

Master of Science

Algroon, Amena Mohammed

Bachelor of Science

Alharbi, Abdullah Masad

Master of Arts

Allawada, Manognya Reddy

Master of Science

Allen, Chelsea

Bachelor of Business Administration

Allen, Travis J

Bachelor of Arts

Alluri, Sushma

Master of Science

Almubarak, Ahmed Mohammed S

Bachelor of Arts

Alonso, David U

Bachelor of Arts

Al-Tabbaa, Mohammad Mousbah

Master of Public Health

Alvarado, Nikolas David

Bachelor of Arts

Alway, Boone Jacob

Bachelor of Business Administration

Amaya, Bahari Z

Bachelor of Business Administration

Ames, Laura Elizabeth

Master of Science

Amponsah, Akua

Bachelor of Science

Anand, Aditi

Master of Science

Anastopoulos, Harry

Bachelor of Science

Anderson, Brett

Bachelor of Business Administration

Anderson, Jacqueline Nicole

Master of Public Administration

Anderson, Kyle Franklin

Master of Public Administration

Angeli, Jessika

Bachelor of Business Administration

Angell, Madison H

Bachelor of Arts

Antonacci, Gabriella Rose

Bachelor of Arts

Aper, Ryan W

Bachelor of Arts

Arangi, Chandra Babu

Master of Science

Ariwoola, Mistura Abisoye Folashade

Bachelor of Arts

Ashford, Hannah Ruth

Bachelor of Arts

Atchyuthuni, Yugandhar Dutt

Master of Science

Atherton, Ashley

Master of Arts

Avalos, Adam Stephen

Bachelor of Science

Awoyemi, Olamipo Opeolu

Master of Public Health
B
Bacon, Joseph J

Bachelor of Arts

Baer, Karla Renee

Master of Public Administration

Bagwell, Elizabeth Gabriell

Master of Public Administration

Bailey, Jeremiah Richard

Doctor of Public Administration

Bails, Lauren Ann

Bachelor of Arts

Baker, Deja Milynn

Bachelor of Science

Ballard, Jacob D

Master of Arts

Ballenger, Roman Kirby

Bachelor of Arts

Balogun, Anuolu L

Bachelor of Arts

Balz, Jeremiah Robert

Bachelor of Business Administration

Bamgbose, Sunday

Bachelor of Science

Bangalore Shivaramu, Chaitra

Master of Science

Bankhead, Tyshianna Nycole

Master of Public Administration

Banks, Tailer

Bachelor of Science

Baptist, Joseph A

Master of Arts

Baptiste, Danielle

Master of Arts

Baranowski, Logan Porter

Master of Science

Barker, Jonah D

Bachelor of Science

Barnes, Blake Dale

Bachelor of Arts

Barnes, Elizabeth

Bachelor of Social Work

Barraza, Anahi

Bachelor of Science

Barreda, Alberto A

Master of Science

Bartko, Caroline Rose

Master of Arts

Bartolomucci, Dena Lynn

Master of Arts

Baskett, Logan Andrew

Bachelor of Arts

Bates, Michael

Bachelor of Arts

Batty, Tyler David

Bachelor of Business Administration

Baxtrom, Amanda J

Master of Arts

Beams, Jacob D

Bachelor of Science

Beard, Ellison C

Bachelor of Science

Beard, Mariah J

Bachelor of Business Administration

Beard, Stephen Miller

Master of Arts

Bechard, Amanda J

Bachelor of Business Administration

Beck, Jeffrey Robert

Bachelor of Business Administration

Beekman, Kaylee Elizabeth

Bachelor of Arts

Beeravolu, Deekshitha Reddy

Master of Science

Beitler, Tyler

Bachelor of Business Administration

Bentley, Steve

Bachelor of Science

Beran, Christopher James

Bachelor of Science

Bere, Kena Sifa

Bachelor of Arts

Berg, Zachary

Bachelor of Science

Bergles, Jay A

Master of Public Administration

Berhe, Petros G

Bachelor of Science

Bernert, Gregory George

Master of Public Administration

Berry, Emaleigh R

Bachelor of Science

Berry, Ian Timothy

Bachelor of Science

Betters, Molly E

Bachelor of Arts

Bhanuse, Shraddha

Master of Science

Bhelonde, Ashish Dilip

Master of Science

Biju Joseph, Adhik

Bachelor of Business Administration

Birkman, Ryan David

Master of Arts

Bivens, Jeremy P

Bachelor of Business Administration

Blair, Patience

Bachelor of Social Work

Bleichner, Nichol Kathleen

Master of Arts

Blythe, Hannah E

Bachelor of Arts

Boberg, Jakob Scott

Bachelor of Business Administration

Bocchini, Teresa Jamie

Master of Science

Bodabanda, Sujana

Master of Science

Bodduluri, Sri Vineeth

Master of Science

Bode, Albert Brett

Bachelor of Science

Boehm, Christopher Lee

Bachelor of Arts

Bolino, Joseph T

Bachelor of Business Administration

Bolskar, Erin E

Bachelor of Science

Bommidi, Shiva Rama Krishna Reddy Rama Krishna

Master of Science

Bond, Sarah P

Master of Arts

Bonner, Beatrice J

Master of Arts

Booth, Codi Lynn

Master of Arts

Borders, Mario E

Master of Arts

Boreman, Jayme M

Master of Arts

Borman, Samantha Lynn

Master of Arts

Borum, Jailyn J

Bachelor of Science

Boyanapally, Trishika

Master of Science

Boyd, Anthony

Master of Public Administration

Boyd, Destiney Shante

Master of Arts

Boyer, William Robert

Master of Public Administration

Boysen, Jeffrey Dean

Master of Public Administration

Brant, Brandon L

Bachelor of Science

Brethorst, Katie L

Bachelor of Arts

Briars, Matthew

Master of Business Administration

Brinkmeyer, Christopher Lee

Bachelor of Arts

Brinkoetter, Torie Lynn

Bachelor of Arts

Brodt, Emily

Master of Arts

Brown, Aaron Ross

Bachelor of Arts

Brown, Derek

Master of Science

Brown, Tyler Andrew

Bachelor of Arts

Bruce, Christopher James

Master of Public Administration

Bruce, Jessey Alexandria

Master of Arts

Brunk, Patrick K

Bachelor of Arts

Buhrmester, Christopher David

Master of Public Administration

Buker, Kayla

Master of Public Administration

Burgess, Aleta L

Bachelor of Arts

Burgess, Susan M

Bachelor of Business Administration

Burk, Aaron

Bachelor of Arts

Burnett, Tyrone A

Bachelor of Arts

Burris, Tara Michelle

Bachelor of Arts

Buscher, Amber Lynn

Bachelor of Arts

Bushnell, Kristie Marie

Bachelor of Arts
C
Cabasag, Thienhuong Nguyen

Bachelor of Business Administration

Cabral, Juan

Bachelor of Arts

Caceres-Turcios, Alice Diana

Bachelor of Arts

Calderon, Areli Valeria

Bachelor of Arts

Callaway, William Peter

Master of Science

Campbell, Adam Eugene

Master of Public Administration

Campbell, Brianna R

Bachelor of Arts

Campbell, Ryan

Master of Science

Campos, Angelica Haydee

Bachelor of Arts

Capranica, Lauren

Bachelor of Arts

Cardona, Maria Fernanda

Bachelor of Science

Carlson Watkins, Payten

Bachelor of Arts

Carr, Benjamin Aaron

Master of Arts

Carter, Jane Elizabeth Thompson

Master of Arts

Casper, Danielle

Bachelor of Business Administration

Cathey, Brandon M

Bachelor of Arts

Cavanaugh, Alicia

Bachelor of Arts

Chamana, Charani

Master of Science

Chandupatla, Anvesh Reddy

Master of Science

Cheam, Darrell

Master of Public Administration

Cheenepalli, Jayaprakash Reddy

Master of Science

Chen, Hubert

Master of Science

Chen, Qifeng

Master of Business Administration

Chen, Ronald

Bachelor of Science

Chen, Tianqi

Master of Arts

Chen, Yutong

Master of Arts

Cherry, Cheyanne Rachelle

Bachelor of Arts

Chi, Katherine

Bachelor of Business Administration

Chiappano, Dominic J

Master of Arts

Chidhamchetti, Sirisha

Master of Science

Chintapalli, Gangadhar Mani Kumar Reddy

Master of Science

Chinthala, Varun

Master of Science

Chittegoppe, Santosh

Bachelor of Arts

Chitti, Lipika

Master of Science

Chronister, Sarah N

Master of Public Administration

Chubb, Samuel David

Master of Public Health

Churchill, Leanna P

Bachelor of Arts

Cipolle, Kara

Bachelor of Social Work

Clark, Melanie Elaine

Master of Science

Clarke, Joshua Campbell

Master of Arts

Claxton, Drake E

Bachelor of Arts

Clayton, Nathaniel Easley

Bachelor of Science

Cleary, Kelsey A

Bachelor of Arts

Clements, Niccole D

Master of Public Administration

Clemons, Joseph Z

Master of Public Health

Cleveland, Miyaunna

Master of Public Administration

Clevenger, Heather N

Bachelor of Arts

Clinton, Chloe C

Bachelor of Arts

Cobb, Dylan Patrick

Bachelor of Arts

Cober, David M

Bachelor of Science

Cobert, Rachel Leigh

Bachelor of Science

Cochran, Kristin Marie

Master of Arts

Cochran, Rhilee C

Bachelor of Arts

Coffey, William David

Bachelor of Arts

Colbert, Alicia Renee

Master of Business Administration

Collins, Nancy Denise Hamilton

Master of Arts

Colvin, Brianna S

Bachelor of Arts

Conner, Lindell Antione

Bachelor of Arts

Contreras-Sanchez, Jose

Bachelor of Science

Cook, Christopher Claude

Master of Science

Cook, Kaitlyn Jeanette

Bachelor of Arts

Cook, Megan Marie

Bachelor of Arts

Cooper, Nathan Lee

Bachelor of Arts

Cordery, John Edgar

Bachelor of Arts

Corso, Mark

Bachelor of Arts

Cory, Aaron Patrick

Bachelor of Arts

Coultas, Kaitlin Dawn

Bachelor of Business Administration

Crawford, Eric Shaundell

Bachelor of Science

Criel, Joshua Olaf Caleb

Bachelor of Arts

Cross, Joann

Bachelor of Social Work

Crowder, Loni Kaye

Master of Arts

Cruz, Lester Montallana

Master of Arts

Cummins, William Reed

Master of Public Administration

Curry, Blake T

Bachelor of Arts
D
Dabbs, Nicholas A

Master of Arts

Dahotre, Aditi Anil

Master of Science

Dai, Yinjiang

Master of Science

Daily, Jeremy R

Bachelor of Business Administration

Dalano, Alexandria

Bachelor of Arts

Dana Shahai, -

Master of Arts

Daniels, Dealjinate R

Bachelor of Arts

Dannehold, Blake

Bachelor of Arts

Dantinamane Sheshagiri, Abhishek

Master of Science

Dasari, Nymisha Krishna

Master of Science

Davidson, Nicholas

Master of Science

Davis, Benjamin J

Bachelor of Business Administration

Davis, Tayler A

Bachelor of Science

Dawoud, Wurood

Bachelor of Arts

Days, Kaj Braxton

Bachelor of Business Administration

Deatherage, Tyler Lee

Bachelor of Arts

Debbadi, Rama Krishna

Master of Science

DeCarlo, Grace Elizabeth

Bachelor of Arts

Deering, Walter Ryan

Bachelor of Arts

Degala, Hitesh Rao

Master of Science

DeGroot, Chelsie Marie

Master of Arts

Del Rio Torres, Tomas

Bachelor of Science

Delf-Montgomery, John Anton

Master of Arts

D'Elia, Luke Raymond

Master of Arts

Derhake, Bree A

Bachelor of Science

Desai, Daksh Udaykumar

Master of Science

Desir, Janice

Master of Science

Devarasetti, Naresh

Master of Science

Devbhandari, Elish

Master of Science

Devoe, Halle

Master of Arts

Dewey, James A

Master of Arts

Dickey, Jesse

Bachelor of Science

Dieter, Scott Michael

Master of Science

Dinh, Thuy Nguyen

Bachelor of Arts

Dini, Emir

Master of Arts

Diodati, Andrew Moses

Master of Science

Dishon, Brittany R

Bachelor of Arts

Dittmar, Joseph

Bachelor of Business Administration

Doering, Jason Anthony

Bachelor of Business Administration

Dogra, Surbhi

Master of Science

Doherty, Jason Francis

Bachelor of Science

Dominguez, Ricardo

Bachelor of Science

Donley, Jesse Jacob

Master of Business Administration

D'Onofrio, Elena Marie

Master of Arts

Donovan, Kaylee Ann

Bachelor of Arts

Dosunmu, Yakub U

Bachelor of Business Administration

Dougherty, Brittany Lynne

Master of Arts

Dove, Dawn Marie

Bachelor of Arts

Downey, Ayn C

Bachelor of Arts

Du, Yushan

Master of Arts

Dubinski, Alexander David

Bachelor of Science

Duck, Shannon Renee

Bachelor of Arts

DuFoe, Abigail Jane

Bachelor of Social Work

Dumstorff, Kate Rose

Bachelor of Arts

Duncan, Lindsay Christine

Bachelor of Science
E
Earley, Neal Joseph

Master of Arts

Ebel, Jared M

Master of Business Administration

Eddings, Alexis Ann

Bachelor of Business Administration

Edwards, Michael Allen

Master of Science

Eggert, Timothy Michael

Master of Arts

Eich, Erika M

Master of Business Administration

Elliott, Robert L

Doctor of Public Administration

Ellis, Clayton Lane

Bachelor of Science

Endres, Adam John

Bachelor of Science

Enteman, Aaron J

Bachelor of Science

Espejo, Kim Alexis D

Bachelor of Science

Evans, Courtney Denise

Bachelor of Arts

Evans, Marissa Dawn

Master of Public Administration
F
Falcon Adanaque, Claudia Melissa

Master of Public Administration

Falsone, Gianmario David

Bachelor of Business Administration

Farden, Eric William

Master of Arts

Fassler, Jacob Anthony

Master of Science

Fatty, Momodou Lamin

Bachelor of Science

Faulkner, David V

Bachelor of Science

Fernandes, Rebecca Ann

Master of Arts

Fernandes Lima Alves, Thiago

Bachelor of Business Administration

Fernandez, Michael Anthony Makalii

Bachelor of Science

Ferree, Brooke Renea

Bachelor of Arts

Ferry, Kathleen Marie

Master of Science

Fessler, Anna Christine

Bachelor of Business Administration

Fetzer, Kristal Lynn

Bachelor of Business Administration

Finch, Megan Elizabeth

Master of Arts

Finney, Dione Michelle

Master of Arts

Fish, Ryan J

Bachelor of Business Administration

Fisher, Edra

Bachelor of Arts

Flight, Maegan Elizabeth

Bachelor of Arts

Flure, Gavin D

Master of Science

Focil Navarrete, Santiago

Bachelor of Arts

Fones, Amanda Ann

Bachelor of Business Administration

Fong, Lydia C

Master of Public Administration

Ford, Angela Noel

Bachelor of Arts

Fortune, Tehya Y

Bachelor of Arts

Foss, Kelci A

Master of Public Health

Foster, Evan Micheal

Bachelor of Science

Foster, Gloria Lynn

Bachelor of Arts

Foster, Sam

Master of Science

Fox, Nathan D

Bachelor of Arts

Franconi, Jeana

Master of Public Administration

Freeman, Wyatt Lott

Bachelor of Science

French, Douglas Wayne

Master of Arts

Fricke, Heather Ilene

Master of Arts

Fyalka, Jay

Bachelor of Science
G
Gable, Clara Lorraine

Master of Public Administration

Gabrilo, Voyo L

Bachelor of Arts

Garcia, Amadeus

Bachelor of Science

Gardner, Dominique Lashae

Bachelor of Arts

Garrett, Darcy Noelle

Bachelor of Arts

Gaspardo, David Scot

Master of Arts

Gatheright, Nitra J

Bachelor of Arts

Gehrig, Trey Edward

Bachelor of Business Administration

George, Kevin Thomas

Bachelor of Arts

Getchell, Pippah Kay

Master of Arts

Gettings, Catherine Ann

Bachelor of Arts

Giacomelli, Kathleen A

Master of Arts

Gibbel, Christopher Glenn

Master of Business Administration

Gibbs, Chase Alexander

Bachelor of Science

Gibson, Grayson Bradley

Master of Science

Gilbert, Marissa D

Bachelor of Science

Gillings, Carissa C

Bachelor of Arts

Gingras, Kelly

Master of Arts

Ginnaram, Srujani

Master of Science

Girish, Kruthika

Master of Science

Gitau, Mbui Mwangi

Bachelor of Science

Gleason, Alison Marie

Master of Arts

Gleason, David Theodore

Bachelor of Science

Gleason, Patrick Thomas

Master of Arts

Glowacz, Mary Siobhan

Master of Public Administration

Goalla, Thulasipathi

Master of Science

Goebel, Allison M

Bachelor of Arts

Goett, Colleen Elizabeth

Bachelor of Arts

Goetten, Kyle Joseph

Master of Science

Gomoll, James R

Bachelor of Science

Gonzalez, Alexander

Bachelor of Arts

Gonzalez, Blanca Rosa

Master of Arts

Goodin, Taylor Nichole

Bachelor of Arts

Gordon, Jahiah

Master of Business Administration

Grabowski, Daniel

Bachelor of Science

Graham, Brianna Marie

Bachelor of Arts

Grantz, Brittany Renee

Master of Public Administration

Graves, Marc Anthony

Master of Arts

Gray, Amanda Marie

Master of Arts

Green, Justice M

Bachelor of Arts

Greenan, Amy Julia

Bachelor of Arts

Greenwalt, Susan L

Bachelor of Arts

Gregory, Estevan

Bachelor of Science

Griffin, Clinton John

Bachelor of Arts

Griffin, Hannah Kristine

Master of Arts

Griffiths, Melissa Ann

Bachelor of Science

Gu, Hanxiao

Master of Business Administration

Gudibanda, Padmini

Master of Public Health

Guerrero, Omar Jesus

Bachelor of Business Administration

Gulhaugen, Angeline Beth

Bachelor of Arts

Gulledge, Morgan Lynn

Bachelor of Arts

Gumble, Samantha Lee

Master of Arts

Gurnitz, Amy M

Master of Arts

Gurram, Akshay Kumar Reddy

Master of Science

Gwillim, Nathan J

Bachelor of Arts
H
Haavisto, Jacob Steven

Bachelor of Arts

Haberstroh, Michelle E

Master of Public Health

Hachem, Hicham A

Bachelor of Science

Hague, Leif Arthur

Bachelor of Science

Hahn, Elizabeth Ann

Master of Arts

Haleem, Ahmed Yaseen Jalaluddin Aqil

Master of Science

Hall, Don E

Bachelor of Business Administration

Hall, Isaac Vincent

Master of Science

Hall, Simone

Bachelor of Business Administration

Hall, Tashlyn Monique

Bachelor of Arts

Halligan, Molly

Master of Arts

Halpin, Natalie J

Master of Arts

Halvorson, Russell J

Master of Science

Hanners, Tyler

Master of Business Administration

Hansen, Eric G

Master of Science

Hanson, Andrew Allen

Bachelor of Business Administration

Harden, Lionel

Master of Business Administration

Harder, Evan Todd

Bachelor of Arts

Hardin, Aaron Wayne

Master of Public Administration

Harding, Grant

Bachelor of Arts

Hardy, Jauzlyn A

Bachelor of Arts

Harper, Cole

Bachelor of Business Administration

Harrington, Christopher E

Master of Science

Harris, Alicia M

Master of Public Administration

Harris, Ashley Marie

Master of Arts

Harris, Kenicia Johnette

Master of Science

Harris, Patricia Nicole

Master of Science

Harris, Triana Rashauan

Master of Arts

Harrison, Alexander Michael

Bachelor of Science

Harrison, Madi Jo

Bachelor of Arts

Hart, Kyle James

Master of Arts

Hart, Lindsey Jean

Master of Public Health

Hart, Michael

Master of Business Administration

Hartbecke, Seth Michael

Bachelor of Science

Hartter, Ethan Neil

Bachelor of Business Administration

Hassan, Javed M

Bachelor of Business Administration

Hathcote, Marlie Suzanne

Bachelor of Arts

Hatley, Adrian Christopher

Master of Science

Hawkins, Adrienne R

Master of Arts

Hawkins, Tieshah Shedale

Master of Arts

Haynes, Betty Nicole

Master of Arts

Hays, Eric M

Master of Science

Heath, Rebecca Paige

Bachelor of Arts

Heather, Kade Frederick

Master of Arts

Heberlein, Amy Christine

Master of Science

Hecht, David Kevin

Bachelor of Arts

Hedinger, Hannah Jeanette

Master of Science

Heffren, Breanna Elise

Bachelor of Science

Heiting, Nicholas J

Bachelor of Science

Henderson, Daniel Ray

Bachelor of Science

Henke, Cole Edward

Master of Arts

Henrique Lima De Pilla, Leonardo

Master of Public Administration

Henry, Philip Dale John

Master of Arts

Henze, Preston R.

Bachelor of Arts

Herren, Stephani J

Bachelor of Science

Hickey, Keith

Bachelor of Science

Hicks, Lanie Victoria

Bachelor of Business Administration

Hietschold, Kristine Marie

Bachelor of Arts

Higginbotham, Khadijah D

Master of Arts

Hill, Royce Tairell James

Bachelor of Arts

Hinds, Riley Nolan

Bachelor of Science

Hinsman, Kara E

Bachelor of Arts

Hiscock, Harry E

Bachelor of Business Administration

Hixon, Logan E

Bachelor of Science

Hoehn, Trudy Lynn

Bachelor of Business Administration

Holley, Christopher Lee

Bachelor of Business Administration

Hollinshead, Erin Ashley

Master of Public Administration

Hollinshead, Hailey Catherine

Bachelor of Science

Hollis, Sydney

Bachelor of Arts

Hootman, Josh Dallas

Master of Science

Horath, Aaron Wesley

Master of Business Administration

Hori, Fanny Elizabeth

Master of Science

Horton, Scarlett

Bachelor of Business Administration

Hough, Kelsey R

Bachelor of Social Work

House, Rana P

Bachelor of Arts

Houser, Mason M

Bachelor of Arts

Houston, Joseph Paul

Master of Public Administration

Houston, Tabitha Ann

Bachelor of Business Administration

Howard, Eleanor Sue

Bachelor of Business Administration

Howell-Wyatt, Cassandra

Bachelor of Social Work

Huffman, Matthew L

Bachelor of Arts

Huffsmith, Trevor

Bachelor of Science

Hughes, Janice

Master of Arts

Hulskotter, Adam

Master of Arts

Hulskotter, Zachary Charles

Bachelor of Arts

Hunsley, Courtney D

Bachelor of Arts

Hunt, Gavin Paul Thomas

Bachelor of Arts

Husaini, Syedah Batool Habibah

Master of Public Health

Hussain, Raheel Enam

Bachelor of Business Administration

Hutmacher, Taylor

Bachelor of Business Administration

Hutton, Emily

Master of Public Administration
I
Immke, Brockman

Bachelor of Arts

Itson, Charmynne Iesha

Master of Arts
J
Jack, William Christopher

Bachelor of Science

Jackson, Gabrielle Jo

Bachelor of Arts

Jadav, Rohan Naran

Bachelor of Science

Jadhav, Aniket Raju

Master of Science

Jadhav, Shivanjali Dhanaji

Master of Science

Jagtap, Shrivyankatesh Jijabrao

Master of Science

Jalagam, Rashmika

Master of Science

Jalli, Anand

Master of Science

Jallow, Mariama

Master of Arts

Jankun, Stephen

Master of Arts

Janusweski, Nathan Wolf

Bachelor of Science

Jennings, Laurel Catherine

Bachelor of Business Administration

Jensen, Brayden Michael

Bachelor of Business Administration

Ji, Yucheng

Master of Arts

Joachimi, Shelby Rene

Bachelor of Business Administration

Johnson, Isaac Allen

Bachelor of Science

Johnson, Tameka Rachel

Master of Arts

Johnson, Tommy Lee

Bachelor of Arts

Jonassaint, Caleb Joseph

Bachelor of Science

Jones, Bailey Joseph

Bachelor of Science

Jones, Gabrielle Helen

Bachelor of Arts

Jones, Khin Myat Mon

Master of Arts

Jones, Kia K

Bachelor of Arts

Joseph, Justin Abraham

Master of Science

Juette, Andrew John

Bachelor of Arts

Juhlin, Margaret McKinney

Bachelor of Science
K
Kader, Borhan

Bachelor of Science

Kadhiwala, Sagar Rajeshkumar

Master of Science

Kadiani, Adil A

Master of Arts

Kaiser, Anita R

Master of Business Administration

Kalala, Joseph M

Bachelor of Science

Kanai, Anna Grace

Bachelor of Arts

Kandil, Lisa F

Master of Public Health

Kanter, James

Master of Public Administration

Kantu, Jaya Pranathi

Master of Science

Karapandzich, Adam Jeffrey

Master of Science

Kariniemi, Keith Donald

Master of Arts

Karri, Jayadeep Reddy

Master of Science

Kasap, Joshua Michael

Bachelor of Science

Katanguri, Anusha Reddy

Master of Science

Kates, Josh C.

Bachelor of Science

Katragadda, Ravi Teja

Master of Science

Kaulbach, Robert Henry

Bachelor of Science

Kaur, Amandeep

Master of Science

Kaur, Inderpreet

Master of Arts

Kawal, Paula Jean

Bachelor of Science

Kazmer, Kevin

Bachelor of Arts

Kees, Corey

Bachelor of Science

Kelley, Brennin R

Bachelor of Arts

Kelly, Elizabeth M

Master of Arts

Kemp, Daniel Francis Raymond

Bachelor of Arts

Kenney, John

Bachelor of Science

Kenny, Thomas Michael

Master of Public Administration

Kerber, Paxton

Master of Science

Kerr, Natalie A

Bachelor of Science

Kesselring, Ty Allen

Bachelor of Science

Kidd, William

Master of Business Administration

Kiefer, Justin Matthew

Bachelor of Arts

Kihiu, Daniel Kimani

Master of Science

Killam, Lenore Irene

Doctor of Public Administration

Kim, Steve

Bachelor of Science

King, Emmons Franklin

Bachelor of Business Administration

King, Jason

Bachelor of Science

King, Joseph Patrick

Bachelor of Arts

Kingen, Troy Lee

Bachelor of Science

Kinney, Lizeth Amparo

Master of Science

Kirk, Kevin F

Bachelor of Arts

Kirkbride, Lucas Frederick

Bachelor of Science

Kitt, Andrew

Bachelor of Arts

Kleist, Keri Ann

Master of Public Administration

Knap, Margaret A

Master of Science

Knickerbocker, Myranda Lee

Bachelor of Science

Knobloch, Christian

Bachelor of Arts

Knodle, Kaitlyn Anissa

Bachelor of Arts

Kobler, Dakota Marie

Master of Science

Konie, Ryan James

Bachelor of Business Administration

Konnoff, Daniel C

Master of Science

Koppula, Raja Simha Reddy

Master of Science

Koshy, Samson Samuel

Bachelor of Science

Kostura, Andrea

Master of Science

Kot, Paulina R

Bachelor of Arts

Kota, Anish Reddy

Master of Science

Kovacevic, Luka

Master of Science

Kowalewski, Johnathan

Bachelor of Science

Kozar, Alanna

Bachelor of Business Administration

Krager, Cole J

Bachelor of Business Administration

Krakowiak, Nicole Lauren

Master of Arts

Krall, Adam James

Bachelor of Arts

Krautkraemer, Spencer Matthias

Master of Science

Kroeger, Brendan Paul

Bachelor of Arts

Kumar, Sathish

Master of Science

Kumar, Vikash

Master of Science

Kuppa, Sai Keerthana

Master of Science

Kyereme, Victoria Osei

Master of Science
L
Labarbera, Lana Lee

Master of Science

Lackland, Tyler Nicole

Bachelor of Arts

Lalonde, Amanda

Master of Science

Lamb, Maizee L

Master of Arts

Larger, Laura Ann

Master of Public Administration

Larkin, Rhonda F

Bachelor of Arts

Larry, Brian Erik

Bachelor of Arts

Larsen, Colin M

Master of Arts

Larson, Katie

Master of Arts

Larson, Ryan Benjamin

Bachelor of Arts

Larson, William Scott

Master of Science

Laughhunn, Caleb

Bachelor of Business Administration

Laughhunn, Joshua Andrew

Bachelor of Arts

Lautner, Justin Jacob

Master of Science

Lawrence, Ashley N

Bachelor of Arts

Le, Thomas Tan

Bachelor of Business Administration

Lebovitz, Hannah Elizabeth Schafer

Master of Public Administration

Lecrone, Zachary Robert

Bachelor of Arts

Lee, Catherine

Bachelor of Arts

Lee, Daniel H

Bachelor of Science

Lee, Enkhzul C

Master of Public Administration

Lee, Hiep Kenneth

Master of Science

Lee, Jacob

Master of Arts

Lee, Michele Renee

Master of Science

Legendre, Melissa Nicole

Master of Arts

Lei, Yujia

Master of Science

Leighton, Bradford Emery

Master of Arts

Lenkart, Margaret M

Master of Science

Lenth, Mesfin Anbesse

Master of Public Administration

Leonard, Carson Hunter

Bachelor of Arts

Lewandowski, Alexandra M

Bachelor of Arts

Lewis, Brian

Bachelor of Business Administration

Lewis, Dominique

Bachelor of Arts

Lewis, Kaitlin J

Bachelor of Science

Lewis, Rachel Joanna

Bachelor of Arts

Lewis, Whitney Lauren

Bachelor of Science

Li, Bo

Bachelor of Science

Li, Jiaying

Master of Arts

Li, Lu

Bachelor of Business Administration

Li, Ming Xuan

Master of Science

Liao, Yenwei

Master of Business Administration

Limestall, Erin

Master of Arts

Lingampalli, Giani Jagapathi Rayalu

Master of Science

Liss, Slaton D

Bachelor of Business Administration

Liu, Guan

Bachelor of Arts

Liu, Jiaxuan

Master of Arts

Liu, Xiuyi

Master of Science

Liu, Yifei

Master of Arts

Lo, Derek Tatyin

Master of Science

Lo, Eric

Master of Science

Lo, Paige

Bachelor of Science

Logan, Johnnie R

Bachelor of Science

Long, Wendy

Master of Arts

Lopez, William Salinas

Bachelor of Arts

Lormand, Lacey

Master of Science

Lott, Allen Maurice

Bachelor of Arts

Lounsberry, Katherine Elizabeth

Bachelor of Arts

Lounsberry, Landon

Master of Arts

Loyola, Christal Joyce Victoria

Master of Science

Luckey, Matthew Thomas

Master of Arts

Luckhart, Grant Allen

Bachelor of Science

Lutze, Richard Dennis

Bachelor of Science
M
Macleod, James

Bachelor of Arts

Macwar, Yasmina

Bachelor of Business Administration

Madaus, Cori Elizabeth

Master of Arts

Madden, Ashley Breanne

Bachelor of Arts

Maddimsetty, Aishwarya

Master of Science

Madduri, Naga Manohar

Master of Science

Madondo, Virginia Charity

Master of Science

Mahajan, Akash

Master of Science

Maibenco, Daniel Craig

Master of Public Administration

Maillet, Alexandria Marie

Bachelor of Science

Malson, Isaac

Master of Business Administration

Manley, Katelynn Lace

Master of Arts

Marchik, Jonathon D

Bachelor of Science

Marion, Andrew

Master of Business Administration

Markham, Ruben Lee

Bachelor of Science

Markley, Keysen T

Bachelor of Science

Martens, Kristina Anne

Master of Science

Martens, Robert Christian

Master of Science

Martin, Cassandra Michelle

Bachelor of Business Administration

Martin, Natalie Dolores

Bachelor of Science

Martinez, Joseph Brian

Bachelor of Science

Marucco, Kelsey Marie

Bachelor of Arts

Marusiak, Mark

Bachelor of Science

Marvin, Alexander James

Bachelor of Science

Massey, Maggie Elizabeth

Master of Business Administration

Matheu, Stephanie S

Bachelor of Arts

Mathews, Amber Lynn

Bachelor of Arts

Mathis, Tiana Jeanine

Master of Public Administration

Maulding, Taylor Elaine

Bachelor of Science

Mavuram, Shravika Reddy

Master of Science

Mayer, John

Bachelor of Science

McAlexander, Page Abigail

Bachelor of Arts

McArthur, Timothy Henry

Master of Science

McAtee, Devin R

Bachelor of Business Administration

McBride, Breanne Hope

Bachelor of Science

McCloughan, Hannah Elizabeth

Bachelor of Social Work

McCollum, Hannah D

Master of Arts

McCormack, Patrick Danielson

Bachelor of Arts

McCormick, Jarred Dean

Bachelor of Arts

McCoy, Abigail Jeanne Miller

Master of Arts

McCullough, Joseph Gale

Master of Arts

McFarlane, Daniel Joseph

Master of Arts

McGuire, James Thomas

Master of Public Administration

McIntyre, Cory

Bachelor of Science

McKay, Amy E

Master of Science

McKissack, Megan Jo

Master of Public Administration

McLaughlin, Baylee N

Master of Science

McLaughlin, Lani

Bachelor of Business Administration

McLean, Kaleb

Bachelor of Arts

McMahon-Lowe, Lesa Jeannette

Master of Arts

McNamara, Jason Patrick

Master of Science

Mehilos, William Peter

Master of Science

Mehra, Anushka

Master of Science

Meints, Jarod Alexander

Bachelor of Arts

Meints, Selena Hailey

Bachelor of Arts

Meneghetti, Lauren Miranda

Master of Arts

Meta, Srinjoy

Master of Science

Meyer, Anna E

Bachelor of Social Work

Meyer, Ashley Marie

Bachelor of Arts

Meyer, Benjamin P

Bachelor of Science

Meyer, Matthew Norman

Bachelor of Science

Miggins, Shaurika Marie

Bachelor of Arts

Miller, Ashley N

Bachelor of Business Administration

Miller, Claire Suzanne

Master of Arts

Miller, Daniel Joseph

Bachelor of Business Administration

Miller, Justin Raymond

Master of Public Administration

Miller, Rebecca Cheryl

Bachelor of Arts

Minder, Jeremy Allen

Master of Arts

Mitchell, Jacob

Master of Arts

Mitchell, Olivia Renae

Master of Arts

Mizeur, Abigail L

Bachelor of Arts

Moffitt, Danyel

Bachelor of Business Administration

Mohammed, Abdul Wasey Ather

Master of Science

Molga, Suvishala

Master of Science

Moll, Grace Anne

Master of Arts

Montgomery, Breanna L

Bachelor of Arts

Montgomery, Eric Patrick

Bachelor of Science

Mooberry, Ethan D

Bachelor of Business Administration

Moore, Jacques Jules

Bachelor of Arts

Moparthi, Venkata Naga Sai Ram

Master of Science

Morais Junior, Alexandre

Bachelor of Business Administration

Morgan, Alia D

Master of Public Administration

Morgan, David Michael

Bachelor of Science

Morgan, Nicholas E

Bachelor of Science

Morris, David Ethan

Master of Science

Morris, Nicole

Bachelor of Science

Morrison, Veronica R

Master of Arts

Morton, Abigail Suzanne

Bachelor of Science

Mousa, Mohsen

Bachelor of Science

Mullen, Brian M

Bachelor of Science

Mullen, Ross William

Bachelor of Business Administration

Mullican, Andrew G

Bachelor of Arts

Mummery, David Joseph

Bachelor of Business Administration

Mungi, Tejesh

Master of Science

Murphy, Aedan Frances

Bachelor of Arts

Murphy, Kyle David

Bachelor of Arts

Murphy, Patrick Emmett

Bachelor of Arts

Murphy, Zachary James

Bachelor of Business Administration

Murr, George Arthur

Bachelor of Business Administration

Murray, Tytianna Unique

Bachelor of Business Administration

Musgrave-Winters, Amy Lynn

Bachelor of Arts
N
Naan, John Patrick

Bachelor of Arts

Nakkala, Indra Kiran

Master of Science

Narasinga Rao, Anusha

Master of Science

Narkuti, Nikethan

Master of Science

Naviri, Monica

Master of Science

Neale, Matthew T

Bachelor of Science

Nelson, Ian Telo

Master of Arts

Nelson, Jocelyn Mariah

Bachelor of Arts

Nemarugommula, Geethika

Master of Science

Nestler, Sarah M

Bachelor of Arts

Nevill, Kayla Renee

Master of Arts

Newberry, Ashley Kay

Bachelor of Science

Newman, Stephen Wayne

Bachelor of Arts

Newquist, Lindsie Suzanne

Bachelor of Arts

Nguyen, Binh Thanh

Bachelor of Arts

Nguyen, Hoang Giang

Master of Science

Nguyen, Jason

Master of Science

Nguyen, Michael Anh Quan

Master of Science

Nhonga-Komba, Emmanuel

Bachelor of Business Administration

Nichols, Alliyah M

Bachelor of Arts

Niebrugge, Hunter L

Bachelor of Science

Nielson, Nicholas T

Bachelor of Arts

Nutt, Adam Jared

Bachelor of Science
O
Oconnor McCready, Ashley Elaine

Master of Arts

Ogunbameru, Olamide Olusola

Master of Science

Ollech, Mikel H

Master of Arts

Olsen, Russell William

Bachelor of Arts

Onuoha, Daniel Agwu

Bachelor of Arts

Orner, Benjamin Todd

Master of Arts

Oroshiba, Jordan

Bachelor of Science

Orozco, Melisa

Bachelor of Business Administration

Ortega, Sophia M

Bachelor of Arts

Osunkeye, Oluwaseyi Olademeji

Bachelor of Business Administration

Otten, Ryan

Bachelor of Business Administration

Otto, McKenzie Louise

Bachelor of Arts

Overcash, Nicole Marie

Master of Arts

Owens, Marcola Carlia

Master of Public Administration

Oz, Gulsum

Master of Science
P
Paddock, Devon Burrell

Bachelor of Business Administration

Paladugu, Prasanth

Master of Science

Palmer, Timothy R

Master of Science

Pamuru, Vignitha

Master of Science

Paoletti, Benjamin Joseph

Bachelor of Arts

Pappu, Harsh Vardhan

Master of Science

Paquin, Oliver

Bachelor of Science

Paramapogu, Gnana Sagar

Master of Science

Parks, DeAngelo Jacques

Master of Public Administration

Parrish, Tanner Lozelle

Bachelor of Business Administration

Patel, Dhwani Utpalbhai

Master of Public Health

Patel, Juliben Nareshkumar

Master of Public Health

Patel, Neal R

Bachelor of Business Administration

Patnam, Sindhuri

Master of Science

Patterson, Brianna

Bachelor of Science

Pauly, Collin M

Bachelor of Science

Pawlowska, Magdalena B

Bachelor of Business Administration

Payne, Sydney N

Bachelor of Business Administration

Peck, Garrett Michael

Master of Public Administration

Peddireddy, Keerthana

Master of Science

Pedro, Matthew Keola

Master of Science

Pendyala, Shourya

Master of Science

Penubothu, Bhargav Ram

Master of Science

Perez, Maria Araceli

Master of Arts

Perkins, Dylan Michael

Bachelor of Arts

Perlman, Lucy Gallagher

Bachelor of Arts

Perni, Vinay Sai Kumar

Master of Science

Perry, Braxston Lamont

Bachelor of Business Administration

Peters, Genevieve

Master of Science

Petersen, Kamie

Bachelor of Science

Peterson, Katherine

Master of Arts

Pettis, Virgil Dexter

Bachelor of Science

Peyyeti, Siva Supradeep

Master of Science

Phelps, Alexander V

Bachelor of Arts

Phillips, Jack

Master of Science

Piatt, Rebekah Bethany Tehillah

Bachelor of Arts

Pierson, Brianna M

Bachelor of Arts

Pile, Renee Patrice

Master of Arts

Pilli, Charitha

Master of Science

Pindjurova, Biljana

Master of Science

Piper, William Jacob

Doctor of Public Administration

Pizzo, Joseph Michael

Bachelor of Science

Pociask, Sean S

Bachelor of Arts

Pocklington, Jackson A

Bachelor of Arts

Poetschner, Christopher William

Master of Science

Potempa, Daniel Gary

Master of Arts

Powell, Edward Wayne

Master of Public Administration

Powell, Kathryn Joanne

Master of Arts

Pratt, Roosevelt Gbee

Bachelor of Arts

Prewitt, Meghan Ladonna

Bachelor of Arts

Price, Amanda

Master of Science

Price, Diamond L

Bachelor of Social Work

Price, Kent

Master of Science

Price, Nicholas Michael

Bachelor of Business Administration

Price, Stephanie

Bachelor of Arts

Primm, Aarhianna Aahliyah

Master of Arts

Pritchard, Joshua Bradley David

Bachelor of Science

Pritzker, Nathan Jacob

Master of Business Administration

Puckett, Michael

Master of Arts

Pugliese, Megan S

Bachelor of Science

Puppala, Sai Mani Teja

Master of Science

Pusateri, James Eugene

Master of Science

Pygott, Kelsey Nicole

Bachelor of Arts
Q
Quevedo Aranda, Raul

Master of Business Administration

Quick, Kristi Ann

Bachelor of Arts
R
Rabeler, Aimee Jacqueline

Bachelor of Business Administration

Raju, Amrutha

Master of Science

Raley, Andrea E

Bachelor of Business Administration

Ramarapu, Soundarya

Master of Science

Randle, Jaana K

Master of Arts

Rathod, Jolif P

Bachelor of Arts

Ravisankar, Pradeep Roshan

Master of Science

Ravuru, Anvesh Reddy

Master of Science

Ray, Ashley Joy

Master of Public Administration

Ray, Morgan Ann

Bachelor of Science

Reck, Ryan Alexander

Bachelor of Science

Redmond, Lauren

Master of Science

Redmond, Tommie James

Master of Public Administration

Redrouthu, Sai Tarun

Master of Science

Reed, Levi William

Master of Science

Reichert, April Nicole

Bachelor of Arts

Renteria, Michael Cruz

Bachelor of Science

Reschke, Holly J

Bachelor of Arts

Reuss, Madison L

Bachelor of Arts

Reuther, James Anthony

Bachelor of Arts

Rexroad, Cameron Eileen

Bachelor of Arts

Reyes, Genesis Ernestina

Bachelor of Business Administration

Reynolds, Corey James

Bachelor of Arts

Rhodes, Abigail Elizabeth

Master of Public Administration

Richards, Monica N

Bachelor of Social Work

Riddle, Brian Patrick

Master of Science

Riffey, Julia C

Bachelor of Arts

Rios Orquiz, Jesus Abraham

Bachelor of Arts

Rivera, Thomas David

Bachelor of Science

Rizner, Ryan C

Bachelor of Arts

Roberts, Hannah M

Bachelor of Science

Roberts, Kelsie L

Master of Business Administration

Robinson, Andria R

Bachelor of Business Administration

Robinson, Benjamin H

Bachelor of Business Administration

Robinson, Natasha Kayan

Master of Public Health

Robinson, Stacey Denise

Bachelor of Science

Rodgers, Brian Robert

Bachelor of Science

Rodriguez, Julie

Master of Public Administration

Rodriguez, Mariah N

Bachelor of Social Work

Rodriguez Escobar, Valentina

Bachelor of Arts

Roenfeldt, Kreg

Master of Science

Roger, Stephanie L

Master of Arts

Roher, Kortney Lynn

Bachelor of Arts

Rohr, Olivia A

Master of Arts

Romanek, Greg Mitch

Master of Arts

Rose, Allison N

Bachelor of Business Administration

Rose, Edward Thomas Crawford

Bachelor of Arts

Rosner, Katelyn

Bachelor of Science

Ross, Christopher Eric

Master of Science

Roth, Benjamin L

Master of Science

Roth, Mykel

Bachelor of Business Administration

Rotherham, Joseph Patrick

Bachelor of Business Administration

Roubert, Jessica

Bachelor of Arts

Rowe, Kathryn

Bachelor of Science

Ruble, Beth Nicole

Bachelor of Social Work

Ruff, Angie M

Master of Arts

Rumage, Anita Jean

Doctor of Public Administration

Rundell, Julie A H

Master of Arts

Rush, Hope

Bachelor of Arts

Russell, Nat'e

Master of Public Administration

Ruyle, Katelyn Marie

Master of Arts

Ryan, Bryna Marie

Master of Arts

Ryan, Greta Ann

Master of Business Administration
S
Sabas, Cheryl R

Bachelor of Arts

Sabo, Maggie L

Master of Arts

Safi, Dani

Bachelor of Science

Sagoe, William

Master of Science

Sahani, Saloni Pankaj

Master of Public Health

Sailors, Dustin Matthew

Bachelor of Arts

Salgado, Brenda

Bachelor of Arts

Salgado, Yuli

Bachelor of Arts

Salinas, Alexis Giovanni

Bachelor of Business Administration

Salvatelli, Lindsey Rae

Master of Arts

Sandidge, Ashley Alexis

Master of Arts

Sangster, Jasmine Alexandra

Bachelor of Business Administration

Santos, Brandon Adrian

Bachelor of Arts

Sarr, Malick

Master of Arts

Satterlee, Johnny Clinton

Master of Arts

Saxe, Kaitlin

Bachelor of Arts

Scagell, James Elliot Robert

Bachelor of Arts

Schaefer, Blake Ryan

Bachelor of Arts

Schafer, Hayley Elizabeth

Bachelor of Arts

Schlesinger, Jayde Phalen

Master of Public Administration

Schlindwein, Nathan Edward

Master of Public Administration

Schmidt, Mary

Bachelor of Arts

Schmohe, Jacob J

Bachelor of Science

Schreiber, Kaya L

Bachelor of Arts

Schulte, Benjamin Daniel

Bachelor of Arts

Schumer, Hayden David

Bachelor of Arts

Schwab, Andrea M

Bachelor of Arts

Schwarting, Joshua Lee

Bachelor of Science

Schwartz, Taylor P

Master of Arts

Schweigert, Jacob Joseph Lewis

Bachelor of Science

Scroggins, Paige A

Bachelor of Science

Seaton, Robert W

Master of Science

Seemant, Saharsh

Master of Arts

Selway, Katherine Elaine

Master of Arts

Sequeira, Virginia Patricia

Master of Science

Serb, Peter J

Bachelor of Arts

Sgro, Isabella Michelle

Bachelor of Business Administration

Shaffer, Staci A

Master of Arts

Shahid, Huda

Master of Business Administration

Shahid, Memona

Master of Business Administration

Shanklin, Linda Joyce

Bachelor of Arts

Sharkey, Stanley J

Bachelor of Arts

Sharma, Geetu

Master of Public Health

Sharma, Ridhima

Bachelor of Arts

Shavers, Gregory Brian

Bachelor of Science

Shaw, Adam Richard

Bachelor of Arts

Shenava, Ajay

Master of Science

Sherman, Jeffery Kent

Master of Science

Shet, Divya Shailesh

Master of Science

Shoup, Christopher David

Bachelor of Business Administration

Si, Lei

Master of Science

Sidwell, Cheyenne L

Bachelor of Arts

Sidwell, Trent E

Bachelor of Arts

Simmons, Elise R

Bachelor of Arts

Simmons, Jessica Ann

Bachelor of Arts

Simon, Zachery T

Bachelor of Science

Simpson, Alexis J

Bachelor of Arts

Simpson, Haley N

Bachelor of Arts

Simpson, Kathryn Ann

Bachelor of Arts

Sims, Charles P

Bachelor of Business Administration

Sinclair, Susannah

Master of Science

Singh, Jason Ajay

Bachelor of Science

Siverly, Benjamin Deavers

Master of Arts

Skarr, Alexander J

Master of Arts

Slater, Andrew M

Bachelor of Arts

Slater, Jennifer Darlene

Master of Arts

Small, Josiah Anthony

Bachelor of Arts

Smith, Airiana Elayne Zakira

Bachelor of Arts

Smith, Amanda Ann

Bachelor of Arts

Smith, Brandon Terrence

Master of Public Administration

Smith, Jason Bryant

Bachelor of Arts

Smith, Jeannine

Master of Public Administration

Smith, Michael Anthony

Master of Arts

Smith, Precious M

Bachelor of Science

Smith, Sydney J

Bachelor of Arts

Smock, Tyler

Bachelor of Business Administration

Soehnlin, Jenna

Bachelor of Business Administration

Soetan, Daniel

Bachelor of Arts

Solomon, Latoya Renee

Master of Public Administration

Someshwar, Pranay

Master of Science

Soni, Sumit

Master of Public Health

Sorensen, Ashley Nicole

Master of Arts

Soto, Christian Paul

Master of Science

Sparks, Victoria K

Bachelor of Arts

Spilotro-Marquez, Mariangely Raquel

Master of Arts

Spitzer, Gabriella M

Master of Science

Splitt, Allison Rae

Bachelor of Arts

Sreelal, Sunayana

Master of Science

Sripathi, Sachit Reddy

Master of Science

St Aubin, Madeline Claire

Bachelor of Business Administration

Stahly, Sarah Kathleen

Master of Business Administration

Stark, Steven

Bachelor of Business Administration

Starling, Claire Alexandra

Bachelor of Arts

Steel, Jessica Elise

Bachelor of Business Administration

Stephens, Hayley Dawn

Bachelor of Arts

Steskal, Charity Kay

Bachelor of Arts

Stevens, Christopher Lee

Bachelor of Arts

Stevens, Jamie

Master of Arts

Stewart, Brittany Nicole

Bachelor of Arts

Stewart, Mackenzie Leigh

Bachelor of Business Administration

Stewart, Matthew

Bachelor of Science

Stiver, Erin Shea

Bachelor of Arts

Stockwell, Robert Daniel

Bachelor of Science

Stolter, Stephanie Nicole

Master of Science

Stone, Whitney

Master of Science

Stover, Chitaia

Bachelor of Social Work

Strachan, Laura E

Bachelor of Arts

Streitmatter, Kaitlyn Leigh

Master of Public Health

Stutzman, Sara L

Master of Arts

Suhrbier, Elizabeth N

Master of Arts

Sumant, Manish

Master of Business Administration

Suzue, Kenta

Bachelor of Science

Sweeney, Ryan Paul

Bachelor of Science

Syed, Ammar Mustafa

Master of Science

Syerov, Stanley S

Master of Science

Szalinski, Benjamin F

Bachelor of Arts
T
Tabor, Holly

Bachelor of Science

Tadepalli, Lalith Rikesh

Master of Science

Talatam, Samardha

Master of Science

Tankoua Ngongang, William Claude

Master of Science

Tannahill, Nickolas Jordan

Master of Business Administration

Tapscott, Logan G

Bachelor of Arts

Taylor, Katie Jane

Bachelor of Arts

Terrell, Richard Russell

Master of Arts

Thai, Kenny Cuong

Master of Science

Thai, Lisa Chen

Master of Public Administration

Thomas, Kayla Jean

Bachelor of Arts

Thomas Krow Tong, Alet

Master of Science

Thompson, Jade

Master of Arts

Thompson, Lathisa Naita

Master of Arts

Thompson, Michael J

Master of Arts

Thompson, Nakeya Na'Sha

Bachelor of Arts

Thompson, Sandra

Master of Science

Thornhill, Kaitlyn Marie

Bachelor of Arts

Thornton, Erica

Bachelor of Business Administration

Thornton, Jake P

Bachelor of Arts

Thornton, Jillian A

Bachelor of Science

Thousand, Jacob Alan

Master of Science

Tieman, Ciara R

Bachelor of Business Administration

Tierney, Jacob

Master of Arts

Titlow, Brock Matthew

Master of Arts

Toal, Benjamin

Master of Arts

Todd, Jordyn Camille

Bachelor of Arts

Tofanelli, Sarah Jeanne

Bachelor of Arts

Tondapu, Sandhya

Master of Science

Toplikar, Chris

Master of Science

Torba, Dmitry

Master of Science

Touray, Kani

Master of Arts

Trader, Ashley R

Bachelor of Arts

Tran, Thao Thi Thanh

Bachelor of Business Administration

Turasky, Riley Dawn

Bachelor of Social Work

Turini, Alexzia Giustina

Bachelor of Social Work

Turley, Hannah Elizabeth

Bachelor of Social Work

Turley, Trever Hunter

Bachelor of Arts

Turner, Emily

Bachelor of Arts

Turovsky, Michelle

Master of Science

Tutewiler, Payton Henry

Bachelor of Science

Tutter, Benjamin J

Bachelor of Science

Tyra, Grant Dolan

Bachelor of Science
U
Ubriaco, Larissa

Master of Arts

Uchtorff, Kerry Katherine

Bachelor of Science

Uddin, Showkat Salah

Master of Science

Ukonu, James Onyekachi

Master of Science

Ulmasov, Rustam

Master of Science

Umbanhowar, Samuel

Bachelor of Science

Urbas, David Kelly

Bachelor of Arts

Utterback, Alicia Marie

Master of Public Administration
V
Vaddavalli, Karthik

Master of Science

Valluru, Mythri

Master of Science

Van, Melissa N

Bachelor of Business Administration

Van Meter, Danielle Kay

Master of Arts

VanDeventer, Craig C

Bachelor of Science

Vanlandeghem, Tyler L

Master of Arts

Vanmeter, Lawrence Gregory

Master of Science

Varble, Abbie Lynn

Bachelor of Business Administration

Vasamsetti, Venkata Poojitha

Master of Science

Vaughn, Robin Crystal

Bachelor of Arts

Vazquez Villagran, Liliana

Master of Arts

Vebhudi, Balaji Sai Mukesh

Master of Science

Veeram, Hari Prasad Reddy

Master of Science

Venegas-Rodriguez, Alexus Luz

Bachelor of Arts

Vickers, Aubrey N

Bachelor of Arts

Vicsik, Allyson L

Master of Arts

Villa, Venkata Naga Manikanta Sai Girish

Master of Science

Vlahovich, Sergio M

Bachelor of Arts

Vlaskin, Tatyana A

Master of Science

Vogel, Andrew

Bachelor of Science

Voss, Logan Michael

Bachelor of Science

Votava, Shea K

Bachelor of Science

Vu, Son Hoang

Master of Science
W
Wade, Patrick C

Master of Public Administration

Waggoner, Logan W

Bachelor of Arts

Wagoner, Lakyn J

Bachelor of Arts

Wajid, Maheen

Master of Science

Wallace, Grant Alexander

Master of Business Administration

Wang, Shihan

Bachelor of Science

Wang, Shijie

Master of Arts

Wang, Zhen

Bachelor of Science

Wang, Zhilong

Master of Science

Ware, Javon R

Bachelor of Arts

Washko, Anna Lynn

Master of Arts

Waters, Derick Joseph

Bachelor of Arts

Watkins, Elizabeth Ann

Master of Arts

Watson, Lindsay Leigh

Bachelor of Arts

Watt, Stefanie Lynn

Master of Public Administration

Webb, Daniel Joseph

Master of Arts

Webb, Nicole Krista

Bachelor of Arts

Weber, Destinee L

Bachelor of Arts

Weber, Matthew Adam

Bachelor of Science

Weinberg, Michael

Master of Science

Wells, Tristen P

Bachelor of Science

Welton, Jonathan Montgomery

Bachelor of Arts

Wesley, Vyvyan Sharon

Master of Arts

West, Andrew Steven

Master of Arts

Weybright, Gabriella

Bachelor of Arts

Whalen, Nolan David

Bachelor of Business Administration

Whelan, Theodore

Master of Science

White, Jaime Leigh

Master of Arts

Wiant, Jesse D

Bachelor of Arts

Wilbon, Dontre C

Bachelor of Arts

Wilbourn, Myeshia Tenay

Master of Arts

Wilderman, Merrick Canial

Bachelor of Arts

Wilford, Kyle T

Master of Arts

Williams, Aaliyah N

Master of Arts

Williams, Desiree

Bachelor of Science

Williams, Emma Kay

Bachelor of Science

Williams, Freida Fay

Master of Arts

Williams, Molli Anne

Bachelor of Science

Williams, Monique

Master of Public Health

Williams, Torrea Michelle

Master of Arts

Willis, Brittany L

Bachelor of Social Work

Willis, Hailey Rae

Bachelor of Science

Wilson, Cherell N

Bachelor of Arts

Wilson, Victoria M

Master of Arts

Wiser, Brittany Lynn

Bachelor of Arts

Wisz, Nicholas A

Bachelor of Business Administration

Wolff, Rachel J

Bachelor of Arts

Woodcock, Ciara Rene

Bachelor of Arts

Woods, Daniel Jordan

Bachelor of Arts

Woods, Drewnard J

Bachelor of Business Administration

Workman, Brandon Michael

Bachelor of Business Administration

Wu, Peiling

Master of Business Administration
X
Xie, Andi

Bachelor of Business Administration

Xu, Hanhui

Bachelor of Arts

Xu, Haotian

Master of Arts

Xu, Shenghui

Bachelor of Arts
Y
Yarko, Megan Christine

Master of Arts

Yates, Cassidy Paige

Bachelor of Arts

Yates, Evan William

Master of Science

Yoo, Jeannie Jaeun

Bachelor of Science

Yost, Brianna M

Bachelor of Business Administration

Young, Jared

Bachelor of Arts

Young, Jonathan Christoper

Master of Science
Z
Zambito, Nicholas J

Bachelor of Arts

Zanon, Jonathan Lawrence

Bachelor of Arts

Zapata, Gerardo

Master of Science

Zegar, Mohammed K

Bachelor of Business Administration

Zeisset, Nathan Michael

Bachelor of Science

Zepeda, Ernesto

Master of Science

Zhang, Yiming

Master of Arts

Zhou, Shi Tian

Bachelor of Arts

Zhu, Yiqing

Bachelor of Science

Zibutis, Jack W

Bachelor of Business Administration

Zimmerman, Emily R

Bachelor of Science

Zinn, Katie Marie

Master of Arts

Zomaya, David

Bachelor of Business Administration

Zou, Yiping

Master of Science

Zunkel, Cameron N

Bachelor of Arts

Zweimiller, Lydia

Master of Public Health