Faculty Focus
Faculty Collaborate on Research
Dr. Denise Bockmier-Sommers (Human Services) and Dr. Martin Martsch (Social Work) collaborated with Dr. Cheng-Chia Chen (Public Health) to conduct research on the effectiveness of online higher education pertaining to the potential disconnect between instructors and students. Read their findings in the article entitled Student Perception of Teacher Empathy, High Regard and Genuineness and the Impact on Student Engagement.
---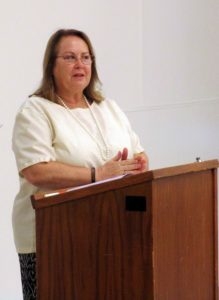 Professors Are People Too!
Get to know the CEHS faculty in ways you never thought possible with the Professors Are People Too interview series!
Dr. Cindy Wilson of the Department of Teacher Education shares insight into her personality, aspirations and much more. Check out the three part series interview belo
---
Faculty Contribute to Award Winning Book
Members of the Educational Leadership faculty have made significant contributions to MOOCs and Open Education: Around the World, which recently received the 2016 DDL Distance Education Book Award as presented by the Association for Educational Technology and Communications Division of Distance Learning (DDL). The award is presented to a book published within the last three years that highlights important theoretical and/or practical aspects of distance education.
Dr. Scott Day, Dr. Leonard Bogle, and Dr. Karen Swan collaborated to write Chapter 10: AMP: A Tool for Characterizing the Pedagogical Approaches of MOOCs. The chapter focuses on the development of AMP (Assessing MOOC Pedagogies). AMP consists of ten pedagogical dimensions that characterize a MOOC by using a 1-5 scale.
Purchase a copy of MOOCs and Open Education!
---
Faculty Scholarship Recognition
The faculty at the College of Education and Human Services strive everyday to be scholars as well as educators. These research efforts often result in publication and presentation at conferences all over the globe. To this end, many of our faculty have gained international notoriety in their respective areas of expertise. Below is a list of the CEHS faculty that were recognized, at a luncheon, for their scholarly achievements during the year of 2015. For a listing of the achievements, click on the faculty members' name. (All files are in .pdf format)
Dr. Denise Bockmier-Sommers (Human Services)
Dr. Leonard Bogle (Educational Leadership)
Dr. Victoria Childs (Teacher Education)
Dr. Vickie Cook (Educational Leadership)
Dr. Scott Day (Educational Leadership)
Dr. Brian Kahn (Teacher Education)
Dr. Ann McCaughan (Human Development Counseling)
Dr. Kay McChesney (Social Work)
Dr. Ronda Mitchell (Teacher Education)
Dr. Tiffany Nielson (Human Development Counseling)
Dr. Carolyn Peck (Human Services)
Dr. Karen Swan (Educational Leadership)
Dr. Cynthia Wilson (Teacher Education)
---
Department Newsletters
"Learning to teach, teaching to lead, and serving with care."