Faculty Focus Archives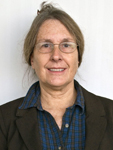 Dr. Karen Swan, the Stukel Distinguished Professor of Educational Leadership will be inducted to the International Adult and Continuing Education Hall of Fame at its annual conference on November 18, 2015. Dr. Swan's research is in the area of media, technology and leaning on which she has authored over 100 publications, several hypermedia programs and two books and given over 200 presentations.
Dr. Swan teaches in a fully online program for which she has developed several educational technology courses. The College of Education and Human Services congratulates Dr. Swan on this tremendous honor. Visit the International Adult and Continuing Education Hall of Fame site for more information.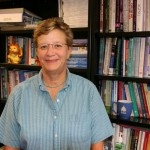 Human Services Department chair Carolyn Peck, Ph.D., was honored for her work in the field of aging during the Area Agency on Aging for Lincolnland's annual meeting Sept. 25, 2014. Read the complete article in the Fall 2014 issue of the Human Services Department newsletter (PDF).
Carolyn joined the College of Education & Human Service at UIS in fall 2002 as assistant professor of human services. Her areas of teaching focus on Gerontology and end of life issues. Dr. Peck has conducted research on compassion fatigue in geriatric case managers with the Illinois department on Aging. This research has been published in a peer review publication. She writes several book reviews annually for the international journal Educational Gerontology.
Dr. Pecks' presentation themes at national conferences include: Death dying & bereavement, caregiver issues, compassion fatigue in geriatric case managers, and challenges and opportunities of aging boomers.
Dr. Scott Day, Chair of the Department of Educational Leadership was recently promoted to the rank of Professor. His research publications includes work on blended learning, using design-based research to improve online courses and programmatic change, technology uses of at-risk students, and school district reorganization issues.
Dr. Day was one of two founding faculty to develop and teach one of the first courses in the online Master's degree program ten years ago. The program was awarded the Sloan-C Outstanding Program of the Year in 2010. In 2010, Dr. Day was awarded the Pearson Faculty Award for Outstanding Teaching at the University of Illinois at Springfield. Professor Day was awarded the Outstanding Dissertation Award from the University of Illinois' chapter of Phi Delta Kappa in 2000 for his work on technology use with at-risk students.
Before coming to UIS in 1997, Dr. Day spent the last thirteen years as Middle and High School Assistant Principal in Pennsylvania and Junior High School Principal in Illinois. During his tenure in Illinois school administration, Dr. Day also was assigned central office responsibilities in the areas of curriculum design, teacher evaluation design, the ISBE internal & external school review, and the management of state grants in science literacy, technology in the classroom, and gifted programs.
Dr. Day currently teaches courses in the areas of Curriculum and Instructional Leadership. Dr. Day has developed and taught an Instructional Design course online in the Master Teacher Leadership program for the last ten years.

Dr. Denise Bockmier-Sommers is a tenured Associate Professor for the Department of Human Services. Dr. Bockmier-Sommers teaches in the Social Service Administration Concentration and has been with UIS since 2007. Most recently, Dr. Bockmier-Sommers created the Leadership Human Services Scholarship for SSA students. Read more about Dr. Bockmier-Sommers.
"Learning to teach, teaching to lead, and serving with care."