Diversity and Inclusion Plan
Introduction
The College of Education and Human Service (CEHS) is comprised of five departments: Teacher Education (TEP), Educational Leadership (EDL), Social Work (SWK), Human Services (HMS), and Human Development Counseling (HDC). While serving different audiences and purposes, all CEHS programs seek to prepare their graduates to serve diverse groups. To meet this goal, CEHS programs must ensure that learning environments accurately reflect and teach the value of diversity. Accreditation and approval requirements as well as student, staff, and faculty diversity all help shape and define the learning environment.
I. External Accreditation and Approval Requirements
All of the five CEHS programs are accredited or approved by an outside agency, and each of these external bodies affirm the importance and value of diversity, either in program requirements, student-faculty composition, or both.
The Illinois State Board of Education (ISBE) approves all teaching and administrative preparation programs in the College and identifies diversity as a key component for all educational programs. School Counselor Standards require that the practitioner be ". . . knowledgeable about diverse groups with which she or he may work [and] understands how race, culture, ethnicity, sexual orientation, physical and mental characteristics, and other areas of diversity affect personality formation, vocational choice, and manifestation of difficulties and strengths in academic, career, and personal/social development" (Standards for School Support Personnel Endorsements). Teacher education and administrative preparatory programs are all required to ensure that clinical experiences are diverse and that the ". . . admitted pool of candidates reflects the diversity of America's P-12 students" (ISBE, Elementary and Superintendent Program Proposal; Superintendent Program Proposal).
Social Work Education Standards require students to gain competency in nine competency areas (the Council on Social Work Education, CSWE). Competency 2: Engage Diversity and Difference in Practice, requires that Social Work students understand ". . . how diversity and difference characterize and shape the human experience and are critical to the formation of identity" (EPAS, 7).
The Illinois Certification Board approves HMS's Alcoholism and Substance Abuse Concentration using Federal Department of Health and Human Services' Addiction Counseling Competencies. Competency 118 indicates the need for practitioners to convey ". . . respect for cultural and lifestyle diversity in the therapeutic process" (Addiction Counseling Competencies).
HDC programs are all accredited by the Council for Accreditation of Counseling and Related Educational Programs (CACREP). As with the other accrediting bodies, CACREP recognizes the importance of diversity, identifying Social and Cultural Diversity as one of its eight core competencies (2016 CACREP Standards, 10). Additionally, in Standard 1.Q., CACREP emphasizes the importance of recruiting and retaining diverse faculty and students to mirror the populations they will serve in practice.
As we see from this brief overview, the recruitment and retention of diverse student, faculty, and staff is an important goal embraced by both the College and their accreditation agencies.
The next section describes current student, staff, and faculty diversity at UIS and CEHS.
II. Institutional Ethnicity Data
Faculty and Staff Ethnicity
Table 1 compares UIS and EHS faculty and staff racial and ethnic distributions to that of the State of Illinois and the City of Springfield.
2017 census data show that 42% of Illinois' population is Hispanic and/or non-white. Twenty-seven percent of UIS's full time faculty and 14% of the staff came from backgrounds of historically marginalized populations. However, in AY 2017-18, only 9% of EHS full-time faculty were non-white. In AY 2017-18, three of the six graduate assistants were students of color.
Overall, the City of Springfield is less diverse than the state. While UIS faculty diversity as a whole more closely mirrors the diversity of the city, UIS's Black population is lower than that of the state and the city.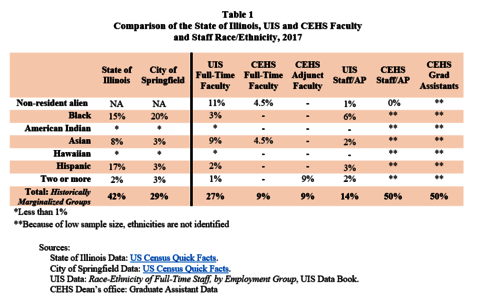 Table 2 examines the combined CEHS adjunct and full-time faculty by department. In 2017, HMS had the only full-time non-white faculty members in the College. TEP and EDL employed non-white adjunct faculty members. Note that there were no HMS adjunct faculty in AY 2017- 18.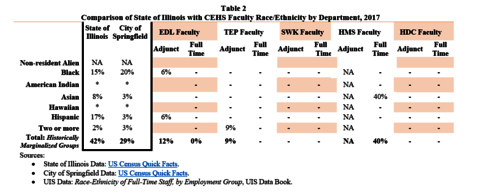 Student Race/Ethnicity
Table 3 compares UIS and CEHS student race/ethnicity distributions to that of the State of Illinois.
There are very few CEHS international students as compared to UIS. It is also interesting to note that CEHS as a college has a higher percentage of African American students than either UIS or the state population. Although Hispanic students are under-represented, the total non-white student enrollment for CEHS was 27% because of the large percentage of African American students. The percentage of African American students in EHS is slightly higher than the state average and closely approaches that of the City of Springfield.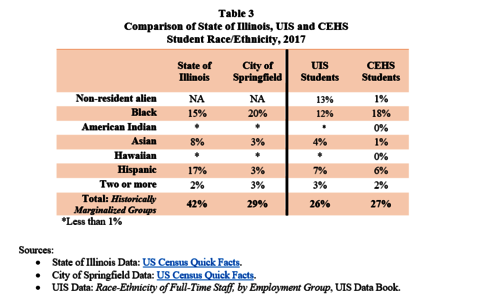 Table 4 examines student demographics by CEHS department.
The demographic data indicate that the HMS and SWK departments have been most successful in recruiting African American students. HMS was very successful in drawing African American students to its programs, representing a 47% non-white student enrollment for that department. EDL and HDC are the programs with the lowest overall minority enrollments. However, as indicated in Table 2, there are no African American or Hispanic faculty in the College.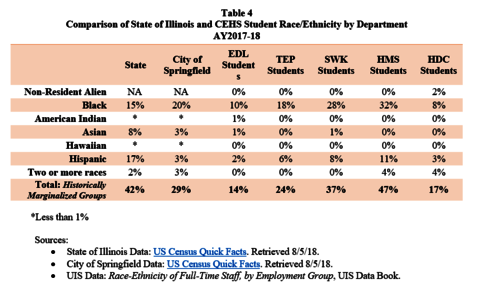 Gender diversity is another diversity consideration. A little over half of the population (51% State; 52% Springfield) is female. UIS students are 49% female. However, the percentage of female students and faculty vary by department, as summarized in Table 5.

While institutional and census data refer only to race/ethnicity and gender, there are other aspects of diversity valued by the college that need to be considered. These other factors include: pregnancy, color, sex, religion, national origin, order of protection status, ancestry, marital status, civil union status, age, disability, genetic information, status as a protected veteran, LGBTQ+ status, or any other protected class under State or Federal law or University policies as may be amended. Throughout this diversity plan, the term "diversity" refers to all the factors and aspects listed in this paragraph.
The primary goal of CEHS's Diversity and Inclusion Plan is to recruit and retain diverse students and faculty. This Diversity and Inclusion Plan is the College's response to the need to make our college welcoming to all.
Section III outlines goals to increase both Student and Faculty diversity in our College.
III. Goals to Increase Diversity within CEHS
There are four goals that we propose to increase diversity in our college:
Climate Enhancement
Faculty, Staff, and Student Recruitment
Faculty, Staff, and Student Retention
Progress Reporting and Accountability
Specific strategies to address each goal are outlined below.
Goal 1: Climate Enhancement:
CEHS will enhance and maintain a College climate where all students, faculty, and staff feel welcome and accepted.
The following strategies may help EHS become a more welcoming place for diverse students, faculty and staff:
Support current UIS efforts to bring National Coalition Building Institute training sessions to campus during the AY 2018-19 school year. This strategy can be accomplished by:

Offering assistance with campus NCBI training as requested.
Providing release time and encouragement for faculty, staff and student participation in NCBI training.
Encouraging faculty, staff and student participation in Diversity Office LGBTQ+ training, and other training opportunities.

Facilitate twice-yearly round table discussions for faculty, staff and students focused on Dr. McChesney's Implicit Bias survey data.
Host semester College Lunches with the Dean for students, faculty and staff focusing on diversity and climate issues. (In conjunction with Student Recruitment Goal 2B.d and Student Retention Goal 3B.f below).
Develop a College-wide mission statement on diversity.
Explore the creation of non-traditional courses or programs that focus on minority issues, such as social justice.
Establish and maintain a Diversity Corner on the CEHS website to post diversity-related grant, scholarship, conference and workshop opportunities addressing the wide range of diverse populations.
Implement and provide follow-up diversity training sessions.
Goal 2: Increase Minority Representation in our College
I. Increase minority faculty and staff representation
Demographic data as reported in Tables 1 and 2 indicate that only 9% of CEHS's full time and adjunct faculty are people of color, lower than UIS overall¹ and much lower than the 42% population of color in the State of Illinois. These data suggest a need for the College to increase its recruitment efforts to fill vacant full-time and adjunct faculty positions with qualified candidates of color.
The following strategies may increase EHS's efforts to recruit more diverse faculty:
Reviewing and incorporating Access and Equal Opportunity Resource Toolkit suggestions found in https://www.uis.edu/aeo/resource-toolkit-for-increasing-faculty-and-staff-diversity/
Adding language regarding the College's commitment to social justice and diversity to job postings.
Highlighting any non-traditional courses or programs that focus on minority issues that are available in the department.
Developing partnerships with HBCU's, the American Educational Research Association, the National Association for Multicultural Education, National Organization of Human Services, and program-specific professional organizations for graduate programs.
Advertising faculty positions in publications appealing to historically marginalized, including LGBTQ+ organizations.
II. Increase minority student enrollment in CEHS programs
Demographic data as reported in Table 4 show a range of minority representation among the different departments. It should be noted that HMS students have a total student of color enrollment of 47%, which is greater than the State average of 42%. HDC and EDL have the lowest percentage of students of color enrolled in their programs.
The following strategies may further increase enrollment of students of color:
Increase scholarship opportunities for both graduate and undergraduate students of color where possible.
Develop partnerships with HBCUs, the American Educational Research Association, the National Associate for Multicultural Education, National Organization of Human Services, and program- specific professional organizations for graduate programs.
Hold annual focus group meetings with current students of color to identify barriers to admission. (could be in conjunction with one of the sessions described in climate goal 1b. And student retention goal 3b.f.)
Encourage and support faculty of color to participate in student recruitment events.
Explore the Prairie Area Teacher Initiative (PATI)² model in TEP to look for possible ways to generalize to other programs and for making the program more attractive to diverse students.
Explore additional dual enrollment programs with high schools.
Goal 3: Retention
I. Increase retention of a diverse CEHS faculty, staff, and graduate assistants
Once CEHS has successfully recruited and hired more diverse faculty and staff; the next step is retention. Strategies to increase retention:
Providing diverse research and service opportunities in the community.
Since a welcoming climate is important for retention, implementing the Climate Enhancement strategies identified in Goal 1 will also address the retention goal.
II. Increase retention of a diverse CEHS student population
Strategies to achieve retention of students of color include:
Continue PATI's³ financial and academic support to diverse TEP candidates.
Encourage diverse student involvement in college and campus activities.
Provide leadership opportunities for diverse students where possible.
Develop a list of faculty-identified tutoring/remediation needs to help diverse students.
Host student focus groups to discuss barriers to success once each semester (in conjunction with Climate Goal 1c. and Recruit Goal 2B.d.).
Collaborate with campus-wide retention initiatives such as Necessary Steps and those in the Diversity Center.
Goal 4: Reporting and Accountability
For a plan to be effective, its goals must be well-defined and measurable, and outcomes must be monitored in a regular and systematic way.
UIS provides comprehensive institutional data identifying student and faculty demographics. These data can serve as the long-term goal of increasing diversity. In addition, quarterly progress reports of intermediate goals to improve climate and retention can reveal goals that have been achieved, areas needing improvement, and suggestions for future programs.
Initially, the Dean will review progress toward achieving both long-term and short-term diversity goals.
The ultimate goal for any diversity plan is to ensure that CEHS faculty and students more closely mirror the populations that they will ultimately serve in order that students will have the support they need. A draft implementation plan is included as a separate document to provide ways to measure progress towards goal attainment.
---
¹Note that demographic data on UIS adjunct faculty as a whole are not available
²PATI was formerly known as MSS
³PATI now recruits current teaching paraprofessionals in addition to recent high school graduates, community college students, first generation college students and students of color. While it has expanded its target population, it retains its original commitment to increase the diversity of the teaching profession.
---
References:
College of Education and Human Services. Retrieved from https://www.uis.edu/cehs/
Council for Accreditation of Counseling and Related Educational Programs. (2015)2016 CACREP Standards. Retrieved from http://www.cacrep.org/wp-content/uploads/2018/05/2016-Standards-with- Glossary-5.3.2018.pdf
Council on Social Work Education. (2015). 2015 Educational Policy and Accreditation Standards. Retrieved from https://www.cswe.org/getattachment/Accreditation/Accreditation-Process/2015- EPAS/2015EPAS_Web_FINAL.pdf.aspx
Illinois State Board of Education. Elementary education (Grades 1-6) program proposal. Retrieved from https://www.isbe.net/Documents/prog-report-format-1-6.pdf
Illinois State Board of Education. Standards for school support personnel endorsements. Section 23.110, School Counselor. Retrieved from https://www.isbe.net/Documents/23ark.pdf
Illinois State Board of Education. Superintendent program proposal. Retrieved from https://www.isbe.net/Documents/prog-report-format-superintendent.pdf
National Coalition Building Institute. Retrieved from http://ncbi.org/
University of Illinois Springfield Institutional Research Race-Ethnicity of Full-Time Staff, by Employment Group, UIS Data Book. Retrieved from https://www.uis.edu/institutionalresearch/databook/
US Census Quick Facts. Retrieved from https://www.census.gov/quickfacts/fact/table/il/PST045217
US Department of Health and Human Services. (2008). DHHS Publication No, (MSA 08-4171. Addiction counseling competencies. https://store.samhsa.gov/shin/content//SMA12-4171/21.htm
University of Illinois Springfield Diversity Resources:
Diversity Center: https://www.uis.edu/diversitycenter/about/
Access and Equal Opportunity Resources: https://www.uis.edu/aeo/resource-toolkit-for-increasing- faculty-and-staff-diversity/
IHE Diversity Plans:
University of South Carolina (2012). College of Education Diversity Plan. Retrieved from https://www.sc.edu/study/colleges_schools/education/my_coe/for_faculty_and_staff/committees/min utes/diversity/2012_08_21_diversity_minutes.pdf
University of Chicago (2015). College of Nursing Diversity Strategic Plan. Retrieved from https://www.nursing.uic.edu/sites/default/files/u1/CON_Diversity_Strategic_Plan_3-6-15.pdf
University of Wisconsin-Superior. (2017) Strategic Plan for Equity, diversity and Inclusion 2017-2020. Retrieved from https://www.uwsuper.edu/edi/equity-diversity-inclusion-plan/upload/Equity- Diversity-Inclusion-Booklet-3-5-18.pdf
Texas Southern University (2014). College of Education Recruitment Plan 2014-2017. Retrieved from http://www.tsu.edu/academics/colleges-and-schools/college-of-education/ncate-cape/pdf/43h1.pdf
Valdosta State University (n.d.). Dewar College of Education and Human Services Diversity Plan. Retrieved from https://www.valdosta.edu/colleges/education/deans-office/documents/coehs-diversity- plan.pdf