Internships offer students a chance to get hands-on experience while working for a semester or summer in a field related to their major.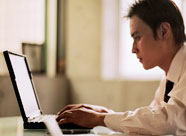 Recruiters usually look for students with relevant experience in the field in which they will be working. Internships can be paid or unpaid, can be credit-bearing or not, are fairly structured, and can take place anytime during the year. Internships have proven to be great networking opportunities which often lead to future employment opportunities. There are many resources available to those who are searching for an internship.
---
Keys to an Internship
Clarify your goals, priorities, and objectives. Are you willing to take an unpaid internship for the experience? What experiences are you seeking? If you have no prior experience, an unpaid internship may lead to paid experiences in the future.
Use your network. Often the best sources of information are your departmental faculty and academic advisors. Many departments have established relationships with organizations that hire interns on a routine basis.
Keep using your network! Let people know you are seeking an intern experience. Be specific about what you're searching for. Talk to friends who have been successful in obtaining internships themselves and ask what methods they used and found successful.
Create your own opportunities. Research organizations at which you are interested in interning, whether or not they are known to have a formal internship program. Although many large organizations have more formalized programs, small organizations can offer wonderful experiences as well, you just have to ask!
Explore professional organizations. Campus branches of professional organizations in your field (e.g., Society for Human Resource Management) can put you in contact with unadvertised positions.
Utilize the Chamber of Commerce. They generally maintain exhaustive lists of local organizations and can provide a good lead when researching companies that may have intern opportunities.
---
How is an Internship Different than a Job?
Internships generally benefit the intern more than the employer.
Internships are generally always related to your expected career field.
Internships generally incorporate strong educational components and experiences.
Internship supervisors typically serve as an active mentor for the intern.
How is an Internship Different Than an Ongoing Volunteer Experience?
Internships are generally always related to your expected career field and combines work experience with your academic, personal, and career goals.
Volunteering is generally focused on being socially responsible and giving back to the community.
Internships involve a strong, active mentoring and supervision relationship with the supervisor.
Internship Benefits
While many internships are unpaid, most internships can offer alternative benefits such as:
Real-world experience and skills to put on your resume
Obtain experience in possible career choices
Letters of reference
Mentoring
Networking
Free housing
Transportation stipend
Food stipend
Utilize your studies and education in a real-world setting
Possibility to receive a full-time job offer after the internship
Internship Planning
When searching for internships, a clear plan is needed based on your career and academic needs. Some questions to consider:
Are you willing to move for an internship? How far away?
Can you afford to not be paid in exchange for the internship experience?
Can you afford to be paid little in exchange for the internship experience? How little?
Will you need the employer to pay for your housing or can you afford it?
How will you locate housing and will they allow short-term leases?
Can the internship be arranged for credit if it is not already?
Is there a possibility for full-time employment after the internship?
How many hours a week will you be able to work? Part-Time, Full-Time?
Have you considered an online or virtual internship? What about an internship abroad?
Would you consider an internship that requires you to travel as part of your duties?
Would you prefer a highly structured internship or one that is flexible?
---
Find an Internship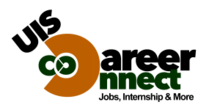 The Career Development Center and Academic Departments frequently post advertisements for intern positions. Begin your search process early and check back frequently!
The UIS Career Development Center uses UIS CareerConnect to advertise available positions.
---
Beyond the Classroom Program
Schedule an appointment with your career counselor today to participate in the Beyond the Classroom Program and begin expanding your network through internships and externships!
Partner with the a career counselor, who will guide you through your internship-search experience!
Receive guidance and leads from a career counselor!
Great way to gain practical experience to place on your resume!
Network with professionals in your field!
Receive valuable mentoring from a professional!
Obtain references for future job searches!
Gain a unique glimpse into potential future careers!
---
Tools for Internships
---
Additional Resources