After you have decided to attend graduate school, you should start to narrow down your list of choices.
Consider the following questions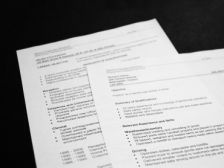 How do you decide which schools to apply to?
Are you set on living close to your family and friends?
Do you know what field you want to study?
What are the costs and your financial resources?
---
Factors to Consider
Community
Be sure that the community suits your needs. Is housing available? Will you be able to find work near/at your school?
Check to see how far you will be from your friends and families, and whether you will be in a city or rural area.
Look into the size of the institution. Are you comfortable studying with that many/few students? What is the student/faculty ratio?
What type of culture does the school have? Is competition fierce, or does the school emphasize teamwork and cooperative research?
How accessible is the school? Do they have a good reputation for accommodating students with disabilities?
What types of multi-cultural or diversity opportunities are available to students there? Are there many international students? What resources are available to help students?
Degree Programs
Does the school offer the degree and program you want? Research the school to find out, because even though a school may offer a doctorate, your chosen program might not.
Find out how much of the curriculum will involve research.
Will you be required to take an internship?
Does the university have the appropriate accreditation? If not, you may face certain consequences later on, or be unable to gain the credentials you need for a career in that field.
Are you able to meet the entrance requirements? Check to see what their prerequisite, entrance test and GPA requirements are.
Cost and Financial Aid
How much does the school cost, including living expenses?
For public schools, do/can you meet residency requirements?
Are there any scholarships or fellowships available to students to help pay for school? How can you apply for them? Use the Cost Factor Analysis Chart to help you analyze each program.
How much financial aid will be available to you? How many students are eligible for financial aid? Do you meet the requirements?
Resources
What are the faculty/professors like? Do any of them have specialized experience/research experience that would be relevant to your course of study? Have they published anything that interests you?
What facilities are available to you? Will they be adequate to perform the type of research you wish to pursue?
Does the school have a Career Center? What services do they offer? Where have alumni of that school been able to find jobs?
---
How to Decide
Do your research and reach out to the schools by phone, in-person or email to learn more about programs
Track your thoughts using the School Comparison Worksheet.
Create a list of the factors that will influence your decision such as:

Decide how important each factor is to you. Are you set on having internship experience?
Does the faculty/student ratio matter to you at all?
Offer the field of study and relevant internships that will support your career goals?
Financial aid and assistantships/fellowships available?
In-state tuition? Research/internship opportunities?

Determine which factors would be deal-breakers for you. Think about which factors will help you come to a final decision.
Analyze your options and start to narrow your list down. A good range of schools to apply to is usually between 2 and 6 with two "safety" schools you feel certain you will be accepted to, two average schools you have a good chance to be accepted to, and two "reach" schools that you would like to attend, but will be tougher to be accepted to.
Make a decision and begin the application process.
Meet with a career counselor if you need assistance with this process
---
Tools for Choosing a Grad School and Program
---
Additional Resources